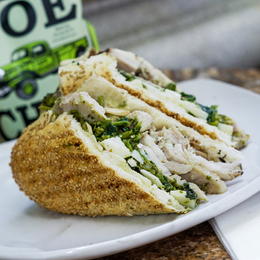 Heroes Welcome
These suburban establishments give Philly's hoagie hot spots a run for their money.
Philadelphia's storied cheesesteak shops and hoagie havens have earned our fair city a glut of much-deserved attention. We wouldn't blame anyone who feels compelled to drive to South Philly for a favorite sandwich, but we will say the counties surrounding the city have plenty of establishments that turn out some A-grade options. So yes, Philly is a sandwich town, but its suburban neighbors can certainly say the same.
Bacco Bistro
Doylestown
Life gets a little better when you add the fiery peppers known as long hots into the mix. That's why the "Hot Chick"—a favorite from Bacco Bistro's gourmet sandwich board—gets our nod of assent. Although the combination of chicken patty, long hots, and provolone is uncomplicated, it's one you'll remember. For those who prefer a little South Philly in their sandwiches, opt for the "Yo Vinnie!," a roast-pork keeper with sharp provolone and greens. BaccoBistro.com
The General
Lafayette Hill
At lunchtime, The General is a-hoppin', thanks in part to a wide-ranging menu that includes some unique sandwiches: the salmon BLT; the Vietnamese hoagie, with roast pork, pickled vegetables, and sprigs of cilantro; the crab- and lobster-cake sandwich, complete with Old Bay-spiked mayo; and the old-school grilled cheese, either with or without bacon. TheGeneralNow.com
General Warren
Malvern
The General Warren is nothing short of an institution in Malvern, best known for its formal dinner menu featuring classics such as beef Wellington, tableside Caesar salad, and snapper soup. Yet the restaurant also has a surprisingly robust tavern menu, complete with some terrific fare of a more casual nature; the braised rib-eye sandwich, tofu banh mi, and crab-cake sandwich come to mind. GeneralWarren.com
Grumpy's Handcarved Sandwiches
Pottstown
Despite the name, guests are unlikely to leave Grumpy's in a bad mood. Thanksgiving comes only once a year, but Chef Gene's slow-roasted turkey can make every day feel like a late-November feast. For those who enjoy a little fire on their tongue, try the "Hot Gobbler," a hot turkey sandwich with roasted peppers, pepper jack cheese, and a chipotle spread. GrumpysSandwiches.com
Hickory Kitchen
Doylestown
This D-town hot spot may be best known for its barbecue—and deservedly so, because the BBQ is excellent—but it's also serving up a diverse menu of sandwiches, platters, and other specialties to appeal to consumers across the culinary spectrum. If we're talking sandwiches, diehard omnivores will happily devour the smoked brisket or pulled pork (with slaw), while devout vegetarians will swoon over the multiple wrap options (tofu, portabella, raw vegetables, etc.). HickoryKitchen.com
Hymie's Delicatessen
Merion
Deli connoisseurs flock to Hymie's faster than you can say "corned beef and pastrami." This beloved Merion sandwich shop serves traditional specialties such as "The Gantzer Knaker," its signature corned beef on rye with coleslaw and Russian dressing. Take a seat at Hymie's and you'll get a pretty good understanding of why this place has been a Main Line staple for more than six decades. Hymies.com
Love Again Local
West Chester
Love Again Local offers quite the harvest of plant-based sandwiches that will have even the most ardent meat eaters swearing off animal flesh (at least for the time it takes to enjoy lunch). Some of the signature items at this cool little West Chester sandwich shop include "My Favorite Cuban," "The Classic Reuben," and "The PB & Jam Jam." Consider us big fans. LoveAgainLocal.com
McNally's Tavern
Chestnut Hill
Although it's not the prettiest sandwich you'll ever eat, McNally's legendary "Schmitter" is an exceptional delight: a Kaiser roll stuffed with sliced beef, grilled salami, and plenty of cheese, topped with tomato and fried onions, all slathered with "special sauce." Just one taste and you'll see why this sandwich has been a staple of this Chestnut Hill institution for 40 years and counting. McNallysTavern.com
Panache Wood Fire Grill
Blue Bell
Most people know Panache for its wood-fired pizzas and generous Sunday brunch, but the menu also features some sandwiches that leave us salivating. The crab cake sliders and prime rib sandwich certainly come to mind. PanacheWoodFireGrill.com

Pronto Italian Market and Catering
Doylestown
This new addition to Doylestown's Main Street is run by some familiar faces in Bucks County culinary circles: the Manninos, the family behind Alessio's Seafood Grille in Warrington. Everything coming out of the kitchen is market fresh and prepared with love, from the to-go meals to the gourmet sandwiches. One crowd favorite: a wonderfully named sandwich called "The Porker," starring freshly sliced pork tenderloin, broccoli rabe, and some seriously sharp provolone. ProntoItalianSpecialties.com

Pudge's
Blue Bell
Pudge's is a no-frills sandwich shop that honors a Philadelphia favorite: the mighty cheesesteak. In addition to steaks, though, Pudge's also offers a wide variety of sandwiches like the "Chicken Cordon Pudge" with Capicola, Swiss cheese, and honey mustard. For those who are really hungry, try the cheesesteak challenge; challengers must finish a three-pound cheesesteak and three pounds of fries, with a large soft drink, in 30 minutes or less. If you succeed, the meal is on the house and there's a new T-shirt in your future. PudgesBlueBell.com
Village Market
Newtown
It's tough to find a decent Cuban outside of Miami or a po'boy outside of New Orleans, but not at the Village Market. Here, you can order an authentic Cuban (ham, pork, Swiss, and pickles, with mustard) or a shrimp po'boy (spicy fried shrimp and shredded cabbage on a long roll), among other signature sandwiches you're likely to add to your favorites list. VillageMarketNewtown.com
Published (and copyrighted) in Suburban Life Magazine, September 2018.
.
.
.