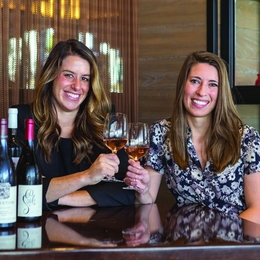 The Heart of Hospitality
Paxos Restaurants' Jillian Fligge and Elyse Lovenworth aim to create a memorable experience for each guest of their company's five locations.
Jillian Fligge and Elyse Lovenworth understand that "making it" in the restaurant industry requires more than just a talent for crafting excellent cuisine in a comfortable space where people want to spend time; rather, as Fligge observes, "It takes an incredible amount of time, effort, and passion."
These women appreciate this fact first-hand as members of the team at Paxos Restaurants, a family-owned group of establishments that includes the Newtown Square favorite Firepoint Grill and three restaurants in Center Valley—the upscale Italian restaurant Melt, the steakhouse experience at Top Cut, and the modern Mexican eatery Torre—as well as blue grillhouse and event center in Bethlehem.
"I am very lucky to work for a family who cares so much about creating both a quality workplace and a quality product," says Fligge, who serves the company as director of marketing and special projects. "It truly takes a village—and a very talented village at that—to open and run a successful restaurant."
Fligge and Lovenworth both came to Paxos with impressive résumés.
Fligge earned her degree in media and communication from Muhlenberg College. Since joining the Paxos team in 2014, she has assisted in the opening of three new restaurants for the group. "If you can customize your skill set to a particular business's needs," she says, "you can become incredibly instrumental in their success."
Lovenworth, meanwhile, has an equally noteworthy background. A graduate of Temple University, she has since earned a number of prestigious beverage titles, including certified sommelier with the court of masters, as well as the lesser-known beer equivalent title of cicerone. As the beverage director for Paxos, she has experience working "in almost every facet of the beverage industry." This includes everything from picking grapes and working in wineries, to brewing beer and importing and distributing wine and spirits, to tending bar and working as a sommelier.
Today, Fligge and Lovenworth embrace the notion that crafting a winning experience for restaurant guests requires something of a holistic approach.
"Our goal is always threefold: to provide our guests with great meals, great service, and a unique and enjoyable atmosphere," Fligge says. "We believe that dining out is about more than just enjoying a meal; it is about creating a memorable experience."
"I love providing a space and experience that helps people escape from their day, relax, connect with others, and enjoy themselves," Lovenworth adds. "I love introducing people to the places and stories of the people who contributed to what's in their glass."
As industry veterans, Fligge and Lovenworth share an appreciation for the commitment, hustle, and drive needed to run a successful restaurant. As part of that commitment, they realize that guest satisfaction is a never-ending quest.
"We monitor reviews and feedback from our guests very closely, as we are always looking to learn from our guests and to improve our restaurants in any way possible," Fligge says. "When a guest takes the time to reach out to us to say that they had a great experience—that they loved hosting their wedding at blue, or they had a great happy hour on our outdoor patio at Firepoint, that is the ultimate success for us."
For Lovenworth, reaching the status of "industry vanguard" is a privilege. She also considers it a responsibility to inspire and motivate those who follow in their footsteps.
"When I was starting out, I had some key people have faith in me and open doors I wouldn't have been able to myself," Lovenworth says. "I am more than happy to do the same and pay it forward."
"We are proud to see five Paxos Restaurants operating today," Fligge adds. "Who knows what the future will bring!"
Firepoint Grill
3739 West Chester Pike
Newtown Square, Pa.
(484) 428-3093
FirepointGrill.com
For more information on Paxos' other restaurants, visit PaxosRestaurants.com.
Photography by Nina Lea Photography
Published (and copyrighted) in Suburban Life Magazine, September 2018.