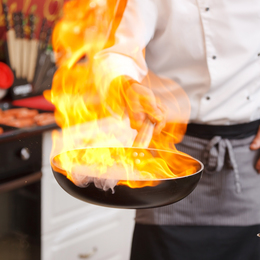 Melting Pot
Known for their artistry in the kitchen, these local chefs excel at bringing people together.
Variety, they say, is the spice of life.
This sentiment resonates at this particular moment in history, because it speaks to the notion that, regardless of our respective beliefs, points of origin, and other factors that might differentiate us from our neighbors, Americans share many commonalities. "There is more that unites us than divides us," as the saying goes.
For starters, all of us can agree that there are few comforts more satisfying than sitting down to a lovingly prepared meal. Put more simply, great food brings people together.
On the following pages, we celebrate local chefs whose artistry in the kitchen excels at bringing others together, to break bread at the communal table. They draw from an array of flavors and cooking styles, both foreign and domestic, to craft fine cuisine to be enjoyed by all.
Grant Langdon Brown
When asked to describe his personal style, Brown uses just one word: authentic.
"I'm not into fusion, and I'm not into the American idea of what something should be," says Brown, owner/chef at 19 Bella (19Bella.com) in Cedars. "I have 4,000 cookbooks. I really investigate cuisine when I'm selling it."
He has spent decades honing his considerable culinary skills.
"My first job cooking was a Christmas Eve dinner for Henry Ford II," he shares. From there, he rocketed upwards, opening restaurants in Massachusetts and Virginia before going on to a position with the storied London Chop House in Detroit.
Brown's career also took him to the kitchens of The Polo Lounge in Westbury, N.Y., two mountaintop restaurants in Vermont, and the Meritage in Philadelphia, where he stayed until the restaurant sold in 2007. He opened 19 Bella in 2010, where he has been crafting distinctive cuisine with global flair ever since. The restaurant features a tapas-style menu that spans the Mediterranean, though his kitchen employs flavors from countries around the globe.
"I meticulously research how to serve food you'd find in different countries," he says. "In Tunisia, for example, you'd use olive oil and butter; in the Middle East, you'd just use olive oil. It's fun to bring cultures and food together."
Naturally, the restaurant hosts a bevy of food festivals throughout the year that reflect this commitment to world cultures; paella took center stage in November, for example. A Feast of the Seven Fishes celebration will come in advance of the Christmas holiday. For January's gathering, he will import what he calls "true wild game" from the likes of Scotland and Sweden. —LS
Manuel Jimenez
Born and in Salamanca, Spain, Chef Jimenez took a circuitous route to leading one of the most dynamic kitchens in the Philadelphia suburbs. He and his wife, Cindy, co-own Vida & Comida (VidaAndComida.com), a Spanish BYOB well into its second year of operation in Ambler.
"What we want to do is provide something unique, and focus not on quantity but quality," says Jimenez, who learned to cook in Spain, and then received more formal training in Switzerland. Now living in a part of the world where few have much experience with authentic Spanish food, he has crafted a Mediterranean-focused menu that combines authenticity with approachability. Familiar favorites such as paella, made with imported Arborio rice and saffron, join more exotic dishes starring ingredients commonly used in European cooking but rarely found in the average American diet—game meats such as rabbit, for example.
For newcomers, Jimenez likes to recommend the Spanish cheeses and charcuterie, as well as dishes such as pulpo (octopus) or the seafood paella. Speaking of fruits of the sea, he says guests also lean toward the menu's mariscos, or regional seafood dishes, featuring the likes of sautéed filet of Dover sole and seared corvina.
Native to countries outside the United States—he from Spain, she from Panama—Manuel and Cindy Jimenez met 40 years ago at Philadelphia International Airport. They previously ran two other restaurants, though Vida & Comida is their first in the United States. Finding success as American restaurateurs is the realization of a lifelong dream for each of them. It's even more special because they belong to Ambler's diverse culinary scene, which, considering their international roots, is just a stone's throw from where their paths first crossed. —BD
Tina Kelly and Ernie Pio
Much like olive oil's ability to bring out the best in tomatoes or the combination of lemon and garlic adding zest to a filet of fish, Kelly and Pio are natural complements.
At Tapas on York in Jamison (TapasOnYork.com), the partners have crafted a menu of tapas-style cuisine with an Americanized twist, such as bacon-wrapped mahi mahi, Cajun mushroom caps, and paella croquettes. All dishes are made from scratch, using fresh and locally sourced ingredients whenever possible, putting a distinctive spin on traditional Spanish-style tapas.
Although their restaurant has the word tapas in its name, Kelly and Pio never wanted to limit themselves to one kind of cuisine. Pio's knack for Southern and Southwestern fare and Kelly's homemade gnocchi are two examples. The wide-ranging menu changes often, so it may include anything from jambalaya-inspired meatballs to fried pork schnitzel, and from roast-duck spring rolls to traditional American favorites such as New York strip steak. In other words, guests could essentially take a trip around the world—in the culinary sense—in the course of one meal.
The creativity extends beyond the restaurant menu—breakfast, lunch, and dinner—to include a robust catering operation headed by Kelly. She says Tapas on York will happily create a customized menu built to suit any event, whether the client prefers Polish comfort foods or dishes made with seafood plucked from the waters of the Mediterranean. —BD
Charles Vogt
A fan of "fresh, clean" ingredients and flavors, Vogt has "grown into" his personal style. He cites a recent evolution to more natural eating as inspiration for much of his current outlook on cuisine.
"I'm definitely one of those people who likes a challenge, likes risks, and wants to progress in the industry," Vogt says. "I've seen how much things have changed, and I really want to be a part of that push towards natural, organic, and sustainable."
Now leading the kitchen at Villanova's Main & Vine California Bistro (MainAndVineBistro.com), Vogt blends his flair for warmth and hospitality with a focus on West Coast-inspired fare. He says he is proud to lead a kitchen that offers scratch-made items such as pickled vegetables and jams, as well as dishes made with seasonal produce, including gourds and root vegetables in brisker months.
Vogt started his career in the hospitality industry as a 15-year-old busboy, moving through a variety of roles and eventually following his heart to a position as a culinary artist. He completed his studies at New Jersey's Academy of Culinary Arts. Since then, the sky has been the limit.
"I traveled a bit," he says humbly, noting his journeys took him up and down the East Coast, from his home state of New Jersey to restaurants in Virginia and Maryland, including Washington, D.C. He even worked with renowned Iron Chef Geoffrey Zakarian at The Water Club in Atlantic City's famed Borgata Hotel Casino & Spa.
"D.C. is amazing; it's such a transient, fun city," he says. "There's a different culture and different cuisine, but this is home. It's good to be back." —LS
Published (and copyrighted) in Suburban Life Magazine, November 2018.
.
.
.