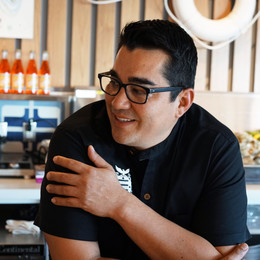 A Full Plate
While refining the menus and guest experiences of every restaurant he touches, Jose Garces readies to open a new concept in New Hope.
Jose Garces is a happy man. Happier than he's been in a while, he might admit. One reason: He has returned to his roots, with his sights set squarely on the food.
In a way, 2019 represents a fresh start for Garces. After a turbulent period, during which he endured financial woes and the sale of his restaurant group, he linked arms with the founders of Ballard Brands, among others, to form IdEATion Hospitality. In his new role as chief culinary officer, he is focusing on "chef-driven culinary experiences" within a family of restaurants that includes Philadelphia's Amada, Buena Onda, Distrito, JG Domestic, The Olde Bar, Tinto, Village Whiskey, and Volvér.
"This is truly an exciting time in my career, to have that ability to just think about food," he says. "My focus is clearly on menu development, food engineering, and working with our chefs and our staff. That's where I hang my hat. That's my passion. It's where I started in this business. I think the end user is really going to see the results."
At Tinto in Rittenhouse Square, for example, he recently rolled out a new menu—the most ambitious update since the restaurant opened more than a decade ago. Some of the new items he's most excited about: bocadillo de calamari (fried calamari sandwich); Canelones de pato (duck cannelloni); gambas en chocolate (shrimp in a mole-like chocolate sauce); and monkfish con alcachofas (spiced monkfish with artichokes).
"Tradition and authenticity are so important when we're communicating cuisine," he says. "They tell a story, and they educate. … Philadelphia is a town that loves authenticity; they don't want BS. So that's why, whether we're doing a Cuban diner or our Mexican cantina, it's all about the research and development, and bringing that authentic flavor to Philly."
His immediate goal: to refocus and revamp the menus of every restaurant in the family, so to speak. To do so, he considers cultural immersion a necessity—traveling to different parts of the world to spend time with local people, taste local flavors, etc. This year, he intends to visit Spain, Brooklyn, and Oaxaca, Mexico, for example, as well as Chicago, where he was born and raised. At each destination, the itinerary will likely include visits to key cultural festivals, public markets, and more intimate experiences, such as meals in the homes of locals.
"It's all about growing and learning," he says. "It would be boring otherwise. I love the exploration—that's the whole joy of being in this field, of being a chef. I've lived in Philly for 18 years. … You have to keep recreating yourself and stay in touch with what's happening."
Growth is on the horizon. While he has made his bones in Philadelphia, he will soon export his culinary talents to nearby Bucks County with the opening of a new restaurant concept in New Hope, near the iconic Bucks County Playhouse. The restaurant will feature American small plates, he says, though he would rather not share the name just yet.
"I'm excited about getting a great result," he says. "Any time you do one of these, they're a lot of work. We've been focused on a few other aspects as part of our growth strategy, but [New Hope] is the immediate. If that's 2019 and there's nothing crazy out of the box, that's OK."
While he looks forward, he also has an eye in the rearview mirror.
"My life is less complicated today than it was two years ago, a year ago," he says. "I have to dig deep to not make it any more complicated. … My kids are at a crucial period—I have a 16-year-old and a 12-year old—so I have to make sure I carve out time to make an impact on them. I think that helps to guide everything else."
Photography courtesy of IdEATion Hospitality