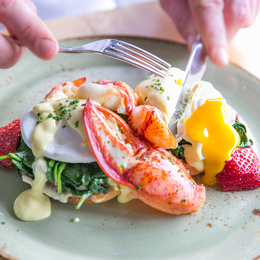 Beyond Basic
Savona in Gulph Mills takes brunch to a higher level.
Drew Masciangelo describes his approach to cuisine as one of innovation, not duplication. Diners will observe this at any meal offered at Savona, his storied Gulph Mills restaurant—especially when it comes to the newly hatched brunch offerings.
"I just tried to offer a traditional brunch menu and kind of really be focused on making everything in house and doing things as clean as possible with the best ingredients I can find," says Masciangelo. He shares his excitement over brunch dishes such as three different eggs Benedict preparations, which feature smoked salmon, Canadian bacon, and poached lobster.
One of Savona's recent innovations comes with the onboarding of pastry chef Angela Goods. Masciangelo first met Goods in the early 2000s, during her time as a student. Goods worked for a number of Masciangelo-led establishments before joining the Savona team approximately six months ago.
"I find what Chef Goods is doing very exciting," he says. "We make three different breads here daily. We make our own hamburger buns for brunch, and she makes all the English muffins for the Benedicts. She also makes the brioche for our French toast, and there's a cinnamon-sugar swirl bread she does as well.
"We only hire people who are career-oriented or people who want to be chefs," he continues. "So, the conversation in the kitchen is always about food—what we can do, what's available. We're constantly bouncing ideas off of one another."
Ordinary is taboo at Savona, where Masciangelo encourages his team to think boldly.
"We hired a GM, Yohann Zinier, who worked with me in the past and who we were lucky enough to get to come back to the restaurant last summer," he says. "We talked about how to do brunch—how to make it special. I'm a big fan of live music, so we talked about getting a jazz band. We had a Bastille Day party at the restaurant, and we hired a small, three-piece jazz band for it. … We asked if they'd be interested in playing jazz downstairs during our brunch."
In addition to lovely music, brunch diners can expect plump fruits, farm-fresh eggs, and succulent meats and seafood.
"We're focusing on more traditional type things," he adds. "We bring in the freshest ingredients, and we're keeping the prices as low as we can. That is, if someone wants to come in and get in and out for under $20, they can do that. To be able to come here, sit down and enjoy the kind of service and the team of people we have cooking in the back—who I think are the best around—it's a bargain."
This accessibility is important to Masciangelo because hospitality is his first love.
"I'll work a 60-some-hour week then throw a dinner party on Sunday because I just enjoy being around people," he says. "I enjoy my family, and I enjoy feeding people, taking care of people. I have five kids so we're always adding more people to our table."
Coming Full Circle
Growing up, Masciangelo moved all over the United States with his family, following his father, a textile engineer, to locales from one coast to another. But, as his father is from Bryn Mawr and his mother is from Philadelphia, he spent a lot of time in the area.
"We'd always come back to Bryn Mawr for the holidays," he says. "As a kid, I remember driving by Savona, which was then The Picket Post, thinking: Wow, that place is neat."
On a Thanksgiving break from classes in 1997, Masciangelo walked into the establishment and knew straight away that he'd found his home away from home. He started working at the pantry station, and as he says, "moved up and up and up," taking over as executive chef in 2003 and partner in 2009.
"I've spent more time in this building than anywhere else in my life," he says. "I'm 45 years old, [and] I've been here since I was 21 years old, five days a week, 10 hours a day. I know every nook and cranny of this place."
Never one to rest on his laurels, Masciangelo stresses that Savona's menus are ever evolving.
"Our menu is a living thing," he adds. "It changes dramatically about eight times a year, but within those eight times, each one of those menus changes maybe three to four times. This happens when, say, we use an ingredient that is only available for a two-week span."
Good relationships with key vendors are essential. Whether it's someone from the microgreens farm telling him about what's growing this week, or his mushroom vendor explaining which varieties look extra nice, he's in "constant contact" with his purveyors.
Preparations for the spring menu are underway, but Masciangelo says he's in no rush to usher in the new season.
"The worst thing you can have is a dull start to a menu change," he says. "Some people try to jump seasons before the ingredients are ready to sing. You have to know what to do with ingredients. You have to let the ingredients speak for themselves."
5 More Sure Bets for Brunch
The Greater Philadelphia Area abounds with dining options that revel in the eggy, syrupy, and yes, sometimes boozy best that brunch has to offer. Our advice: Check out the following establishments, and strongly consider trying one (or more) of the signature dishes described below.
Café Blue Moose
New Hope
Made with savory Cajun spice, andouille, poached egg, and hollandaise atop a cheddar biscuit, Café Blue Moose's French Quarter Benedict is a must-try, according to Kate Attinello, front of house manager and partner of owner Skylar Bird. As an alternative, opt for the "Dutch babies," which are sweet and puffy pancakes that have been baked in a cast-iron skillet, versus made on a griddle, served with accoutrements such as smoked salmon and Gournay cheese or house-made applesauce. CafeBlueMoose.com
Roots Café
West Chester
Dan Merola, co-owner and head chef, says diners flock to this West Chester favorite for the wide array of avocado toasts, which feature options that cater to vegans and omnivores alike. Merola says the Benedicts are winners, too, as is the "ALT" (featuring avocado, roasted garlic aioli, and fried tomato), an item that's been on the menu since the restaurant first opened. RootsCafeWC.com
SOMO Manayunk
Philadelphia
Chef Bryant Diggins sings the praises of the ricotta pancakes, served with berry compote, whipped cream, powdered sugar, and seasonal fruit. He also recommends the ultimate in savory brunch dishes, the fried chicken French toast. This gem includes brioche French toast served with fried chicken, chorizo gravy, and coleslaw, with eggs served any way. SomoHospitality.com
Spring Mill Café
Conshohocken
The café's signatures include a selection of omelets, which are "French and fluffy—the way they're supposed to be done," says Ezra Haines, owner/manager and son of Spring Mill's founding chef, Michele Haines. Another standout is the rabbit, with preparations that change seasonally. Through the chill of winter, the dish is Lapin aux Pruneaux, which features braised meat in a reduction of red wine and prunes. SpringMill.com
The Hattery Stove & Still at the Doylestown Inn
Doylestown
The scrapple for brunch dishes is made in house from a chef's special recipe that combines pork belly and polenta, according to Jody Quigley, co-owner and bar manager. For a sweet treat, try the stuffed French toast: buttery Brioche dipped in buttermilk, and then coated in crunchy sweet cereal (think of a cereal associated with certain mustachioed Cap'n), stuffed with a rich strawberry ricotta filling. HatteryDoylestown.com
Savona photograph by Dallyn Pavey

Published (and copyrighted) in Suburban Life magazine, March 2019.
For more info on Suburban Life magazine, click here.
To subscribe to Suburban Life magazine, click here.
To advertise in Suburban Life magazine, click here.