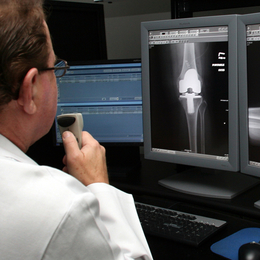 Return to Form
By combining excellent care with simple human kindness, St. Mary Center for Joint Replacement offers high patient satisfaction, faster recoveries, and fewer complications.
At St. Mary, patients have access to the latest treatment advances and less-invasive surgical techniques performed by some of the area's most accomplished bone and joint experts. Orthopedic areas of excellence include the total joint replacement program, sports medicine, hand and upper extremity surgery, spine and neck surgery, trauma services, physical therapy, and pain management. Notably, St. Mary Center for Joint Replacement has earned national accolades for quality, patient safety, and patient satisfaction. In fact, patient-satisfaction scores consistently rank in the 99th percentile of national benchmarks.
Rapid recovery protocols for joint replacement patients and next-business-day appointments with experienced orthopedic subspecialists are among the innovative processes designed to make it easy for patients to access the care they need and return home as quickly and safely as possible.
The Center offers comprehensive and integrated services for total hip, knee, and shoulder replacement surgery, from a preoperative class for patients and their families to patient reunion lunches. The reunions bring patients, families, and providers together to celebrate progress made, and also serve as the basis of many improvements made over the years as the orthopedic team learns from patient experiences.
The goal: to set patients up for success. Once surgery is decided as the best treatment option, surgeons and the entire orthopedic care team partner with patients to promote independence and improve quality of life through a proven, patient-focused care process. This includes a pre-hospital home care visit and home assessment, followed by pre-hospital multidisciplinary discharge planning. A dedicated nurse navigator guides patients through the entire continuum.
The day of surgery, patients find private, hotel-like rooms; orthopedic operating suites equipped with the latest technology and staffed by an experienced OR team; an orthopedic-specific nursing unit with specially trained and certified nurses and support staff; and a therapy gym on the unit to support same-day mobility.
More than 90 percent of patients return home following surgery, and experience very low complication rates, infections, or readmissions for related diagnoses.
Revolutionary Treatment for Degenerative Discs
People with degenerative disc disease now have access to the new and innovative Mobi-C® Cervical Disc at St. Mary Medical Center. The artificial disc can replace diseased discs, restoring height and removing pressure on pinched nerves to relieve pain while retaining motion.
Degenerative disc problems can start from overuse, an accident, or just the wear and tear of daily life. When a disc degenerates, it can have tears or cracks, which cause it to become thinner and provide less padding to absorb movement. Degenerated discs can also bulge (herniate) and pinch the spinal cord or nerves, which causes loss of feeling, weakness, pain, or tingling down the arms and hands.
Traditionally, patients suffering from this condition would have received fusion surgery, which reduces pain by physically joining two vertebrae together and eliminating motion in the painful segment. The potential downside of a fusion procedure, in addition to the loss of motion, is that the metal plate and screws used to hold a spacer implant in place can create additional stress and accelerate degeneration on the vertebrae and discs adjacent to the disc operated on in the months and years following surgery. This, in turn, may necessitate additional surgeries.
Did You Know?
St Mary is nationally recognized for joint replacement. In addition to earning the Gold Seal of Approval from The Joint Commission for hip and knee replacement and being designed by IBC as a Blue Distinction Center for knee and hip replacement, St. Mary is among only 3 percent of hospitals nationwide recognized by Healthgrades for both "Patient Safety Excellence" and "Outstanding Patient Experience." In 2018, St. Mary was recognized by U.S. News & World Report as a High Performing Hospital in Hip and Knee Replacement.
Published (and copyrighted) in Suburban Life magazine, March 2019.
For more info on Suburban Life magazine, click
here
.
To subscribe to Suburban Life magazine, click
here
.
To advertise in Suburban Life magazine, click
here
.