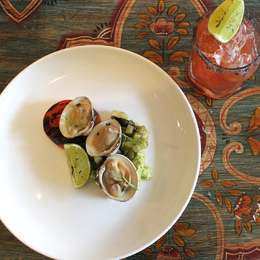 Simple Pleasures
At Lotus Farm to Table in Media, guests enjoy healthful dishes and drinks to soothe the body and the soul.
When Courtney Rozsas returned from travels to Asia in 2008 and 2009, she brought home something unexpected: a fiery passion to explore the connection between foods and wellness.
"I saw the culture, the way of life, the medicinal values of tea … I loved that," she says. "I learned so much on that first visit. When I came back I wanted to translate that knowledge into creating a healthy and sustainable restaurant."
And she did just that in 2009, planting the seeds of her newfound knowledge in Media. The result: one of the area's most popular BYOBs, Lotus Farm to Table.
"I saw a void in our area," Rozsas says. "One Sunday, I just wanted a great, clean, sustainable salad. And, 10 years ago, that was hard to find."
In Lotus Farm to Table, Rozsas synthesizes her loves of food and wellness by offering a host of farm-fresh dishes and healthful teas. No matter the season, "tea goes great with everything," according to Rozsas, who sings the praises of this "clean" beverage and its ability to improve health and mood.
"We cook a lot with tea in our dishes," she notes. "We use them in desserts, and we also have a lot of housemade spritzers and sodas, as well as teas. We definitely like to integrate tea into our cuisine because it has so many great properties, from boosting immunity to calming to increasing metabolism."
In addition to healing beverages, Rozsas seeks the best in local protein and produce for her dishes. In fact, she and executive chef Ryan Sulikowski travel to farms throughout the area to see how and where their ingredients are raised.
"We have so many great farms in our area, it has been a no-brainer to utilize them," she says. "At Lotus, we serve sustainable cuisine using sourcing as a strategy. We also believe that supporting local farms is really important, and we want to ensure the highest quality in our food."
Showing Respect
Like Rozsas, Sulikowski believes food can impact one's general health and wellbeing. He emphasizes, however, that the terms wholesome and calorie conscious don't always go hand in hand.
"Sometimes there's a misconception that farm to table will always be the healthiest option in town—that's not always necessarily true," he says. "We do, though, try to keep everything as fresh as possible. We make all our ice creams and sorbets in house. We don't use proteins raised with hormones or antibiotics. We do not use any fish known to cannibalize in farms. These things impact people's wellbeing in that people aren't ingesting massive amounts of hormones."
Sulikowski's C.V. includes time spent in the kitchen of Maine's renowned Clay Hill Farm restaurant. He and Rozsas agree that a focus responsibly sourced, local, and seasonal foods yields the best results for guests.
"Our big thing is really to keep things simple," Sulikowski says. "We just want to show as much respect to the ingredient as possible. If we are getting a carrot from a local farmer, they took the effort to produce the best product possible, and it's our job to turn around and do the same thing. … Once it's in house, we have to continue to be responsible—besides making food people enjoy."
For those who have not yet been to Lotus Farm to Table, Rozsas has worked hard to create an environment in which people come in and immediately feel calm and relaxed—"a little escape from the outside world," she says, "where they can enjoy a cup of tea and a simply made meal."
The menu changes often, according to Sulikowski, who has helmed the Lotus kitchen since 2012.
"Now, it is heavily Asian influenced," he says. "We utilize a lot of methods of curing and pickling, as well as fermented items, rice, chiles, and Asian spices."
Spring is a special time of year for Lotus Farm to Table, as prized crops such as white asparagus are available for only a few short weeks. In fact, Rozsas and her chef take to the woods to forage for one particularly special springtime treat: ramps.
"There are also fiddlehead ferns, fava beans, morel mushrooms," she says. "Spring is definitely my favorite time for vegetables to shine through."
On the horizon, Sulikowski hints at a focus on "classic new American" flavors.
"We keep a certain style to our cooking; we just use different ingredients or flavor profiles," Sulikowski says. "We've done Nordic, Latin, classic French—it's whatever we want to research and learn more about."
Photograph courtesy of Lotus Farm to Table
Published (and copyrighted) in Suburban Life magazine, April 2019.
For more info on Suburban Life magazine, click
here
.
To subscribe to Suburban Life magazine, click
here
.
To advertise in Suburban Life magazine, click
here
.