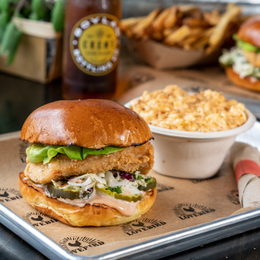 Made with Love
Lovebird puts a lavish spin on a comfort-food favorite.
A new addition to the suburban restaurant scene has made quite a name for itself in a year's time, simply by offering some of the crispiest, juiciest fried chicken around. Lovebird opened its flagship location in Doylestown last May. A second location, in Bryn Mawr, opened just last month. If all goes according to plan, suburban Philadelphia is likely to see much more of Lovebird in the not too distant future.

The Lovebird concept is the brainchild of John Ordway, the owner of Jules Thin Crust, which has locations throughout the Greater Philadelphia Area, and Oakland, Calif. Lovebird's inspiration, according to Ordway: "a lack of any high-quality fried chicken options, primarily in the suburbs."

The concept was a year in the making, and featured copious recipe testing and quality assurance. From the meat to the breading, no detail went overlooked.

As Carolyn Gadbois, general manager of both Lovebird locations, shares, "There was a lot of research with different varieties and qualities of meats in trying to find something tender, juicy, delicious, and from a responsible, sustainable, humane farm."

This research led the Lovebird team to Gerber's Amish Farm Chicken.

"We wanted chicken that was humanely raised, on a proper diet," Ordway says. "While it's double the price of regular chicken, one can really taste and see the difference."

"The flavor really sets the meat apart," Gadbois adds. "People usually expect, when they talk about fried chicken, something that leans heavily on the breading, not the meat. Here, the meat is the star of our dishes. And our gluten-free breading is just the icing on the cake."

Indeed, all Lovebird's fried chicken features gluten-free rice flour-based breading. The mac and cheese is gluten-free, too, though the same cannot be said of all menu items, as prepared.

"We can modify," she says. "We work with a great gluten-free bakery that provides us with the rice flour. Along with our own seasonings and spices, it really enhances crispness and flavor."

While the Lovebird team didn't start out with the goal of creating a wholly gluten-free dining experience, Gadbois shares that the team found "the flavor great and the quality second to none."

"We did lots of tastings and dredge enhancement," Ordway says. "This is how we happened upon the gluten-free offering. The dredge and ultimately the taste came out of this."

Gadbois had the good fortune to attend some of these early tastings. The focus of each one: to hone the flavorings.

"John [Ordway] saw specifically that quality fried chicken was not available in the suburbs," Gadbois says. "He just felt like it was not something being done around where we live. A high-quality, carefully crafted product of this type was not really available. Now, people can dine quickly on our products and feel that love was put into them."

The restaurant's offerings include chicken legs, thighs, breasts, wings, popcorn chicken, sandwiches, salads, bowls, and sides. Bowls, sandwiches, and salads can be customized to feature miso-garlic grilled or fried chicken, or miso-garlic tofu.

A few stars of the menu include the eponymous Lovebird sandwich, served with house-made special sauce, pickles and slaw, and the Baja Bird sandwich, which comes with queso fresco, fresh pico de gallo, and cilantro. One wholesome bowl features a medley of quinoa topped with Brussels sprouts, shaved beets, organic spring mix, and scallion vinaigrette.

"Everything is really intentional," as Gadbois says. "That's what makes the difference. To be able to know that we are offering conscientiously crafted products to the community that are delicious and with meat from a farm we can stand behind is essential."

Patrons appreciate the care and craft behind every element of every dish, according to Gadbois. The seasoning on the crispy mint-and-chili Brussels sprouts is a fine example.

"I had a child just recently walk up to me and say how much he loves the sprouts," she shares. "That's huge—that a four-year-old is that excited to eat something green. We hope parents feel good about that."

This youngster is just one of many who've come through the doors of Ordway's establishments over the years. In fact, the Lovebird team says its commitment to offering quality products is as important as their investment in forming genuine, lasting relationships with guests, some of whom, Gadbois shares, have been fans of Jules Thin Crust for years.

"We like that we forge strong relationships with families and their children," Gadbois says. "Some people started out eating Jules Thin Crust as kids, then as teens, then as college students. That kind of investment in the community is something you can't ignore. It's a family here."

Gadbois attributes Lovebird's success to a number of factors, including the commitment to customer service, the use of carefully sourced ingredients, and the availability of gluten-free options.

As for Ordway, he says he and the rest of the Lovebird team foresee additional growth on the horizon.

"The customer response has been overwhelmingly amazing," he shares. "In today's climate, a majority of our customers—whether Jules or Lovebird—appreciate knowing where their food comes from. From a personal perspective, we like serving the best food possible that we can source."

Photograph by Jody Robinson
Published (and copyrighted) in Suburban Life magazine, May 2019.
For more info on Suburban Life magazine, click
here.

To subscribe to Suburban Life magazine, click
here.
To advertise in Suburban Life magazine, click
here.