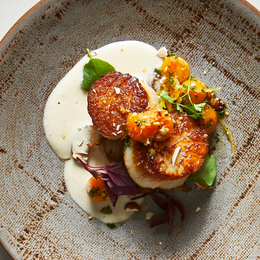 In the Limelight
Jose Garces' newest hotspot, Stella, has the New Hope waterfront abuzz.
New Hope has yet another reason for visitors to stop by: Jose Garces' restaurant, Stella, right next door to the Bucks County Playhouse.
Stella, which launched June 15, is an American small-plates concept by the James Beard Award-winning chef, housed in the renovated Ghost Light Inn on the waterfront. With a focus on locally sourced produce and meats, as well as artisan ingredients, Stella joins the other gems in Garces' family of restaurants, which includes the likes of Philadelphia favorites Amada, Distrito, Tinto, and Volvér.
"It's our intention to provide a comfortable, fulfilling experience that taps into all of our guests' senses," says Nathan Johnson, director of culinary for Garces Group. "The dining room overlooks the Delaware River, where guests can experience spectacular views while indulging in comfortable food with high-quality service. We make sure every detail leaves guests with a feeling and experience they won't forget.
"New Hope is a gem … that draws crowds of people throughout all different times of the year," he continues. "The local community really prides itself on supporting the local vendors and has great artisan producers of all different products, from coffee to farms producing organic produce and many other great things."
This abundance of local items played an integral part in steering the restaurant's menu, according to Johnson. One locally inspired dish stars Pocono rainbow trout, accented by Benton's country ham, apple and kohlrabi slaw, burnt chile chimichurri, and hazelnut vinaigrette. Another is local asparagus Milanese with black pepper and vermouth sabayon, smoked egg yolk, and black truffle.
"What makes a restaurant special is the product and experience that it's offering," Johnson shares. "We strive to create a menu that is unique, yet remains approachable and comfortable. Using locally sourced ingredients by artisan vendors makes this process a little bit easier. Their products are often superior, or something that is slightly different than guests are used to. For example, our heirloom purple okra has much more of a nuanced flavor profile and presentation than a typical green okra that people are generally used to seeing.
"It's also important to us to help support these smaller producers in a small community, giving them the opportunity to showcase their products to a larger audience," he continues. "It makes the familial approach our organization prides itself on flow not only through the service, but the food itself."
'Inspired and Driven'
Johnson shares that he is partial to the diversity afforded by the small-plates dining experience.
"I love the small-plates concept due to the ability to try a variety of menu items," he says. "Oftentimes, when I sit down at a restaurant, I find myself wanting almost everything, but with the small-plates concept, this can be a reality. It also allows guests to branch out of their comfort zone and try items they wouldn't have necessarily tried before."
The beverage program at Stella is as innovative as the food. Theater-themed specialty cocktails include The Ghost Light (rhum agricole, lime, and sugar), Break a Leg (bourbon, lemon, honey, and raspberry), and Preshow (Prosecco, aperol, grapefruit, and basil).
"The inspiration behind the cocktails was simple: to keep things simple and clean, while adding a creative flair that would accompany the cuisine," Johnson says. "The process started in a small farmhouse kitchen, and blossomed into a very cohesive cocktail program that's approachable to all guests. The names draw inspiration from the Bucks County Playhouse located next door, which has become a beacon of creativity to the community and is fitting to build creative drinks around."
A favorite pairing, according to Johnson, is the Break a Leg cocktail served with the dark chocolate fondant dessert, which features a gluten-free chocolate cake, coffee mousse, raspberry sorbet, and mascarpone. The pairing should appeal to the bourbon lover as much as it does one who craves sweets.
"We continue to be inspired and driven by the local beauty of Bucks County," Johnson says, "one cocktail at a time."
Photography courtesy of the Garces Group