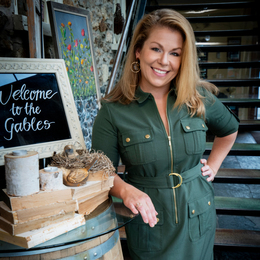 Green Gables
Set on lush grounds in an idyllic corner of Chester County, The Gables at Chadds Ford has become a destination for grand celebrations, intimate gatherings and everything in between
Set atop rolling green countryside in bucolic Chester County, The Gables at Chadds Ford offers restaurant and event spaces that elegantly blend rustic charm with timeless sophistication. Natural light abounds throughout the building, from the modern bar and dining room, decorated in hues of ivory and cream, to the banquet room, featuring exposed beams and floor-to-ceiling windows.
Diners looking to sup en plein air can enjoy the stone patio, which, topped by greenery, climbing vines, and flowering plants, could easily be mistaken for a botanical garden.
Exclusively on Thursday evenings during the summer months, The Gables offers an outdoor beer garden space, complete with local craft beers, wine, cocktails, and games such as giant Jenga and Cornhole, as well as a custom S'mores bar and live music. As a special treat for Mom and Dad on these nights, The Gables offers a "Kid's Corner," a separate indoor area with toys, games galore, and staff to keep an eye on things so little ones can have fun while the grownups enjoy a much needed bit of R&R.
Ann Kolenick, owner-operator of The Gables, admits that the road to the present day at The Gables hasn't been all wine and roses, however. A hotel and restaurant tourism major in college, and a pastry arts graduate of the Restaurant School at Walnut Hill College, Kolenick has been helming restaurants for nearly the entirety of her career. She owned a beachside hotspot in North Carolina for close to a decade—experience that proved invaluable, she says.
"In the beginning, I had no idea what I was doing, but I learned from my mistakes," she says of her first business. "It was challenging, but taught me valuable lessons."
The birth of her daughter, Lucy, inspired her to leave the sand and surf behind and return to southeastern Pennsylvania, but her love for hospitality never waned.
"This is home for me," Kolenick shares. "My family is here, so we started to look for restaurants for sale in the area. When we found The Gables, though, I just knew it was the right place. The building is so beautiful, so rustic and unique. When I walked in, I immediately started to imagine all of the possibilities."
Those possibilities began flourishing from the start, when Ann took ownership of The Gables in July 2011.
"I always want people to feel comfortable when they come to The Gables, as if they're in my home," Kolenick says. "It's really important to me that our guests feel appreciated and welcomed like good friends or family."
This home-like ambiance should come as no surprise considering the fact that Kolenick's business is truly a family affair.
"It's been really helpful to have my parents and my sister involved," she says. "My mom does the bookkeeping, and my dad is a cardiologist, but he loves the business aspect of everything—numbers, spreadsheets, and problem-solving. My parents have been great mentors for me, and have helped guide me through so many challenges."
Kolenick's sister, Cathy Centofanti, also has an important role in The Gables' success. Having recently moved back to Pennsylvania, Centofanti now serves as the restaurant's assistant manager but does, as she describes it, "a little bit of everything." Her duties include not just restaurant management but also assistance with banquets, tours, and other front-of-house duties, as well as booking future special events.
"I always tell people if they have an exact date for an event, and there is availability, jump on it," she says, noting the restaurant has already received bookings for holiday parties at the end of the year as well as wedding inquiries as far ahead as 2021. "People love having private parties with us, because we don't have one set of packages for one set of prices. Everything we offer is totally customizable to any guest's taste and budget."
Event coordinator Kelly Donahue may not be directly related to Kolenick and Centofanti, but she has been welcomed into the family since coming to The Gables five years ago.
"We host all sorts of events, from corporate to baby and bridal showers to weddings to milestone birthdays," she notes. "We offer a very full-service experience. We try to make it one-stop shopping."
Assets at The Gables include an on-site wedding suite, garden wedding ceremony site and an advanced, state-of-the-art sound system. As Donahue notes, "When a DJ plays here, all he or she needs to do is bring in a source of music and plug it in."
Realizing that some guests may be overwhelmed with options for florists, photographers, and more, The Gables offers a preferred vendor list full of individuals who are familiar with the venue. Every name on the list has been vetted to help make every event truly special.
"Our passion here shows," Donahue says. "And I think the fact that we love what we do shows and people see that. We always want our guests to have the best event possible, so we know how important it is that we pay attention to every detail. Thankfully, we have a great team, and great leadership with the event staff, so it's easy for people to feel comfortable and confident."
The private banquet room can host small gatherings with as few as 20 guests to large-scale celebrations for 140, featuring a dance floor in the center of the room. Guests of The Gables can also elect to hold an event in the semi-private upper patio. Regardless of the size or style, all occasions are welcome.
"This is a fun job," Donahue says. "It's rare to find a job that allows you to spend time with people on one of the best days of their lives."
No celebration is complete without fine cuisine, of course. In this arena, The Gables shines, offering new American-style cuisine with Southern flair, prepared using French techniques. A true treat for diners, the team at The Gables is delighted to welcome a new chef who they deem nothing short of spectacular.
Also on the horizon: Wine-pairing dinners featuring the chef's signature cuisine and pairings from some of the finest wineries around the world. On September 21, for example, The Gables will host a French-themed pairing dinner.
"We have a real family environment here," Donahue says. "There is great banter and joking, but also trust. I feel that between all of us, we have the bases covered, and we work well together to make sure every guest has a great experience."
"I want to say I really am proud of myself, my family, and my staff, some of whom have been with me since the beginning," Kolenick adds. "It feels good to have gotten to this point and to see that all of our hard work is paying off. I've learned over these past 13 years that when you own a business there will always be challenges, but if you look at those challenges as opportunities to improve and you continue to work hard and treat people the right way, things have a way of working out. I'm grateful that my dad taught me how valuable it is to have a positive outlook, and that hard work pays off."
The Gables at Chadds Ford
423 Baltimore Pike
Chadds Ford, Pa.
(610) 388-7700
Photograph by Jody Robinson

Published (and copyrighted) in Suburban Life magazine, July 2019.
For more info on Suburban Life magazine, click
here
.
To subscribe to Suburban Life magazine, click
here
.
To advertise in Suburban Life magazine, click
here
.