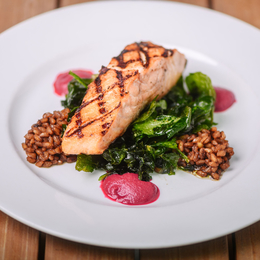 Last Taste of Summer
Before the sun sets on summer, two local BYOBs serve up dishes highlighting the best of the season.
Ah, summer—a time of warm breezes and fireflies, midafternoon thunderstorms, and a cornucopia of fresh protein and produce. From tomatoes, corn, eggplant, and melon to zucchini, kale, and a host of beans, late summer shines with flavorful items for local chefs to plate to the best of the imagination.
"Peaches, sweet corn, and berries are all great this time of year," shares Jeanine Amann, who, with her husband, Executive Chef Jonathan Amann, owns Amani's BYOB in Downingtown. "But my No. 1 pick is summer tomatoes."
One of her favorite Amani's summer salads layers local heirloom tomatoes and Bucheron goat cheese over a bed of baby arugula with bell peppers and onions, all finished with a purple basil vinaigrette. "It's all of the best flavors of summer in one dish," she shares, "and the tang of the cheese really complements the tomatoes."
Heirloom tomatoes shine elsewhere in the Amani's summer lineup, in dishes such as a chicken confit entrée, which also stars fried eggplant and Casarecce pasta. Likewise, appetizers such as smoked adobo chicken queso, served with heirloom tomato pico de gallo, and grilled sourdough bruschetta with tomato confit, celebrate the best of these summer staples.
Tomatoes aren't the only highlights on Amani's late-summer menu, of course. Seasonal ingredients abound in dishes such as lobster shepherd's pie, which features sweet corn; Caribbean-spiced gulf shrimp, served with sautéed summer squash; and grilled New York strip steak, which shares the plate with summer ratatouille.
Kate Short, who owns Meadowlark Restaurant in New Hope with her brother and chef Rodger Marsh, also revels in the bounty of summer and its opportunities for creative cuisine.
"For the remainder of the summer, some of what we are focusing on is locally foraged mushrooms, local sweet corn, varieties of tomatoes, summer squash, and Romanesco broccoli," she shares. "All of these ingredients are featured throughout the menu. Our bone-in rack of lamb features roasted corn and chanterelle mushrooms. Market vegetables are served with most of our menu items, including our half-chicken from Goffle Road Poultry Farm [in Wyckoff, N.J.], stuffed with homemade ricotta and spinach."
Short notes that her brother, the chef, particularly enjoys visiting guests' tables to personally shave seasonal truffles onto their dishes.
"The restaurant's changing menu is inspired by the season, focusing on local produce and sustainable seafood, poultry and grass-fed meats," Short explains. "All of our cuisine is homemade by hand in our kitchen, including fresh breads and in-house pastas."
One peek at the Meadowlark menu and prospective diners will see a roster of local purveyors. From New Jersey poultry to Pennsylvania mushrooms, duck, and watercress, a focus on homegrown ingredients is clear.
"For us, it's all about the quality and freshness of our ingredients," Short says. "An added bonus is our passion to support other local small businesses, such as farms, creameries, coffee roasters, etc."
Likewise, Amann celebrates the bounty afforded by farms throughout southeastern Pennsylvania and the tri-state region.
"Supporting small local businesses is really important to us," says Amann. "It's wonderful to know where our food is coming from while also forming relationships with other small-business owners."
Looking Ahead
As BYOBs, both Amani's and Meadowlark enable guests to enjoy unlimited freedom in pairing their meals with the wine, spirits, or other libations of their choice.
"During the summer, I would recommend a crisp white wine to pair with any of our salads and seafood dishes," Amann shares. "A peppery zinfandel would pair well with our braised short ribs with a charred pineapple Yuzu glaze, or our hand-cut New York strips over a roasted pepper demi-glacé."
Short suggests that, in future months, Meadowlark will be offering housemade elixirs to complement the spirits brought in by its guests.
While savoring the last taste of summer, this time of year is also one in which many chefs like to look ahead. Autumn, after all, will usher in flavors all its own, and with them, new opportunities to make magic in the kitchen.
"We are excited to continue to grow, build more relationships with local vendors, and introduce new menu additions for the autumn and winter," Short says. "We hope with each changing season to serve our returning patrons and make new friends."
Like Short, Amman looks ahead with enthusiasm, not that she's in any rush for summer to end: "Luckily, we still have at least another month or more to enjoy the summer flavors before the weather starts to cool down."
Amani's photograph by Hoffer Photograph
Published (and copyrighted) in Suburban Life magazine, August 2019.