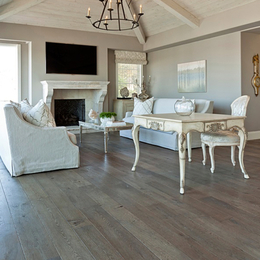 Undeniable Beauty
Applegate Wood Floors offers elegant, natural flooring options to suit any home.
Applegate Wood Floors' business strategy is straightforward, but far from simple. The company's goal: to tell the story of hardwood. While tile and other such materials may continue to mimic wood, the professionals at Applegate Wood Floors know there's no substitute for the real thing and the value it brings.
"We as an industry have lost the message: We are the real deal," says MaryAnne Applegate, the woman who, with her husband Brian, has been helming Applegate Wood Floors for more than 30 years. "Everything that is altering this industry right now is essentially impersonating wood, yet it's a hollow promise. No one aspires to have a plastic floor. Why settle for imitation when the real deal is what you really want, and what will meet your needs for performance and beauty better than anything else?"
Accept No Substitutes
Hardwood's inherent benefits include natural appearance and durability, but consumers have become distracted by alternative engineered products such as luxury vinyl tile. Such engineered products promise features and benefits not typically associated with hardwood, particularly resistance to moisture, scratches, stains, scuffs, and dents.
"Key to transforming this industry is to innovate around issues that will make a difference in lifestyle," Applegate shares. "Specifically, driving innovation to make floors more waterproof and more resistant to the real-life world practicalities of kids and pets."
This is where revolutionary Hydropel™ technology shines. As the first product offered under the Bruce brand this spring, Hydropel has the power to stand up to real life.
"It's truly waterproof on every dimension, and combats the waterproof problem that consumers worry about," Applegate says. Hydropel engineered hardwood is infused with proprietary technology that enables it to be installed anywhere, according to Applegate, in any room or level of the home, from kitchens, bathrooms, and basements to mud rooms and entryways.
Naturally Stunning
The biggest, most discerning benefit of hardwood is an authentic beauty that can't be replicated. Every piece of lumber is distinctly unique from the next, aligning with demands to bring nature into the home. For Applegate Wood Floors, this means enhancing the unfinished raw-like quality of wood sans oily finishes or surface embellishments, and topical nanogloss.
"I always like to look to nature for inspiration, which follows along with this large movement of biophilic design," Applegate shares. "Right now, there's a lot of reference to stone because it showcases natural hues. French limestone and slate have been good references for whites and grays."
While red and white oak continue to be dominant species, the industry predicts other tree families—namely, maple and ash—are poised to gain traction moving forward.
"We're still going to have our classics—we're known for that—but we're exploring our options," Applegate shares. "There is a lot of ash being used in engineered products. It takes stain beautifully and doesn't have these funny undertones as with oak. It just really soaks up the stain nicely."
On the West Coast, the proving ground for new trends, customers are increasingly asking for simple, clean visuals.
"A year ago, customers were asking for more knots, mineral streaks, and active graining, but the trend seems to be pulling away from that today," Applegate says. "Lumber grades are moving into the A and B categories, with customers asking for beach tones such as super-light grays, warm coastal khakis, and taupe."
Overall, consumers are embracing warmer undertones, as well as an integration of whitewashed looks to create soft, faded, and blanched visuals.
"This year's inspiration is all about inclusion," Applegate says. "Our trends reach across the aisle, allowing us to live in a way that is different than the norm. The norm is what we decide. It features the blending of ideas, aesthetics, and lifestyles, as well as destinations and spaces. It's taking some of last year's influences and breathing new life into them.
"We see it everywhere," she continues. "We've been to the urban oasis, visited the serene desert, and then escaped back to the beach. … Inspiration is everywhere, and it is from there that the flooring industry draws its inspiration and trends."
This year, the focus is on five design trends:
* Eco Conscious: By adding a chic twist and warm subtle colors with a modern edge, sustainable pieces from found objects have never looked better.
* Bohemian Rhapsody: A tribal Moroccan vibe can translate into an effortless hippie chic with peach and jewel tones for a trip around the world without leaving home.
* Northern Lite: This blend of minimalist Japanese and Danish styles emphasizes the beauty and uniqueness inherent in everything. Simplicity in neutral color and design is paramount, as are clean lines and an elevated urbane finish.
* Milk & Honey: Sophisticated, contemporary glamour takes a soft edge in this trend, which features tones of burnt umber, cream, taupe, amber, rose quartz, and even metal.
"One of the main things that you're going to start seeing is reactive staining that gives a naturally aged aesthetic that isn't forced," Applegate says. "Also, [there's] the use of furniture effects to add artisanal staining for a beautiful result."
These stains have spurred creative colors such as wicker, and align with an overall trend toward warmer colors. Also, by adding splashes of white and oxidized patinas in aqua or green, floors can mimic weathered surfaces.
"Floors can blend the old with the new, the traditional with the modern, by using colors with similar undertones but opposing design," Applegate says. "The rules are that there are no rules."
Achieve the Dream
There's more than one reason that hardwood flooring continues to be the top choice of homeowners as the ultimate compliment to personal design and style. It offers natural beauty, enduring quality, warmth, and inherent durability, just to name a few. In other words: Hardwood flooring is a long-lasting investment that offers timeless style.
"We're not just enthusiastic about talking about the benefits of hardwood, but specifically, the profitability of selling hardwood versus the alternatives," Applegate says. "The value of hardwood stems from its natural authenticity. And, if properly maintained, it can last for hundreds of years."
That's why many homeowners get so excited when they uncover a hardwood floor in the midst of a renovation. It's almost as if they have excavated buried treasure.
"When renovating a home, no one lifts up old carpet to replace it and is excited to reveal vinyl flooring," she adds. "The real excitement happens when a wood floor is uncovered, due to its inherent value and beauty. Hardwood is the ultimate natural and enduring product that is truly an investment in your home.
"Why wouldn't home builders put in what most increases the value of the home?" she continues. "Why wouldn't consumers want something that increases the value of their home? Fundamentally, the product we make is the product that everyone aspires to have."
Published (and copyrighted) in Suburban Life magazine, August 2019.