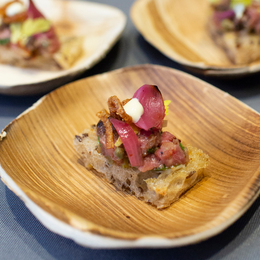 Best of the Best
Chefs from some of the area's top restaurants will showcase their cuisine at two highly anticipated culinary events coming soon to Philly.
Food lovers throughout the area will experience the legacy of one of America's most beloved culinary icons next month when the James Beard Foundation's Taste America event stops in Philadelphia.
Taste America: Philadelphia kicks off with a "Raising the Bar" reception on Oct. 30 at 6:30 p.m., at Porta Philadelphia on Chestnut Street. This cocktail reception will feature small plates by Michael Cher of LALO, Caroline Hough of Porta, Michael Strauss of Mike's BBQ, Judy Ni and Andy Tessier of Bao-logy, and sweet treats from Little Baby's Ice Cream. There will, of course, also be libations aplenty from featured mixologists such as Aaron Deary of R&D, Paul MacDonald from Friday Saturday Sunday, Resa Mueller of LALO, Porta's Colleen Nealon, and Maria Polise of ITV and Laurel.
The gala event takes place the evening of Nov. 1 at the Fitler Club. At 5:30 p.m., a VIP pre-event starts the evening, with a cocktail and tasting reception following at 6:30 p.m., then a dinner and dessert reception at 7:30 p.m. The dinner menu will feature dishes by culinary powerhouses such as James Beard Award winner Michelle Bernstein of Café La Trova in Miami, as well as local favorites including Marc Vetri and Michael Solomonov, both of whom have Beard awards of their own.
"This is really a big deal for us," says Solomonov, the iconic Philadelphia restaurateur behind Zahav and Federal Donuts, among others. "It's something that we're very proud of, hosting a James Beard event in our fair city. To be the local all-star is sort of a dream come true. It's kind of unbelievable.
"People want us to participate so we can showcase the food that we do," he continues. "It's not really about doing anything that's necessarily different; it's just about being honest and expressing ourselves through our cuisine."
Eli Collins, the chef behind another Philly favorite, a.kitchen+bar, will participate in the event, too.
"It's the pinnacle of anyone's career to receive a James Beard Award," says Collins, who is a member of the team creating unique reception tasting experiences for guests. "The foundation does so much to promote food sustainability. It means a lot to me to get to a point in my career where I can be a part of a hugely esteemed event."
Collins, hinting at what Taste America attendees can expect from him at the event, says people won't necessarily find an exact replica of the dishes on the a.kitchen+bar menu.
"I want to make something that is the best representation of Philadelphia, and the best representation of what I do," he says. "It's a little bit of a challenge, but that's usually the way I cook. I look at what's in season and base things around that. It's all totally in my head at this point. I don't know what exactly I'll be serving, but I'm sure it will be delicious."
James Matty of Suraya will be working with Kate Jacoby of Vedge and Samantha Kincaid of Cadence to craft a cadre of after-dinner delights. Matty says he will be presenting a dish from his newest venture, Condesa, in Center City.
"I feel very grateful to be part of a JBF event," he says. "With the Taste [America] event in particular, it's a chance to bring together our community and represent for the city of Philadelphia, and that makes it feel really special."
For Solomonov, his inspiration has global flair—no surprise to patrons of Zahav who have experienced his internationally influenced approach to Israeli cuisine.
"There is always a pool of ideas that are constantly inspiring us," he says. "Also our relationships with farmers—our evergreen relationships keep us up on local seasonal produce. Then there's personal style. The jumbling, meshing, of these different ideas and themes, that turns into the cuisine you serve."
Taste America, which stops in American culinary capitals such as Boston, Chicago, New Orleans, Miami, and Phoenix, furthers the Beard foundation's mission of "Good Food for Good," and supports scholarships, educational opportunities, and advocacy programs for quality food.
"I think that the James Beard Foundation and Taste America is not only a philanthropic and community effort," Solomonov says, "but also gives culinary folks, restaurateurs, a chance to give back and be part of a conversation that is larger than ourselves or our restaurants."
Feasting for FringeArts
Taste America has some company in terms of noteworthy culinary events soon coming to Philadelphia. On Sept. 26, the 10th Annual Audi FEASTIVAL takes over Cherry Street Pier with some of the best food the city has to offer. The event will benefit Philadelphia's FringeArts, an organization dedicated to fostering and nurturing contemporary performing arts in the city.
FringeArts is best known for presenting The Fringe Fest, a three-week run of cutting-edge performances founded in 1997 that take place at venues all over Philadelphia.
Solomonov is one of the event's co-hosts, along with Stephen Starr of STARR Restaurants, Nick Elmi of Top Chef fame, and Audrey Claire Taichman of COOK, who has been involved in the FEASTIVAL since the event's inception.
This year's lineup of more than 70 restaurants and bars includes a.kitchen+bar, Barbuzzo, Enoteca Tredici Bryn Mawr, Fork, La Calaca Feliz, Morimoto, Poi Dog, Royal Boucherie, Spice Finch, Twenty Manning Grill, Vedge, Vetri Cucina, Village Whiskey, and Zahav. The event runs from 7 p.m. to 10 p.m. for general-admission guests, and a special VIP experience starts at 6 p.m.
Photography by Maestro Photography
Published (and copyrighted) in Suburban Life magazine, September 2019.