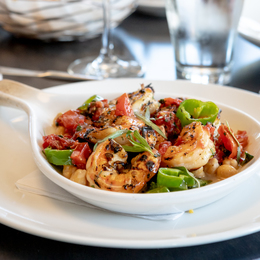 Seasoned to Perfection
Vela, an inviting new restaurant built around seasonally inspired cuisine to be shared with close friends and family, sweeps into Bucks County.
The restaurant scene in Bucks County has added a dynamic new face, and her name is Donna Ewanciw.
More than a year has passed since Ewanciw opened her newest restaurant, Vela, in Doylestown, and the community has welcomed her with open arms. No stranger to the local culinary scene, Ewanciw has helmed the kitchens of accomplished restaurants such as Moonstruck in Northeast Philadelphia and Radice in Montgomery County. Over the years, she has earned a reputation for turning out inspired cuisine served in dining rooms of distinction, as evidenced by Philadelphia Inquirer restaurant critic Craig LaBan's three-bell review of Radice.
"I still love what I do," says Ewanciw, who began her culinary career more than 30 years ago. "Everyone who does this for a career does it for different reasons. For me, I couldn't imagine doing anything else."
Being a restaurateur presents a unique mix of challenges and rewards. On one hand, she gets to do something she loves every day, and when she's excited about a new dish, she has the opportunity to receive immediate, unadulterated feedback from customers. On the other hand, running a profitable and well-received restaurant requires a significant commitment of one's time and energy. It also means having to make sacrifices from time to time.
While building her culinary career, Ewanciw raised three daughters. Each of them has grown into a bright young woman, but there were times when Ewanciw asked herself, as a working mother, "Am I around enough? Am I giving enough?" She worked hard to make time for her family, and to impart the value of hard work and the importance to setting goals, regardless of the obstacles that stand in one's way. For example, Ewanciw's daughters got to watch their mother thrive in an industry that has traditionally been dominated by men.
"I believe anything can be done," she says. "I have a great deal of determination and grit to accomplish my goals. I dream big, but I work hard."
The latest example of her big dreams and hard work is Vela, the Doylestown restaurant she created to offer "really good food, great hospitality, and a great guest experience." Named for the restaurant's location on Veterans Lane, Vela has become an integral part of the Bucks County community since opening its doors more than a year ago.
"One hundred percent, food is the simplest way to bring people together," she says. "We also have a beautiful, bright, open space, and we're fortunate to host a number of events. It's important to me that guests are choosing to celebrate here.
"This area is just growing and changing, and it's so fun to be a part of that right now," she continues. "This region is filled with historical treasures and the natural beauty of the farmland, and it's a very collaborative community. There's just an endless culture that seems to keep growing."
Coming into Her Own
Throughout Ewanciw's life, food and family have always gone hand in hand. Her family used to tell her that followed in the footsteps of her grandmother—"a tremendous cook," in Ewanciw's words.
Originally from New York, Ewanciw has called the Greater Philadelphia Area home since 1985. She graduated from the Culinary Institute of America, and she fell in love with food as a means of bringing families together during her time studying Italian cuisine with some of the greatest pasta makers on the East Coast.
"One woman in particular who taught me a great deal was an Italian woman who did fresh pastas," she says. "She taught me about Italian cooking and family, and how central that is to their lifestyle."
She feels she came into her own style in the early to mid-1990s. Over time, she has come to appreciate the importance of understanding the origins of the food that goes into each dish, as well as the role freshly picked produce can play in amplifying a dish's taste and presentation.
"As I developed my cooking skills, being exposed to such a mass of ingredients and produce available, I realized the value of simple preparation," she says. "When you eat something that is simply prepared, you can really appreciate the star of the dish and the items that complement it."
Ewanciw's expertise can be seen—and tasted—in the dishes at Vela, including the pork belly bucatini, pork ragu pappardelle, and sweet pea gnocchi.
"Everyone has a sense of how they present food, or the level that they present it at," she shares. "That's part of the glory of this industry, the ability to find such a difference restaurant to restaurant, state to state. … I appreciate fresh produce straight from the garden. That was my upbringing, [because] we were farmers."
This focus on simplicity extends to Ewanciw's plating style as well. She tends to be "on the light side," she says—keeping the plate pure and pleasing to the eye, not overly decorated. She says she prefers pure, clean, conscious cuisine that "values the purity and freshness of product."
Purity and freshness are integral to Vela's beverage program as well. The carefully tended and curated beverage menu features a variety of craft cocktails, as well as beers and wines from around the world—a selection she describes as "approachable but not overwhelming."
As guests prepare for the cooler months ahead, Ewanciw plans to add a number of comforting dishes to Vela's menu, with cocktails to match.
"I'm looking forward to coming into a menu that I feel will be reflective of my kitchen, and what guests have noted that they like," she says. "We'll also be changing our cocktail menu, and adding some new wines as well."
At the heart of Vela, as with the other restaurants Ewanciw has led, is a focus on the pure experience of sharing a finely prepared meal—dishes made using pure, simple, wholesome ingredients, enjoyed in a family-like setting. This should come as no surprise considering the fact that the kitchen at Vela has become like a second home to Ewanciw.
"I accepted a long time ago that this is a lifestyle for me," she says. "I often think about my time in the food world, and I look back on it with such pleasure. I come back into it every day with a new energy and a desire to be part of this industry and everything that it stands for."
Vela
140 Veterans Lane
Doylestown, Pa.
(215) 230-8352
Photograph by Nina Lea Photography
Published (and copyrighted) in Suburban Life magazine, July 2020.