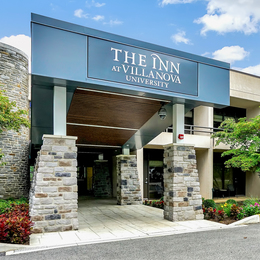 Unforgettable
Known by some as a "hidden gem," the newly renovated Inn at Villanova University provides the perfect setting to celebrate any occasion worth remembering.
The wedding. The bridal shower. The rehearsal dinner. The birthday party. The anniversary gala. The Mitzvah celebration. The business luncheon. The corporate retreat. The community festival. The large jubilee. The intimate gathering.
To celebrate important occasions of all sizes, The Inn at Villanova University offers an experience unlike any other.
The Inn at Villanova University is a 56-room hotel and conference center located in Radnor Township, along the illustrious Main Line. The Inn, which adjoins its sister facility, the 105-year-old Montrose Mansion, recently underwent a complete renovation and reopened in 2017. The destination now offers 20,000 square feet of meeting space to fit the needs of any event, as well as a 4,700-square-foot ballroom that can accommodate up to 220 seated guests for weddings, anniversary celebrations, and other special events.
"A lot of our space is flexible space," says Jared Long, director of The Inn at Villanova University since 2018. "If clients want specific seating arrangements or technical requirements, we make it happen. We also have our own chef and culinary staff, so we can customize exactly what guests want.
"When I talk to guests, I tend to describe The Inn as the place to be on the Main Line," he continues. "We're a little retreat from urban life. When you get out and explore our grounds, you'll see floral gardens, a courtyard, and a patio where guests after weddings go to enjoy the firepit. It's just a first-class venue."
Montrose Mansion is a favorite venue for special celebrations. All 22 rooms reflect an Old World feel, with Tudor archways and paneling, molded plaster ceilings, and intricate wood carving. The surrounding grounds offer eye-pleasing landscaped terraces. The handsome stone building, a crown jewel on the 36-acre property, hosts various types of receptions. It can accommodate as many as 200 standing guests or up to 75 seated guests for a cocktail hour before the party moves into the ballroom for the wedding reception.
"Although The Inn is owned by Villanova University, it is open to the public," Long adds. "While it's certainly a natural inclination for Villanova alums to hold events here, we also love when outside guests visit us."
All guest rooms at The Inn at Villanova University are stylishly furnished and meticulously designed. All 56 rooms were redone in 2017, as were the conference meeting spaces. The Inn has 30 king-size rooms, including one suite, and a number queen-sized and double-queen rooms, many of which comply with the Americans with Disabilities Act.
The lobby of The Inn at Villanova University is accented by a new four-story window that replaced an exterior wall, allowing an abundance of natural light. Technological upgrades include high-speed Wi-Fi and wireless connectivity to televisions and projector displays.
"We made sure guests would experience that nice luxury feel here at the Inn," Long says. "That will be the case whether you're a family staying here to tour Villanova or an executive team here for a corporate retreat."
'Tears of Joy'
Guests of The Inn at Villanova University are assured of a first-class experience from start to finish. Emily Krall, one of The Inn's events planners, guides guests through the planning process and ensures that The Inn's internal team—from the culinary department to room set-up—meets, if not exceeds, expectations and provides them with the critical information they need.
A specialist in coordinating and executing an array of events, from corporate luncheons to community festivals, Krall strives to be an effective communicator and relationship builder with clients and vendors alike. She says guests appreciate her strong work ethic and expertise in handling each project efficiently.
"I'm detail oriented by nature, so I make sure all the ducks are in a row before the day of an event arrives," Krall says. "It's incredibly rewarding to make a difference in people's lives, whether they're corporate clients or for a wedding. Our facility is beautiful, and we have a great team that's very strong and dynamic. It takes a lot to pull off larger-scale events, but we do it and do it well."
She cites a recent wedding held at The Inn at Villanova University as an example.
"During the cocktail hour at the Mansion, the bride took a peek in the ballroom where the reception was going to be held," she recalls. "She saw what we had done and she began to cry tears of joy. When you see a reaction like that, it's incredibly rewarding knowing you've done your job well."
Because The Inn is owned by Villanova University, the staff includes college students. Amanda Noonan, a senior psychology major, works the front desk, checking guests in and out of their rooms, directing corporate employees to their meeting rooms, and answering questions to guests' satisfaction.
"I hear people come into The Inn all the time saying how beautiful the place is," Noonan says. "Some have called it a hidden gem, right here in this residential area. They love the grounds and the view of the garden. I've even had some guests who stayed with us before the renovation say the hotel was great before but even better now."
The most important goal of The Inn at Villanova University, according to Long, is to take a client's breath away.
"What we sell here is not tangible," he says. "It's that experience a guest or client feels the minute they walk in the front door. We want to make sure they feel they're in a world-class facility. We want to give them that family feel and welcome them with open arms."
With first-class service, a family-like atmosphere, and grounds of unrivaled beauty, The Inn at Villanova University aims to provide each guest with not only a satisfacory event but also an experience they will want to remember for a long time.
The Inn at Villanova University
601 County Line Road
Radnor, Pa.
(610) 519-8000
theinnatvillanova.com
Photograph by Jody Robinson
Published (and copyrighted) in Suburban Life magazine, September 2019.