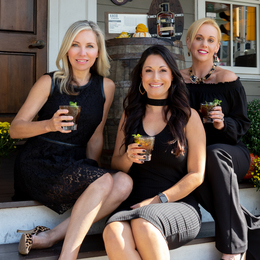 Bourbon and Beauty
Three Bucks County entrepreneurs join forces to host the event of the season at an iconic Yardley landmark.
Circle this date on your calendar: Nov. 14, 2019.
Three Bucks County businesswomen—Kelly Vliet, proprietress of Continental Tavern; Thalia Salvatore, owner of Thalia Salon of Yardley; and Bonnie Benedetto, owner of Bella Body Medical Spa—already have marked that date. On that Thursday evening, these three women are coming together to hold a "Roaring Twenties"-themed event with the goal of empowering local female leaders and helping this dynamic trio to share their businesses with the world.
Dubbed "Bourbon and Beauty," the event will take place from 7 p.m. to 10 p.m. at the Continental Tavern in Yardley, and attendees can expect a four-course meal; each course will featurs a special Knob Creek Bourbon Whiskey pairing (including KC bourbon, KC rye, KC maple, and KC single barrel). In addition to the delectable cuisine, guests will receive a gift bag valued at more than $100, filled to the brim with Knob Creek products, as well as other surprises from Continental Tavern, Bella Body, and Thalia Salon.
"I thought 'Bourbon and Beauty' was a perfect idea to bring women business entrepreneurs together to support one another," Salvatore says. "I believe it's important to be a role model to young women by showing them they can do whatever they set their minds to. As long as they have the passion and drive, they can do anything."
Benedetto, for her part, looks forward to sharing more about "great solutions to help correct skin imperfections and make people feel better about themselves." In addition, she can help attendees devise a "game plan" as to how to improve how they look and feel.
Vliet suggests the history of the Continental Tavern pairs well with the theme of this particular event.
"Continental Tavern is a historical landmark, said to be one of three waystations in Yardley on the Underground Railroad during the 1800s, and a vibrant speakeasy during the Prohibition era in the 1920s," she says. "During the early 1900s, women played an active role in the Eighteenth Amendment, which enacted Prohibition, as well as the Twenty-first Amendment, which repealed Prohibition. Women worked together to increase their influence."
The goal for the upcoming event is much the same—bringing women together to show that a determined group can be a force of nature.
"My goal is to begin a series of cooperative events giving local business owners the opportunity to expand their influence and grow their business," Vliet shares. "This event is designed to be the first of many future events giving local business owners the opportunity to collaborate and host unique events. Partnership is one of the key strategies for entrepreneurs to build their influence, grow their business, and increase their revenue and income."
Down to Businesses
In addition to bringing women together in the spirit of teamwork, each of the three female leaders involved hopes "Bourbon and Beauty" will help the community become more familiar with each woman's brand.
As a special treat, Benedetto will be offering guests $50 gift cards that can be applied to treatments at Bella Body. "We would love to be known as the place that keeps you looking naturally fresh and healthy," she adds. "We aim to help people foster healthy and strong skin from the inside out, so they can achieve a fresh look that doesn't appear 'overdone.'"
The true goal, Benedetto suggests, is to make every visitor feel as if they've stepped into a "home away from home."
"We try to get to know everyone by name, but more than that, we like to know about their lives," she says. "We have some clients who have been with us since the beginning. We've watched their kids grow up, get married, and more. We want our clients to know we value the 'big picture' relationship with them, long term."
Salvatore, too, emphasizes the warmth of her salon, sharing that the vibe she'll be going for once her salon opens this December is "relaxing and fun, upscale but with competitive pricing." Innovation will serve as the beating heart of her business as well, including "digital records" of clients' hairstyles, so clients can go back through each visit should he or she wish to copy a past color, cut, or style.
"I want every single client to feel more confident, and happy when they leave, looking forward to their next appointment," she says. "I don't want anyone to ever feel like they wasted their money."
Likewise, Vliet hopes the event will shine a light on all Continental Tavern has to offer visitors.
"Continental tavern is different from other 'New Age' speakeasy establishments in that our establishment was actually once a true speakeasy," she shares. "Our craft cocktail list features Prohibition-style cocktails and delicious libations. Our food can be described as modern American comfort/pub cuisine, made with only the best and fresh ingredients, sourced locally whenever possible."
The Next Generation
Each entrepreneur has her own advice for the young women who will one day follow in their footsteps, as the entrepreneurs of tomorrow. They agree that women need to lift one another up.
"There is so much room at the top," Benedetto says. "Some people feel that when they see someone else succeed, that takes away from their chances of success. But there are plenty of opportunities. The best thing we can do as women is support and encourage one another. Give a compliment, say 'thanks,' or tell another woman how great she is."
"We feel women should empower each other more," adds Salvatore, who says she hopes her career diligence has inspired her own two daughters. "I hope my daughters see the hard work and dedication it takes to start your own business and to not be afraid of failure—that women can do anything."
Similarly optimistic, Vliet shares another bit of advice to help young women succeed.
"Part of building a sustainable business is fostering a community that you can lean on for inspiration, education, and commiseration," she says. "Surround yourself with women who share your passion for their business. Network. Expand your influence by networking with other women business owners."
Benedetto emphasizes the need to be bold in order to make an impact.
"Some people are born to take a little more risk than others," she says. "Some people need a little more encouragement. I think one of the best ways to empower women is to give them the confidence they need. We are here to show that, with the support of family and friends, anyone can make a dream possible."
For more information on "Bourbon and Beauty," or to purchase tickets ($100 per person), visit Eventbrite.com/e/bourbon-beauty-tickets-75973503795.
Photograph by Nina Lea Photography
Published (and copyrighted) in Suburban Life magazine, October 2019.