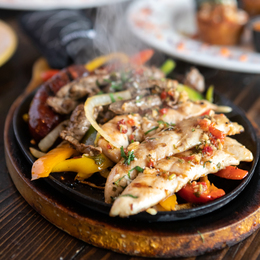 The Taste of Home
At Casa Toro Mexican Grill, patrons discover an authentic dining experience built around its owners' loves of food, family, and culture.
Exceptional food is the cornerstone of any memorable restaurant, but today's discerning diners are also looking for an experience. That's exactly what they find at Casa Toro Mexican Grill & Mojito Bay Lounge, a Doylestown restaurant where guests feel a strong sense of community—of family—as soon as they step through its doors.
Thank the Diaz-Albertini family, which owns and operates Casa Toro. Therese and Gary Diaz-Albertini founded the restaurant, which they opened as a second location following the success of Casa Toro Coopersburg, located just north of Quakertown. Today, their son, Dean, has largely taken the reins. Also, Kelly, Dean's sister, is an attorney in Philadelphia and consults frequently with Dean on compliance and legal issues.
"'Love what you do and you'll never have to work a day in your life'—this mantra was what we drilled into our kids over the years," Therese says. "Developing a team of people who work hard and dream big is the magic recipe for our success. Thank God for Dean's leadership; he has embraced the Casa Toro brand and is taking it to the next level."
A Vision Comes to Life
Dean, who graduated from Drexel University, initially thought he was headed for a career in construction management. Instead, he chose to follow his heart—right into the family business. Over the years, he worked his way up from bussing tables and washing dishes to cooking and running the business, though he still has a firm hand in the kitchen and in menu creation.
Dean's construction background proved invaluable in getting the Doylestown restaurant location up and running. It was a complete fit-out.
"There was nothing inside of the building—not even a floor," says Dean, who remembers working closely with his father, as well as a few family friends, to renovate the entire building. "It took eight months of hard work to build it, but we were able to see our vision come to life."
The decor has an "Aztec feel," as Dean describes it. The Mojito Bay Lounge, which is separated from the main restaurant by a half wall, is a stunning 32-foot bar and eight high tops, each able to seat four. Coral tile, floating glass, flat-screen televisions, and pendant lights crafted from empty Patron bottles with Edison bulbs lend a unique ambiance to the space. Also, a drop-down screen and projector in the dining room enables sports fans to watch big games while they dine and imbibe.
The bar is well known for its award-winning margaritas, as well as its namesake drink, the mojito (and several variations of it). Dean says an extensive craft beer list with beers "you don't normally find at your average bar" is also a draw, as is a Monday-through-Friday happy hour.
Award-winning Fare
Like its sister location in Coopersburg, Casa Toro Doylestown takes a fusion approach to its menu. The cuisine draws inspiration from the family's Cuban roots (the Diaz-Albertini family came to America from Cuba in 1959) and their love of Latin American fare, as well as from the cuisines of other Caribbean and South American nations. Obviously, given its name, there are also many traditional Mexican food staples on the menu, such as fresh-made guacamole, burritos, and enchiladas. In fact, the restaurant won "Best Mexican Restaurant in Bucks Mont" honors two years in a row.
Even for those who have dined at Casa Toro before, the ever-evolving menu always has something new and inventive. Dean says Casa Toro offers "a little bit of everything for everyone so you can get anything from small bites to full entrées, depending what you're in the mood for." The restaurant takes a "scratch kitchen" approach to cooking, and each week he and the other chefs dream up new menu items.
"We try to think outside of the box in terms of traditional Mexican or Latin American cuisine," he says. "Bringing in other cultures to influence these flavors helps us create something new."
One unique item that has become a local favorite is the fried avocado. Simply put, this item consists of an avocado stuffed with ground beef and cheese or veggies and cheese, and then lightly fried to perfection. Dean characterizes the fried avocado as a "heavy hitter."
The restaurant's tapas-style menu, made up of small plates for $6 each, is also a winner. One example is the "Jefe tacos," a popular dish that features pulled pork marinated in orange juice, pineapple juice, adobo, and jalapeno. The pork is then topped with pickled red onion, queso fresco, and cilantro, and served in corn tortillas.
Part of the Family
While Casa Toro continues to attract new patrons, the food and family-like atmosphere keeps a lineup of "regulars" coming back for more. Therese says the strong bonds among the Casa Toro staff and their customers are what she likes most about the business.
"We love to hang out with our customers who have become our friends," she says. "This is the icing on the cake for us. It's not always about dollars and cents; it's getting to know each other, and sharing passions, dreams, and struggles. We love our extended family. We have seen many customers pass on, new babies who have been blessings to young couples, kids getting married, graduations, all sorts of personal achievements, and we are always part of the celebration."
There's such a collegial atmosphere that some customers know Therese's husband, Gary, as "the Most Interesting Man in Casa Toro," partly because of his likeness to the character from the Dos Equis advertising campaign of recent years. Dean attributes much of this closeness to Casa Toro's "incredible staff"; he estimates that 80 percent of the staff has been with the restaurant since it opened its doors.
"While that's relatively rare in the restaurant industry, we have a family-like team here," he says. "They also really get to know our customers, many of whom will ask for a server or a bartender by name. Our staff are the type of people that will remember your kids' names and if they had a soccer game last weekend."
With the Diaz-Albertini family being so close-knit, it's not surprising that those same values are reflected in their restaurant.
"I would say that my family being so close is what drives the passion and the professionalism of this restaurant," says Dean. "My parents started this restaurant with a love for food and culture, and then I took over in continuing that same passion. I have no plans of stopping or slowing down. We're always looking to continue to evolve and bring great service and food to our customers while also continuing to embrace that family atmosphere that started it all."
Casa Toro Mexican Grill & Mojito Bay Lounge
4969 Swamp Road
Doylestown, Pa.
(215) 794-9400
casatoromexican.com
Photograph by Nina Lea Photography
Published (and copyrighted) in Suburban Life magazine, November 2019.