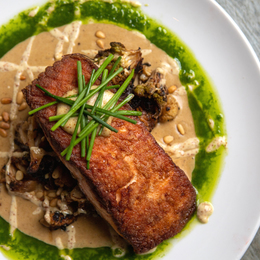 Simply Sophisticated
Using the best in locally sourced proteins and produce, Bowman's Tavern and Bowman's North serve exceptional food in a warm, inviting atmosphere.
Quintessential Renaissance man Leonardo da Vinci is credited as the innovator of the phrase, "Simplicity is the ultimate sophistication." So much has changed since his day, but his sentiment continues to ring true. Just ask Jason Hagan, executive chef at Bowman's North in Riegelsville.
"My start in the industry is the complete opposite of what I'm doing now," shares Hagan, who grew up on comfort food prepared by his mother and grandmother. "In the late '90s, early 2000s, I made dishes that had a million ingredients, and flavors would kind of get lost. After working with a few really talented chefs, I learned to simplify my food. Now, I do simple, honest, delicious food, cooked properly."
James Seward, owner of Bowman's North and its sister restaurant, Bowman's Tavern in New Hope, is proud to serve such honest food. "At both Bowman's locations, a diner can get anything from a burger to a filet mignon," he shares. "Both will be prepared with the same care and attention to detail."
The success Bowman's has enjoyed at both locations starts with the ingredients that go into each dish.
"What we have around us is a plethora of wonderful farms with amazing produce," says Thomas McGinn, executive chef at Bowman's Tavern. "What we strive to bring to our clientele is a menu based on locally driven, locally sourced, quality ingredients with service that will match."
McGinn, born and raised in nearby Richboro, says the available produce and other key ingredients guide the dishes he creates—not the other way around.
Through mid-December, as one might expect, gourds such as squash and pumpkin take center stage. The roasted butternut squash salad at Bowman's Tavern features pickled D'Anjou pears, goat cheese, candied pecans, and brown butter apple cider vinaigrette, while the smoked pumpkin ravioli with toasted pumpkin seeds, sage, brown butter, and cinnamon creme fraiche stars at Bowman's North.
"I really can't even tell you what's going to be next because we get the produce and then execute the dishes," McGinn shares. "We never start with an idea; we look to quality products to yield quality results."
Warming the Soul
Seward, who is an accomplished string instrumentalist, has a vested interest in live music at his restaurants. Musicians entertain guests at Bowman's Tavern seven nights a week, and Bowman's North features live music four nights a week.
As music and drinks go hand in hand, it is only fitting that both Bowman's locations offer and impressive cocktail program featuring seasonal ingredients. At Bowman's North, the caramel apple martini features caramel Smirnoff vodka and apple cider, while the pumpkin spice white Russian features pumpkin spice creamer, Kahlua, and Tito's vodka. At Bowman's Tavern, guests can warm up with cocktails such as the Bowman's Old Fashioned, a medley of Templeton Rye and house-made bacon syrup, or Newton's Law, a mix of Bulleit Bourbon and flavors including allspice and nutmeg.
"Our cocktails feature seasonal ingredients for the best experience," McGinn says. "It's 'comfort food in a glass' in that sense—something people are familiar with that warms the soul."
The Bowman's penchant for locally sourced ingredients not only pleases palates but also reflects social consciousness.
"I really believe we should be cooking with what we have—not shipping products from all over the world," says McGinn, who has been with the restaurant for nearly seven years. "The more local the product, the younger it is. We love to serve just-picked products. For me, that's what we should be doing—using what's around us, not leaving a giant carbon footprint across the world."
As such, McGinn and his team source produce from local farms including Blue Moon Acres in Buckingham and Fulper Family Farmstead in Lambertville, N.J.
This commitment is ingrained in the philosophy of both locations in other ways. "Mondays Matter" is a fine example. On these days, Bowman's donates 10 percent of food sales to a local family or organization working to better the community. Past recipients have included the National Ovarian Cancer Coalition, Bucks County SPCA, and Riegelsville Public Library.
"We choose a different charity each month, such as child and adult homelessness, cancer research, or an individual in need," Seward explains. "We donate 10 percent—our whole profit margin—to that cause or individual. We have the potential to raise up to $10,000 per charity per month."
Making Things Better
Seward started this philanthropic initiative shortly after he bought Bowman's Tavern more than six years ago. His motivation is twofold: to help others, first and foremost; and to give his customers an outlet to do the same, in the process making connections with a group of people who may not have otherwise come into the restaurant. According to Seward, it's "an awareness of who we are as a community and a recognition that together, we can make things better for each other."
"Both of our locations are microcosms of the communities that surround them," he adds. "I think we have something special we can provide on a food-and-drink basis, but also on a friendship basis with our customers. Our staff develops great professional rapport with customers. We get to know them, and they get to know us."
Charitable giving is just one of the ways Seward and the Bowman's family further their commitment to hospitality. Hard work, dedication, and teamwork are integral as well.
"Everyone who works at Bowman's, who works with me, is very driven, individually," McGinn says. "They've all been in the restaurant industry for years. They thrive off my obsession with creating dishes using locally sourced produce as often as possible. I've never worked in a kitchen like this before, where people seem to be so dedicated to putting out a good product."
For McGinn, it comes down to one simple word: joy.
"Food and cooking to me are more than just making a piece of art on a plate," he says. "It's about bringing people together to share experiences and, ultimately, put smiles on faces. It warms you inside to feed people. It's a holistic experience. I cook for the camaraderie in the kitchen and to make people happy."
Bowman's Tavern
1600 River Road
New Hope, Pa.
(215) 862-2972
bowmanstavernrestaurant.com
Bowman's North
1274 Easton Road
Riegelsville, Pa.
(610) 510-3030
bowmansnorth.com
Photograph by Nina Lea Photography
Published (and copyrighted) in Suburban Life magazine, November 2019.