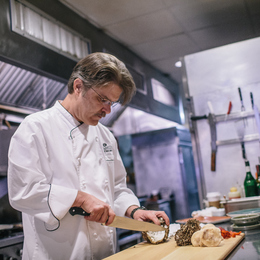 Consuming
A local author breaks bread with the restaurateurs, confectioners, and artisans who make the Greater Philadelphia Area's dining scene so remarkable.
Irene Levy Baker adores the simple pleasures of good food and good stories. So, naturally, she wrote a book built around these two essential "ingredients."
In Unique Eats and Eateries of Philadelphia, Baker tells the stories of 90 restaurants, speakeasies, and confectionaries throughout the Greater Philadelphia Area. How does one home in on 90 out of the hundreds, if not thousands, spread throughout the region?
"I don't rate the restaurants," says Baker, a former Elkins Park resident who now lives in Center City. "I wanted to tell the stories behind the restaurants."
Her criteria: Each place highlighted in the book had to have remarkable food, of course, but it also had to have a compelling and deeply personal story.
Portabellos of Kennett Square is a fine example. In the book, Baker tells the tale of proprietors Brett and Sandra Hulbert, who shared their experience about their venture's youngest days, wondering if their mushroom-centric restaurant would "make it."
"After lunch, I sat down with the chef and his wife, and the food was certainly nice, but I wasn't sure there was a story there," Baker says. "Then someone walked by the window, and Sandra jumped up and went out to go see him. When she came back, I asked, 'What was that all about?' and she said, 'That was Mr. King, and I had to give him a hug.'"
"Mr. King" is Alan King, a nearby resident who had been among the restaurant's earliest patrons. After his meal, King demanded to see the chef and, once the two were face to face, he promptly admitted that he would not become a regular. It wasn't because he didn't enjoy the meal; quite the contrary, in fact. Rather, King said he was old and fighting cancer, and fretted that he wouldn't be around much longer to enjoy Portabellos' fine fare. King, who is a retired opera singer, then belted out a rendition of "You'll Never Walk Alone" from the Rodgers and Hammerstein musical Carousel.
Baker learned that the Hulberts and the King eventually became good friends, with King and his wife coming to the restaurant approximately once a week, even as he battled cancer. On his 90th birthday, despite a freak snowstorm that crippled the region, Portabellos hosted a party for King and 25 members of his family, some of whom had come from as far as California and Texas for the event.
"There's a picture in the book of [King] blowing out candles on a piece of cake," Baker says. "That's an example of a story that just sort of found me by going into a restaurant and sitting down to talk with the people behind it."
Then there's Tom and Loren Sciascia, two graphic designers who carved a second career out of their shared talent for gift giving. After Sept. 11, 2001, the couple wanted to give their clients something warmer, personalized, and heartfelt as a thank you for their business, so Tom Sciascia (pronounced "shay-shay") pored through dessert-specific cookbooks and found a recipe for chocolate truffles. The truffles were so well received and became so in demand that Tom and Loren opted to change careers. They opened Sciascia Confections, located in New Hope's Ferry Market, to peddle artisanal chocolates, truffles, and macaroons, among other sweet treats.
As its title suggests, Unique Eats and Eateries of Philadelphia details some of the most interesting and accomplished food-focused establishments throughout the region, yet it offers much more. For example, Baker provides 10 tips for snagging reservations at sought-after restaurants, such as Vedge in Midtown Village or Zahav in Old City—both of which, incidentally, are highlighted in the book.
"One, get off Open Table and call the restaurant," Baker says. "Not every available slot is on Open Table, so just by calling, you may be able to get a reservation. Two, follow chefs and restaurants on social media; if someone cancels, they will often post it, and if you're the first to respond, you're in. Third, be flexible; call and say, 'When do you have a table available for two?' It probably won't be Saturday at 7, but if you can go during the week, weeknights are the time to get a great experience without the weekend rush."
Baker visited each establishment featured in the book's 200-plus pages. Doing so took approximately 18 months, because she still had to hold down her regular job in PR. She likes to characterize the book as the culmination of 25 years' worth of research, during which she learned the ins and outs of a truly dynamic industry. The experience of researching the book changed her, in a way.
"I will eat almost anything, but I've never been a big drinker," she says. "I've learned to appreciate bars. … I learned to totally enjoy a good cocktail and enjoy the atmosphere of a bar. Now, in my free time, I will have dinner at a bar in a restaurant, which is something I can't say I liked to do before."
Baker says the reception to the book has been quite positive. In fact, she suggests it's popular not only among frequent visitors and out-of-towners but also among locals; she suggests the "hidden gems" within may inspire readers to "spend a day exploring and having adventures." As for what's next on Baker's to-do list, she's considering penning a follow-up to her first book, 2016's 100 Things to Do in Philadelphia Before You Die.
Photograph by Christa Neu, courtesy of Irene Levy Baker
Published (and copyrighted) in Suburban Life magazine, November 2019.