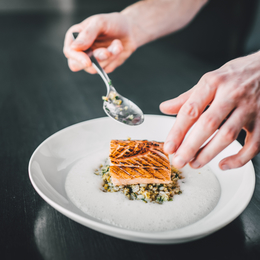 Fire and Flavor
Fearless chefs showcase their culinary brilliance close to home.
Philadelphia's dining scene used to take a backseat to that of, say, the bigwigs in New York and Chicago. That's no longer the case, as Philly and its suburbs have taken mammoth strides in their collective culinary game. There's a simple reason why Bucks, Chester, Delaware, and Montgomery counties now boast restaurants capable of competing with the nation's finest: Some of the country's most skilled, audacious, and widely traveled chefs have chosen to share their culinary brilliance close to home. Here are a few of them.
Steven Balmer and Alfred Schwartz
Steven Balmer and Alfred Schwartz co-lead the kitchen at Tavola Restaurant + Bar and Springfield Country Club, as executive chef and chef de cuisine, respectively. Both bring tremendous experience and passion to the work; Balmer started working in kitchens at the tender age of 15, while Schwartz says he "literally grew up cooking," learning his craft by the side of his father, who was a chef at a prominent French restaurant. At Tavola, Balmer and Schwartz collaborate to provide cuisine that, in Schwartz's words, "celebrates its ingredients and never tries to contrive a dish into something it's not." One of Schwartz's personal favorites: the Tuscan chicken, a creamy stuffed half of a bird that says, "Yes, I'm just a chicken, but I'm what a chicken should be." As autumn shifts toward another long, cold winter, Balmer says patrons can expect "fresh flavors, heartier dishes, and rich broths that will warm and comfort you, and take a respectful use of seasonal vegetables."
Dean Diaz-Albertini
Dean Diaz-Albertini almost veered away from hospitality. He had been pondering a career in the construction industry, but he was inspired to follow his heart into the family business. His parents, Therese and Gary Diaz-Albertini, founded Casa Toro Mexican Grill in Doylestown, which is a sister restaurant to Casa Toro Coopersburg in Lehigh County, not far from Quakertown. Casa Toro has won "Best Mexican Restaurant in Bucks Mont" honors for two consecutive years in a row, but the cuisine is much more than burritos, tacos, and enchiladas; the menu not only reflects the Diaz-Albertini family's Cuban heritage, but also draws inspiration from the native cuisines of countries throughout South America and the Caribbean. Diaz-Albertini remains heavily involved in the cooking and menu creation, but he's got much more on his plate these days. He has essentially taken the reins from his parents, with full intention of leading the restaurant to new heights. Even so, he still enjoys working with his culinary team to create new dishes designed to surprise and delight guests.
Donna Ewanciw
Walk into the kitchen of any reservation-worthy restaurant and chances are a man (or, in some cases, men) will be leading the culinary charge. Consider Donna Ewanciw a pioneer of sorts. She has been bucking this trend for decades—and, one might suggest, creating a path for other female chefs to follow. Ewanciw has spent the past 30-plus years leading kitchens in well-regarded restaurants throughout the Philadelphia area—namely, Moonstruck in the city's Fox Chase neighborhood, and Radice in Blue Bell. Her most recent venture is in Bucks County, at a restaurant called Vela. As chef-owner of this Doylestown-based stunner, Ewanciw has created a warm and elegant experience that bears some resemblance to Moonstruck and Radice. The everyday work may be demanding, but Ewanciw still loves what she does; to her, the opportunity to create artistically plated cuisine, with guests savoring every bite, is simply invigorating.
Jason Hagan and Thomas McGinn
Thomas McGinn, as executive chef at Bowman's Tavern in New Hope, and Jason Hagan, as executive chef at Bowman's North in Riegelsville, share a common approach to cooking: creating dishes best described as simple and honest—and, of course, delicious. Each Bowman's location offers a wide-ranging menu of American-inspired cuisine, from gourmet burgers and filet mignon to pastas and vegetarian options, and every dish is treated with the same level of care and precision. Whenever possible, the chefs incorporate produce and other essential ingredients from local farms and artisans. Whether patrons come to a Bowman's location specifically for the food, the craft cocktails, or the live entertainment, the chefs suggest they—and everyone else on the Bowman's team, which is led by owner James Seward—are eager to ensure it's a memorable experience that makes people want to come back for more.
Published (and copyrighted) in Suburban Life magazine, November 2019.