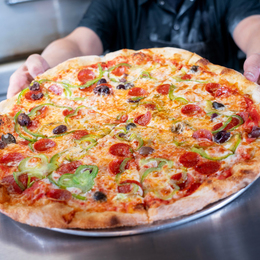 Simply Delicious
Enza in Wyndmoor offers an uncomplicated yet elegant take on an Italian-American classic.
There's simple and there's easy, but there's a remarkable difference between the two. Just ask Steve Gonzalez, executive chef of Enza, an upscale pizzeria and wine bar in Wyndmoor.
"Pizza is a simple food—dough, which is flour and water, and tomato and cheese—but making good pizza is not easy to do," he says. "In general, the better the ingredients, the better the end result."
The team at family-friendly Enza has gone to great lengths to impress, from the elegant design of the bar and dining room to the product that comes out of the kitchen. Gonzalez designed each dish to be straightforward and uncomplicated—no gilding of the lily necessary. House favorites include appetizers such as the beef meatballs and the roasted sweet peppers. As for the mains, it essentially begins and ends with the short list of classic and specialty pies.
The dough for Enza's Neapolitan-style pies includes semolina flour, which imparts a unique taste and "doesn't balloon as high," Gonzalez says. In addition, he favors gourmet ingredients such as fresh ricotta from Fond du Lac, Wis.-based Grande Cheese Co. and Stanislaus tomatoes.
"I'm proud of the pizzas we're doing here," Gonzalez says. "They're easy to make but can be difficult to execute."
To his point, pizza shops are a dime a dozen in the Philadelphia suburbs, each with its own recipe to create the perfect pie. Even so, not all pizzas are created equal.
Gonzalez has wandered extensively to fine-tune his technique. He traveled from the East Coast to Colorado, where he earned a degree in culinary arts from the Art Institute of Colorado, and then he went much farther afield.
"I was 18 years old, working in my first real restaurant," he recalls. "I don't know if it was good or bad, but I got a quick education. I was working hard, living on my own. I started meeting people, and I always wanted to travel. Cooking became this avenue to take me to other places. I've worked in high-end kitchens in Spain, Italy, and there were these great cultural exchanges.
"For me, I was this kid who grew up in a Southwest Philly rowhome, and I went farther than I ever thought possible."
Some of his finest education came in the States, including restaurants in his own backyard, so to speak. For example, he perfected his pasta-making skills at Marc Vetri's namesake restaurant, Vetri Cucina. He also served as the opening chef of Zavino in Midtown Village. He even went on to co-found a small-batch pasta company in Brooklyn, Sfoglini Pasta, which is now based in West Coxsackie, N.Y.
"I've always liked simple food; I've always been drawn to it," he says. "Japanese food is really simple. French food can be really simple; a Niçoise salad is, like, six things—six ingredients—seasoned well. In Italy, you can have a plate of seasonal vegetables, maybe drizzled with vinegar, and it can be delicious and mind-blowing. Some of the best things you'll ever eat are simply prepared."
Of the pizzas on Enza's menu, Gonzalez suggests they "all seem to be selling pretty well." Asking a chef to choose a favorite item from the menu seems like an unfair question—akin to asking a mother to choose a favorite child, perhaps—but he does have his preferences.
"I'm a plain cheese guy," he says, "or plain with pepperoni."
Just a few months into its young life as an anchor of the "downtown" development on East Willow Grove Avenue, Enza has already begun to receive its share of positive attention. Gonzalez expects more of the same as the restaurant matures.
"Restaurants are living, breathing organisms, and you have to pay to pay attention to them," he says. "We're trying to build something everyone can be proud of. We serve a good product in a nice environment. We're starting from there and building up."
Photograph by Jody Robinson
Published (and copyrighted) in Suburban Life magazine, December 2019.