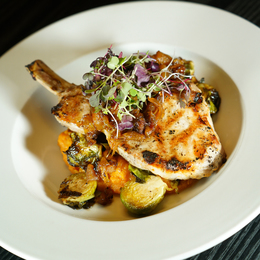 North Star
Built from the bones of the shuttered train station on Souderton's revitalized Main Street, Northbound has arrived.
The term Main Street bears a certain cachet. In many small towns, a thriving Main Street is a place where locals and visitors come to gather, shop, and dine, and maybe attend a local production of a play, musical, or some other theatrical performance. Put another way, Main Street should be a special place.
It certainly is in Souderton, whose Main Street is in the midst of a revival. Collectors flock to Exhibit B Gallery, where paintings, sculptures, and other artistic works line the walls of a beautifully refurbished space that once housed a cigar factory. A casual restaurant known as The Burger Shop has drawn rave reviews since opening in the unused space next to the barber shop. Broad Street Grind has opened just around the corner, serving artisan coffees and upmarket casual fare. A new retail marketplace is in development, as is an independent craft microbrewery.
And then there's Northbound. This relatively new addition to the local dining scene serves fine food bearing regional American and international influences. It also boasts one of the region's most distinctive cocktails programs.
Northbound opened in 2018, built from the bones of the old SEPTA station—hence the directional name—at the top of the hill, where Main and Broad intersect. The restaurant represents a collaboration of sorts, as the folks behind the Harleysville gastropub Butcher and Barkeep have joined forces with the team at the Lansdale-based craft distillery Boardroom Spirits. Although the restaurant bears the fingerprints of each entity, Executive Chef Jeff Sacco suggests Northbound is its own animal.
"I love the whole Southern, Low Country style of cooking you see in the Carolinas," says Sacco. "We try to do that with Butcher and Barkeep, which has more of a Southern infusion. With Northbound, we take a different direction. We do have the same bistro style, but with some Italian-influenced dishes."
The menu abounds with creative soups, salads, and gourmet sandwiches, as well as handmade pasta dishes such as gnocchi, fettucine, and agnolotti. Speaking of Italian-influenced foods, Northbound serves Detroit-style pizza, a rectangular pie with a thicker, almost focaccia-like crust, layered with fresh toppings. Options include sausage, pepperoni, and cheese, as well as a vegetarian version heaped with Brussels sprouts, sweet potatoes, and baby kale. One noteworthy starter: the so-called "Sexy Fries," a popular menu item borrowed from Butcher and Barkeep that features crispy fries topped with parmesan, hollandaise, and fresh herbs, seasoned with truffle oil.
Signature entrées include St. Louis ribs, duck breast, and the grilled pork chop. Sacco says the introduction of a smoker means patrons can expect more expertly smoked meats to make their way onto the menu. At the same time, vegetarians won't feel left out in the cold; vegetarian-friendly dishes include an excellent cauliflower steak and the avocado toast.
Considering its ties to Boardroom Spirits, Northbound has earned praise for its creative cocktails, many of which feature Boardroom's proprietary lineup of smooth spirits (vodka, rum, gin, etc.). In fact, Sacco says all of the drinks on the menu feature alcohol crafted from Pennsylvania-based brewers, distillers, and winemakers.
"Butcher and Barkeep is about approachability and comfort, and that's a huge factor," Sacco says. "We want it to be a comfortable place to go—straightforward and relatively simple. Northbound is a little different. It's more intimate, like a restaurant you might find in the city, and I think you see that in the design and the atmosphere."
To counter the cold, dark months ahead, Sacco says "richer, comforting foods," such as braised meats and game of the venison and wild boar sort, will claim more real estate on Northbound's winter menu.
The team behind Northbound paid close attention to detail in the restaurant's design, making patrons want to linger. This is especially true of the outdoor patio. Although it's currently closed for the season, the patio will once again become a favorite destination when the weather turns its cheek away from winter.
"We try not to overcomplicate things, and we also try to keep [dishes] under $20," Sacco says. "As long as we keep getting better and providing a good product—a well-seasoned, well-prepared, and reasonably priced meal in a nice atmosphere—we think people will keep coming back."
The continued renaissance of Souderton's Main Street all but assures it.
Photograph by Jody Robinson
Published (and copyrighted) in Suburban Life magazine, January 2020.