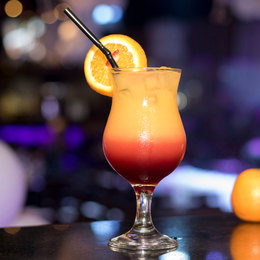 Free Spirited
"Dry January" may have ended, but spirit-free cocktails endure.
Approximately two years ago, when Jeff Thistle started hearing a persistent buzz—and rising customer demand—surrounding spirit-free cocktails, he figured the appeal would be relatively narrow and possibly short lived. He's happy to admit he was wrong.
"We're seeing an interest from guests across the board," says Thistle, general manager of ChopHouse Grille in Exton, which opened in July. "Initially I thought the interest would be coming primarily from women during the day, but it's not just one demographic.
"Different guests get them for different reasons," he continues. "It depends on the person and what's going on in the person's life. Maybe someone comes in for lunch with friends but has to pick up the kids later. Maybe someone wants to participate in a cocktail-esque setting but doesn't want the hangover or to feel lethargic."
The spirit-free cocktail—also known as the mocktail—tends to snare headlines leading up to the winter holidays and immediately following. During the increasingly trendy "dry January," some people choose to abstain from alcohol for the first month of the year as a means of self-improvement. Although January 31 has come and gone, the buzz surrounding spirit-free cocktails endures. Lifestyle choices such as the keto diet and sugar detoxes have helped turn the trend into something Thistle believes is here to stay.
"We offer our handcrafted seltzers spiked or non-alcoholic," he says. "With all of our alcohol-free drinks, we use refreshing ingredients with very nice, fresh garnishes, so we treat them pretty much the same we would treat our regular cocktails."
For establishments such as Thirsty Dice in Philadelphia's Fairmount neighborhood, spirit-free cocktails are considered an operational necessity. Thirsty Dice offers a menu of shareable comfort foods and adult beverages for people who "love board games," says owner Matt Hendricks. Guests come in specifically for the experience of playing board games with friends—Thirsty Dice has approximately 1,000 games to choose from—and most folks tend to linger for two to three hours.
"I definitely see a different attitude toward alcohol [among guests]," he says. "People want a great experience when they go out, and for many that means a more considerate use of alcohol. For us, spirit-free cocktails were something we found we should be doing in terms of hospitality. This is a trend that is not going to go away."
Even during the 2019 winter holidays, when many people were looking to relax with the aid of a few beers or glasses of wine, Hendricks says a surprising number of patrons requested cocktails sans alcohol. The "Jumanji," he says, is by far the most popular spirit-free drink on Thirsty Dice's menu, followed by the "Hanabi." (Editor's note: All the cocktails at Thirsty Dice, including spirit-free cocktails, are named after popular board games.)
"The Jumanji has an interesting flavor profile; it uses a housemade coriander syrup that goes with a black cherry soda that comes together in a cohesive way," he adds. "It's a little more sugary than you might expect from some other drinks, so it's not something you're going to have every day. The Hanabi, which uses a coconut tea that we smoke, has a flavor profile that's a little more subtle."
At ChopHouse Grille, Thistle says the sparkling strawberry lemonade is a top seller among the regular lineup of spirit-free cocktails. The restaurant also offers well-performing seasonal variations such as the cranberry mint seltzer. Spirit-free handcrafted seltzers typically cost $5 each, compared to $9 for the spiked versions or, say, $10 to $14 for an alcohol-based cocktail. Either way, he says guests "don't mind spending the money" as long as they get a high-quality product.
Neither Thistle nor Hendricks is of the mind that spirit-free cocktails are going to unseat beer, wine, and classic cocktails such as the Boulevardier, the Manhattan, or the Old Fashioned. That having been said, the collision of several trends—lifestyle diets that require one to limit or abstain alcohol consumption, and an increasing number of flavored seltzers, tonics, and other beverage bases, for example—will continue to drive demand for spirit-free options.
"I don't think it's going to go anywhere," Thistle says. "Two years ago it was a trend, but it just keeps expanding. For every idea you see for a new cocktail, you see the same idea in a mocktail, too. Everyone's embracing it, because it's what the guest wants. People want more options for non-alcoholic drinks that go beyond soda or iced tea."
Must-try DIY Mocktails
Want to enjoy the cocktail experience without the spirit? Try these at home.
Sparkling Strawberry Lemonade
Courtesy of ChopHouse Grille
1 fresh sliced strawberry
2 oz. strawberry puree
0.5 oz. fresh lemon juice
1 oz. simple syrup
Seltzer
Mix strawberry puree, lemon juice and simple syrup in a glass with ice. Top off with seltzer and garnish with sliced strawberry.
Jumanji
Courtesy of Thirsty Dice
1 oz. pineapple juice
0.25 oz. lime juice
0.5 oz. coriander syrup
Shake with ice and strain over fresh ice. Top with black cherry soda (approx. 3 oz.)
Hanabi
Courtesy of Thirsty Dice
Brew iced tea with a 3:2 ratio of coconut Assam tea and green tea. With a smoking gun, smoke iced tea for approx. 6 minutes.
Build the following in an ice-filled glass:
0.25 oz. lemon juice
0.75 oz. (house-made) ginger syrup
6 to 8 oz. of smoked tea
Stir and garnish with a lemon wedge.
For those who prefer cocktails with some spirit …
Plank-smoked Old Fashioned
Courtesy of ChopHouse Grille
1 cedar plank
2 oz. of Bulleit rye
3 dashes of chocolate bitters
Splash of simple syrup
Start with a cedar plank. Torch the plank until it's nearly aflame and then place a mixer glass over the smoke to catch it. Build the drink: Bulleit rye, dashes of chocolate bitters, and a splash of simple syrup. Add one square ice cube to the smoked glass and pour the drink over the cube. Garnish with a filthy cherry and an orange twist.
Published (and copyrighted) in Suburban Life magazine, February 2020.