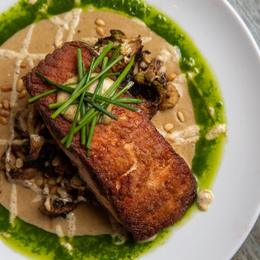 As Good as Gold
These award-winning restaurants give guests an experience they won't soon forget.
In 2020, Americans have an almost endless list of options for satisfying the palate: the fast-food drive-thru on the commute to work, the vending machine a short walk from the office door, the Wawa on the drive home. But there's a big difference between eating and dining.

When we dine out, we want an experience worth remembering, not simply a place to fill our bellies. We've done our share of dining out in the past 12 months. From those experiences, we've distilled the following list of restaurants—some new, some established—we're confident you'll want to try. We present the winners of our 2020 Golden Fork Awards.

Amani's BYOB
Considered one of the top BYOBs in Chester County, Downingtown-based Amani's offers a seasonal menu of inspired dishes that make the most of ingredients cultivated by local farmers. Peruse the menu and you're likely to find produce and proteins from farms in places such as Chester Springs, Glenmoore, and West Chester—right in our backyard, figuratively speaking. amanisbyob.com

Bowman's Tavern
For anyone on the hunt for flavorful, locally sourced, and artfully plated dishes, served in a rustic-tavern setting, look no farther than Bowman's Tavern in New Hope—or, for that matter, its sister location, Bowman's North in Riegelsville. At each restaurant, guests can expect a combination of finely made American comfort food, served with a side of Cheers-like ambiance. Signature dishes include pan-seared salmon, crab cakes, and a lineup of hand-cut steaks that would make any butcher blush. If that's not enough, stop in for the jazz and other live music performed by local artists. bowmanstavernrestaurant.com | bowmansnorth.com

Casa Toro Mexican Grill & Mojito Bay Lounge
Food, family, and culture—those are the hallmarks of Casa Toro Mexican Grill in Doylestown. Much like its sister location in Coopersburg, Casa Toro offers a memorable experience built around authentic Latin American cuisine and first-class service. The menu draws inspiration from the Diaz-Albertini family's Cuban roots, as well as their fondness for the cuisines of the Caribbean and South America. Of course, Mexican staples such as fresh-made guacamole, burritos, and enchiladas may explain why Casa Toro took home "Best Mexican Restaurant in Bucks Mont" honors two years in a row. casatoromexican.com

Enza
The team at family-friendly Enza in Wyndmoor aims to impress. The first impression begins with the elegant design of the bar and dining room, and it gets only better once the high-end product—i.e., Neapolitan-style pizza—makes its way to the table. The menu is straightforward and uncomplicated, with house favorites including appetizers such as the beef meatballs and the roasted sweet peppers. It may be a relatively new addition to the local dining scene, and we know we're not the only ones who are happy to have it here. pizzeriaenza.com

Firepoint Grill
In Newtown Square, Firepoint Grill delivers an exceptional experience, whether you're seeking a choice wood-fired steak and a glass of fine wine, a burger and a beer at the well-appointed bar, or cocktails and light fare on the temperature-controlled patio. In other words, Firepoint strives to please. The same can be said of its sister restaurants in the Paxos family in Center Valley and Bethlehem, respectively. Our favorite just might be Torre, which offers stunning décor, vibrant atmosphere, and some of the area's best Mexican cuisine. firepointgrill.com

The Grey Stone Fine Food and Spirits
What you'll find: seasonally inspired "eclectic American" fare such as steaks, seafood, and other upscale entrées, as well as gourmet sandwiches, salads, and inventive appetizers—nearly all of which is prepared from scratch. The Grey Stone also possesses a robust cocktail program (more than two-dozen craft beers on tap, a selection of artisanal cocktails, and an extensive wine list, plus homemade sangria) and a generous happy hour. With kinder weather on the way, we fully expect guests to begin migrating to The Grey Stone's popular outdoor patio. greystonefinefood.com

Imperatore
Outstanding food and equally good service await Imperatore's guests. Located in a modest retail center at the intersection of Skippack and Butler pikes, this Ambler BYOB turns out imaginative dishes of the Italian and Mediterranean sort. Some of the menu's most popular dishes include the likes of gnocchi, risotto, and veal medallions, as well as another crowd pleaser: the lobster- and crabmeat-filled tortellini, served in a flavorful sauce of lobster and Grand Marnier. ristoranteimperatore.com

Jarrettown Hotel
When you waltz into "the J," as it's known to some regulars, expect excellent Maryland crab cakes, perfectly blistered thin-crust pizzas, and truly memorable bruschetta, among other Italian-inspired dishes. For lovers of fine wines, this Dresher hot spot stocks a surprising selection of reds and whites from Italy, California, and other regions known for their grapes. Once spring comes alive, so does the Jarrettown's expansive partially covered patio. We can't wait. jarrettownrestaurant.com

La Stalla
There's a lot to love about La Stalla, a Newtown institution that began life in the early 20th century as a barn. The restaurant's menu has its share of personality, too, featuring an array of Italian-influenced dishes—antipasti, pastas, and veal or chicken specialties—that seem built for sharing. Our recommendations: Sit in close proximity to the open kitchen, which makes the act of sitting down to a meal into an interactive experience; and then, once the meal has reached its end, take a seat the lively bar and savor the cocktail of your choice. lastallarestaurant.com

Los Sarapes
Los Sarapes' guacamole has long been making headlines—and deservedly so. That's merely a first taste of the authentic Mexican fare to come. No matter what you order, be sure to conclude your culinary journey with the flan, which is among the best (if not the best) of the Philadelphia suburbs. We adore the original location in Chalfont, but we have to say we are very excited about the "new" location in Horsham (right across the street from the "old" one), and look forward to enjoying some of that famous guacamole and a glass of something cold on the outdoor deck. lossarapes.com | lossarapeshorsham.com

Lotus Farm to Table
This Media-based restaurant embraces sustainability in its approach to crafting its farm-fresh dishes, using products that were "grown, caught, and raised" by local farmers. Proprietor Courtney Rozsas and her chef, Ryan Sulikowski, take the "local" touch a step further; when appropriate they might even head to the woods and forage for ingredients such as wild ramps. Lotus Farm to Table also offers a wide selection of hand-rolled loose teas, designed to foster good health and promote a sense of calm. Put another way, guests will discover an environment in which they can fill the belly but also soothe the soul. lotusfarmtotable.com

Vela
Donna Ewanciw has done it again. As a female chef in a largely male-dominated profession, Ewanciw has long been hailed as a pioneer of sorts. Armed with 30-plus years' experience of leading kitchens in well-regarded restaurants throughout the Philadelphia area—Moonstruck in the city's Fox Chase neighborhood and Radice in Blue Bell—she launched a bold new venture in Vela, located in Doylestown. As chef-owner, Ewanciw has created a warm and elegant dining room and a kitchen that turns out wonderfully inspired cuisine, much of it influenced by the flavors of the Mediterranean. veladoylestown.com

Published (and copyrighted) in Suburban Life magazine, March 2020.