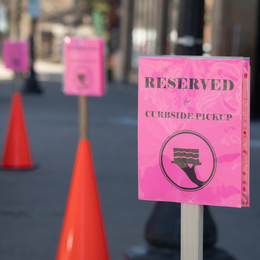 Glass Half Full
Even though the doors to the dining room may be closed, restaurateurs maintain their optimism as they adapt to help communities in a time of dire need.
During a phone interview on a sunny Friday morning in late February, Moon Krapugthong appraised her two Manayunk restaurants—Chabaa Thai Bistro and Yanako—and spoke modestly about her place as one of the area's best-known restaurateurs. She also recalled how an invisible influence reshaped her business, causing an increasing amount of revenue to come from customers who eat her food in places other than her restaurants' dining rooms.
She was referring, of course, to the Internet.
"Technology changed everything and made it easy for people to have a hot meal right at their door," she said at the time. "I would always tell people, 'Don't worry. If you keep providing good service and keep providing good food, the customer will come. The Internet cannot deliver the restaurant experience to your house.' I was wrong. … My perception of the dining experience has changed."
While she was satisfied with how her two restaurants had grown, she was looking ahead and trying to answer the question in front of many creative professionals who have achieved certain levels of success: "What next?"
In hindsight, Krapugthong's question was an ominous portent of things to come. Few could have predicted another invisible disruptor—this one a monstrous microbe—lurking just around the corner.
By the third week of March, the COVID-19 pandemic had effectively shut down much of the country, including all "nonessential" businesses in Pennsylvania. Krapugthong and others like her have since had to adapt. Prior to the pandemic, carryout accounted for as much as 40 percent of her business. For the time being, every order coming out of the kitchen will be consumed elsewhere, far beyond the walls of her restaurants.
"Even a strong person gets shaken," she says. "I've been in the business for almost 20 years, and I've seen nothing like this. I go up and down in different seasons, go through changes in the political landscape and different leaders and new generations, and always I adjust. Sometimes I change the menu and make a mistake. I've seen people come and go. I accept those changes. This change is unpredictable, invisible, and you don't know what you are dealing with."
Takeout from restaurants such as hers has become a lifeline on both sides of the transaction. Homebound customers gain access to vital sustenance, as well as a sense of normalcy and connection to the outside world. For restaurants and everyone they employ, takeout business—or, in the time of "social distancing," curbside pickup—may help sustain an industry known for surviving on razor-thin profit margins.
For example, Firepoint Grill in Newtown Square is serving limited menus for curbside pickup during limited hours: Wednesday through Saturday, from 4:30 p.m. to 7:30 p.m., and Sunday, from 3:30 p.m. to 6:30 p.m. (Three of its sister locations in the Paxos Restaurants family—blue in Bethlehem, and Torre and Melt in Center Valley—also offer curbside pickup; Top Cut, also of Center Valley, is temporarily closed.) To place orders, customers simply visit firepointgrill.com or call (484) 428-3093 up to a half hour before the day's final pickup time.
During this temporary period, Firepoint Grill is offering a limited number of menu items that change from week to week, such as a 12-inch classic pizza, slow-cooked boneless short ribs, and a garden vegetable stir-fry, with each item provided at a significant discount. In addition, the restaurant is offering a weekly rotating signature family-style meal (for four people), such as a wood-fired rotisserie free-range organic chicken, seasonal vegetable, roasted-garlic mashed potatoes, and a field green salad for $89. Lunch offerings include $5 drive-up sandwiches and "two for $20" pizzas and burgers. As a convenience, the restaurant has also made six-packs of beer (domestics for $12 each, imports for $16) available with to-go orders.
"By offering these curbside menus, we are doing everything we can to continue to be there for our guests during this truly unprecedented time," says Jillian Fligge, director of marketing and special projects for Paxos Restaurants. "You can still enjoy a date night or family meal with the quality dishes you know and love from Firepoint, just seated around your own dining room table instead of in our dining room. We hope that this helps our guests find some normalcy amid all of the changes in our world right now."
Finding Support
James Seward's two Bucks County restaurants—Bowman's Tavern in New Hope and Bowman's North in Riegelsville—temporarily closed their doors on March 15, four days before Gov. Wolf ordered all but "life-sustaining" businesses to shutter. Though some customers voiced their displeasure with the move on social media, Seward felt confident he had made the right decision.
"We were starting to see a significant drop-off in business the week prior, down almost 50 percent," he says. "The Tuesday prior to closing was our slowest day in six years."
Economics certainly factored into the equation, but Seward says the safety of customers and employees drove his decision.
"People's wellbeing is our main concern," he says. "Our people showed genuine stress and concern, specifically the servers, because they're in direct contact with people all day. Between both restaurants, we employ 60 to 70 people, and there was no pushback. The severity of [the situation] had been made pretty clear."
Once the doors closed, Seward's thinking shifted to the next challenge: How does a business that has been stripped of its primary revenue source help its employees make ends meet? He promptly organized a GoFundMe fundraiser, accessible through the Bowman's Tavern website, to assist employees. (As of press time, the site had raised approximately $8,000 toward its goal of $40,000.) In addition, he announced a gift-card promotion through social media, with 100 percent of the proceeds going back to staff.
"We've seen so much community support," he adds. "It's inspiring and indicative of the kind of business we are, built on direct relationships with customers. … The financial impact over the long term is frightening. The big concern is watching the economy fall apart. Are people going to be able to have enough money to go out and eat? Things have been pretty good the past couple of years, and now we're watching people's 401(k)s disappear."
He hopes for the speedy development of an effective vaccine, which, in turn, can be rolled out in an orderly, equitable fashion to fight the COVID-19 virus. From there, he believes, the nation can begin to heal—physically, emotionally, and financially.
"Once that happens," he says, "people can start thinking about going out to dinner again."
Making Connections
One of the unspoken casualties of the COVID-19 crisis has been the loss of connection among people—everyone holed up at home, isolated in their own worlds, prohibited from direct or proximate contact with others. Even prior to the outbreak, though, Moon Krapugthong had seen how technology and societal changes had led to social distancing of a different kind.
"Humans are social, sophisticated beings," she says. "They still need society to engage. I believe people are going to want to come back to an experience that is social and spiritual—an experience that artificial intelligence cannot substitute."
Earlier in her career, when she was building her reputation as one of Manayunk's best-known chef-restaurateurs, she enjoyed walking through a packed dining room and speaking with customers, one person to another. Hosting cooking classes and demonstrations with small groups as "a special service" provided her with even greater joy.
"It's almost like community building," she says of these intimate gatherings. "It's a wide generation of ages and backgrounds, such a beautiful mix of people who want to learn how to cook Thai food. They leave who they are at the door, share an experience, and learn together."
During these interactions, she likes to share her expertise, tell stories, and offer hands-on instruction in the preparation and cooking of Thai cuisine. Typically she would host these classes seasonally—winter, spring, summer, and autumn—though she'd like to host a class "every other week." Classes might range from $45 for a class of 12, in which people learn to prepare a key item, to a significantly higher price tag for private one-on-one instruction.
"It's about connecting with guests and being challenged by their questions," Krapugthong says. "To me, it satisfies me personally, people connecting with people, and that's something that cannot be substituted by any machine or corporate setup. It's about going back to our roots."
For now she's dealing with a vastly different reality, marked by tough decisions and the occasional sleepless night. She admits she has become less of a restaurateur and more of "a factory producing the product for the front lines," referring to curbside takeout and orders to be delivered to customers' front doors. After preparing takeout orders from 5 p.m. to 9 p.m., she usually doesn't turn the lights off and head home until 10 p.m. or 11 p.m. Although she's grateful for the business and happy to help a community during a time of great need, she's eager for a return to normalcy, or a reasonable facsimile of it, and see her dining rooms once again bustling with patrons engaged in eating, drinking, and conversation.
"I hope after this is all over, people will miss us and come back for the experience," she says. "I hope when I reopen [the dining rooms] my people still have that energy to offer the same experience, or more, to serve the customer, to heal, and to get everyone past the bad thing. I hope when this is all over, they will come back and redeem what they lost."
Editor's note: If you have the wherewithal and can do so in a safe manner, buy a gift card for future use or purchase a take-home meal from an independently owned restaurant nearby. Doing so may help the restaurant's owner—and everyone the restaurant employs—a great deal during a terribly uncertain time.

Photograph by Justin Berken / Shutterstock.com
Published (and copyrighted) in Suburban Life magazine, April 2020.