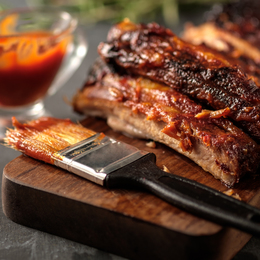 All Fired Up
These cooking tips and recipes from local chefs will heat up any backyard barbecue.
If Christopher Heath had it his way, he would be grilling at his house all year long.

"As it is, when winter starts to change into spring, the first nice day that presents itself, my grill is lit up," says Christopher Heath, the corporate chef for Paxos Restaurants. "Grilling is by far my favorite way to cook at home. I've never had a gas grill, and only cook with hardwood charcoal. The flavor and high heat that good charcoal gives the foods you grill is life changing.

"One of my favorite gadgets made for the grill is my grill wok, which allows you to cook anything right over the grill," he continues. "Grilling is all about controlling the heat; it is important to have an extremely hot side and a low side."

For most of us, this year's grilling season likely began sooner than usual.

Considering the past few months, people are itching to spend as much time as possible out of doors, including preparing and cooking their meals. Grilling is the perfect way to cook much more than proteins such as ribs and burgers, according to Heath, who knows a thing or two about the culinary arts.

Heath oversees the culinary direction of all four restaurants in the Paxos family: Firepoint Grill, in Newtown Square; Blue Grillhouse, in Bethlehem; and the trio of Melt, Top Cut, and Torre, all in Center Valley, north of Quakertown off Route 309. He approaches his at-home menu the same way he approaches the menu of each Paxos restaurant: big on inventiveness and flavor.

"I love using homemade flavored salts and spice rubs to enhance your grilled proteins and vegetables," he says. "Fruits are wonderful on the grill, too. Next time you grill some pork chops, slice and grill up some pineapple to accompany the pork. And don't forget dessert! During the hot summer days, if it's too hot to make a bonfire, pull out or slide over your grates and roast marshmallows over the coals."

Heath shares his recipes for some inventive spice rubs and salts designed to add flavor to your next barbecue. In addition, Ron Inverso, the owner and chef of Ron's Original Bar & Grille in Exton, offers his step-by-step guide to making fall-off-the-bone spareribs.

Return the favor by patronizing these and other independently owned and operated restaurants, either through takeout and gift cards, or by taking a seat in the dining room once permitted.

Garlic Scape Salt
2 bushels (24 pc.) Green garlic scapes
2 cups Kosher Salt

Roughly chop the garlic scapes. Place the chopped garlic scapes and salt, together in a food processor. Blend together, until well incorporated, causing the salt to turn bright green. Spread the wet salt out on sheet tray and place in a low 225-degree oven. Check every 10 minutes, baking the salt until it is dry. When the salt is cooled, store the salt in airtight containers.

Recipe courtesy of Paxos Restaurants

Roman Spice
4 tablespoons Fennel seeds, toasted
4 teaspoons Black peppercorns, toasted
2 teaspoons Red pepper flakes
2 tablespoons Fleur de sel
2 tablespoons Dried rosemary

Toast together the fennel seeds and peppercorns. Mix all the ingredients together and blend together.

Recipe courtesy of Paxos Restaurants

Creole Spice
2 tablespoons Pepper mix
4 tablespoons Paprika
2 tablespoons Garlic powder
2 tablespoons Onion powder
2 tablespoons Oregano
1 tablespoon Cayenne

Mix all the ingredients together and blend together.

Recipe courtesy of Paxos Restaurants

Ron's Original Spareribs
The Rub
1 cup Brown sugar
1/2 cup Kosher salt
3 tablespoons Black pepper
3 tablespoons Smoked paprika
3 tablespoons Fresh rosemary (diced)
1 tablespoon Granulated garlic
1 tablespoon Onion powder
1 tablespoon Ground mustard
1 tablespoon Celery seed
1 tablespoon Chili powder

Mix ingredients above and rub approximately 1/2 cup over one rack of spareribs, top and bottom. Wrap tightly in plastic wrap and hold in cooler overnight. Use what you need, and reserve the balance.

Roasting
In a large baking dish, lay in two racks per baking dish. Add 1/2 cup of water, and then cover tightly with aluminum foil. Roast in the oven at 250 degrees for approximately three hours, or until the meat is tender enough to fall off the bone. Uncover and roast at 350 degrees for 15 to 30 minutes to brown. At this point you can refrigerate for up to three days until ready to finish.

Final Execution
When ready to serve, place the ribs on a preheated grill. Add one ladle (6 oz.) of your favorite barbecue sauce to the top of each rack. Heat on the grill for approximately seven minutes; no need to turn. Then, enjoy!

Recipe courtesy of Ron's Original Bar and Grille

Published (and copyrighted) in Suburban Life magazine, June 2020.