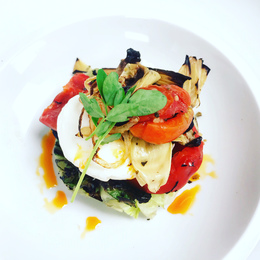 Made to Order
Through adventurous cuisine, a country club aesthetic, and options galore, HarborChase of Wilmington redefines the dining experience for every resident.
"One cannot think well, love well, sleep well, if one has not dined well," according to Virginia Woolf.

"All sorrows are less with bread," as Miguel de Cervantes wrote in Don Quixote.

As the old Irish proverb goes, "Laughter is brightest where food is best."
Maxims about food pepper the proverbs of cultures worldwide. While each pearl of wisdom has its own unique origins, all seem to concur—good food is good for the soul. This is exactly the thinking behind the dining experience that HarborChase of Wilmington has crafted for its residents in independent living, assisted living, and memory care.
"Our approach towards hospitality in general, and dining specifically, isn't executed in a traditional 'healthcare' manner," says Chris Thompson, a former chef instructor at Le Cordon Bleu in Atlanta who now works as vice president of hospitality with Harbor Retirement Associates (HRA), the parent company of HarborChase of Wilmington. "We put a strong emphasis on operating very much in line with the private club industry."
This applies to everything from menu design to hiring, and everything in between.
"I go after chefs with hotel or country club or resort or restaurant backgrounds," Thompson continues. "I'm looking for individuals who have it in their nature to write menus and be creative from a culinary standpoint."
Anthony Polito is a good example. HRA's emphasis on hospitality and the culinary arts is what drew him to the organization. A chef by trade, Polito serves HRA as director of hospitality.
"What sets us apart is a really high level of hospitality," he says. "We have built a great team of chefs that have changed the mindset from the industry standard. Ours is more similar to a country club atmosphere. We added several restaurant venues so that when folks take the step into senior living, it's as seamless as possible. It's a big transition for a lot of new residents and we want this to be an exciting new chapter in their lives."
Embracing adventure isn't just for residents. Staff members are encouraged to innovate and share their creativity, too.
"We give our chefs the autonomy to make their menus amazing," Polito says. "We love folks who are entrepreneurial. Our a la carte menu, for example, can feature regional favorite dishes. We consult with a dietician, but it's hidden in the menu with many other a la carte options. Any diner would say this is just a beautiful, high-end, trendy restaurant."
To foster this creativity, HarborChase of Wilmington's chefs even have the opportunity to utilize a "Chef's Studio."
"Picture an arts studio, but for a culinarian," Polito says. "Include a beautiful hearth oven, and an exhibition and demo window that opens up to a dining room and our private dining room. We're even developing a 'Chef's Studio Live' program that will be a cooking show of sorts within our community, where we'll walk through recipes and maybe even YouTube."
An Abundance of Options
The HarborChase team's commitment to creativity can also be seen in the wide array of cafés and restaurants available to residents at the Wilmington location, each open seven days a week.
One popular establishment is Signatures, which serves contemporary American breakfasts, lunches, and dinners, both on premises and via all-day room service.
"Signatures' menu depends on the day, as items rotate seasonally and specials change daily," Polito notes. "A guest might try a classic chicken parmesan with pan-sautéed linguini pomodoro with pecorino, grated tableside, or a bone-in filet paired with creamed spinach and five-cheese baked macaroni."
For the utmost in elegance, residents and guests don their formal best for a trip to The Grill Room. Boasting a window to an exhibition kitchen, this modern-minded eatery rotates weekly chef-special, prix fixe menus, complete with wine pairings.
"We're not stuck in just the traditional, classic mindset," Polito says. "Surf and turf here, for example, might be 'Land and Sea'—maybe a pistachio-crusted lamp chop with miso-seared diver scallops, wilted spinach, and a potato gratin. You won't see just a potato with sour cream and butter. We want our chefs to create things that are special to the moment, with locally sourced ingredients."
Social butterflies flock to the Fusion Lounge, a lively and fully licensed bar serving local craft beer, wines, specialty, seasonally inspired cocktails (as well as "mocktails," infused seltzers, and kombucha drinks), and light bites. While the menu items may ring familiar, they are anything but ordinary.
"We take the traditional, but elevate it," as Polito says. "The bar isn't just 'wings and things.' If we do a wing, we'll use a house-made Buffalo sauce. It's more high-end sliders and street tacos."
For bistro-style quick bites, residents enjoy Counter-Offer, which serves a variety of casual breakfast options, sandwiches and salads, sweet treats, and gourmet coffees and beverages. The Cove, which caters especially to memory care residents, and Zest, a reservation-only event space that offers catering services limited only by the imagination, round out the on-campus dining options.
(Editor's note: A representative from HarborChase says the organization has exceeded the recommendations provided by the U.S. Centers for Disease Control and Prevention during the pandemic to ensure the health of residents and associates. Mandatory testing is required for all associates and provided for all residents.)
"In a lot of our industry, dining rooms are more like food halls," Polito says. "We not only call our establishments restaurants, but we also run them like restaurants. It's not 'restaurant-style'; it's restaurant dining, from the culinary to the aesthetic. Each of our spaces has a different look and feel. Ours is a really nice operation that rivals any high-end resort or country club."
Residents' freedom to choose their own dining adventure is bolstered by the "Dining Dollar" program. Residents have an allotted amount of dollars they can use each month in any of the dining spaces, according to Polito. Residents have the flexibility to invite their children and grandkids, for example, or splurge on a wine dinner at one of the campus' pop-up restaurants. It should come as no surprise that the restaurants at HarborChase of Wilmington are becoming quite popular with residents' families and friends.
"Great restaurants mean family and friends have more incentive to come and dine with us," says Thompson. "After we rebranded our main restaurants and diversified our menus, we saw a big uptick in guest meals. By providing wonderful hospitality, and food residents love to eat, it increases quality of life—not just day to day, but as a whole. It's great to see family members who are excited to come and dine with Mom or Dad once or twice a week."
"What we've built are really high-end, high-level outlets that are exciting," Polito adds. "It's one of the things that makes me proud of what I'm doing—that residents are proud to show off these restaurants. It's such a huge evolution."
HarborChase of Wilmington
2004 Shipley Road
Wilmington, Del.
(302) 797-1061
Photography courtesy of HarborChase of Wilmington
Published (and copyrighted) in Suburban Life magazine, June 2020