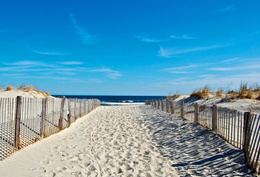 Best of the Shore 2020
80 places that always make our summer sizzle.
Because this year has been so different, we wanted to do something a little special for our annual Best of the Shore list. So, with sand in between our toes and the salt air penetrating our senses, we ate and drank our way from Long Beach Island to Cape May in an effort to recognize the places that have stood the test of time and consistently deliver. A hall of fame list if there ever was one, these spots epitomize everything that we love about the Shore and it wouldn't feel like summer without them.
AVALON
Concord Café
Sink your teeth into: The Maximus Burger with prosciutto, roasted red peppers, provolone and pesto
Café Loren
For more than four decades this beloved restaurant has wowed diners with refined plates that showcase high quality ingredients and deft skill in the kitchen.
The Whitebrier
Don't miss: The daily sushi offerings from 4 to 7 p.m. in the Octopus Garden
Windrift
With multiple levels and lounges—and picturesque views of the Atlantic—this is the perfect place to enjoy a cocktail before sitting down for dinner.
The Princeton
Perfect for: An energetic nightlife atmosphere and plenty of live entertainment
Kohler's Bakery
Get in line for the sinfully sweet cream doughnuts, sticky buns and butter cake. Then proceed to repeat the process all summer long.
The Diving Horse
This warm and inviting BYOB showcases local ingredients—think scallops from Cape May Point—in mouthwatering ways on its carefully curated seasonal menu.
Circle Pizza
More than pizza: The salami, provolone, onion and green pepper grinder is a must
Fishin' Pier Grille
Rise and shine: The hearty omelets and sweet French toast regularly attract the breakfast bunch
Sundae Best
With two locations in town, we are never far from being able to grab a cone with fresh scoops of our favorites like Black Raspberry or Spicy Cocoa.
CAPE MAY
The Red Store
This is a destination restaurant with a James Beard Award-nominated chef in the kitchen creating some of the most delicious meals down the Shore or otherwise.
The Rusty Nail
Something for everyone: Families—even Fido—can enjoy this outdoor beach bar with fire pits, live entertainment and more
The Mad Batter
Whether starting your day with a signature bloody Mary and a country breakfast or ordering a filet to go with your Old Fashioned for dinner; this place never disappoints.
Dock Mike Pancake's House
On the menu: With options like sweet potato or piña colada, these aren't your run of the mill pancakes
The Brown Room
The throwback atmosphere blends well with the list of classic cocktails that have been elevated with modern twists of mixology.
The Boiler Room
Don't miss: The impressive variety of gourmet brick oven pizzas satisfy any discerning foodie
Cape May Brewing Company
A solid lineup of regular and rotating drafts and a communal tasting room make this a great place to grab a flight and expand your horizons.
The Ebbitt Room
Quintessential fine dining at its best, this romantic restaurant tucked into the Virginia Hotel oozes elegance from the décor to the highly polished farm-to-table menu.
Hot Dog Tommy's
Between the buns: Each one of the nearly 30 mind-bending signature dogs are worthy of your attention
LONG BEACH ISLAND
The Arlington
Head to the outdoor patio of this Ship Bottom spot for some of the island's finest seafood, handmade pastas and other American fare.
The Gateway Restaurant and Lounge
Soup's on: The excellent Manhattan and New England chowders have numerous won grand-prize honors at LBI's annual Chowderfest
Black Eyed Susans
It may feel a little different this season, but this Harvey Cedars stop turns out a superb menu of artisanal yet approachable fare featuring locally sourced ingredients. The rangy cocktails list includes the must-try sangria.
Chicken or the Egg
Day and night: Go for breakfast, but go back for the Buffalo wings, with 18 glorious side sauces from which to choose
Harvey Cedars Shellfish Co.
This family-run landmark has been doing seafood right since the early 1970s. In fact, Food & Wine magazine recently named Harvey Cedars one of the best classic restaurants in the Garden State. Anyone who has dined there knows why.
Daddy O
Perfect for: Viewing the Atlantic from the rooftop bar as you nibble on "beachy bites" and sip on summery cocktails
Shore Good Donuts
When it comes to imaginative doughnuts, Shore Good has few peers. If you don't see exactly what you're looking for on the menu of specialty options, make your own by choosing from a lineup of DIY icings and toppings.
Surf City Pizza
Grab a slice: Our vote goes to the "Surf Special," starring pepperoni, sausage and plenty of cheese, with peppers, onions and mushrooms to boot
Viking Fresh Off the Hook
From lobster tails and scallops to flounder and yellowfin tuna, from oysters and littleneck clams to crab cakes and mussels, Off the Hook's menu goes on and on.
MARGATE / VENTNOR
Bocca Coal Fired Bistro
With a menu that covers all the bases from pizza and sandwiches to prime rib and handmade gnocchi, it's hard not to find a reason to love this place.
Tomatoes
You'll find a nice mix of comfort foods on the menu, but no visit here is complete without sampling a few of the impressive signature sushi rolls.
Steve and Cookie's
Sweet treat: Come for the cocktails and the stellar plates, but stay for the immaculate blueberry pie
Margate Dairy Bar & Burger
While we all scream for ice cream, we also speak highly of the tantalizing MDB Burger. There's a reason this place has been around for nearly 70 years, they do it all well.
Johnny's Café and Bar
Good times: Happy hour runs seven days a week, but on Wednesdays the drink specials last all night long
Ventura's Greenhouse
The oceanfront location always attracts a crowd looking to sip on a rum runner or nosh on sandwiches, pizza and other light fare.
Junior's Doughnuts and Dogs
Those who know will tell you a dozen of these sublime doughnuts may not be enough, especially if you're talking about the Bavarian crème or the chocolate frosted.
Megu Sushi
On a roll: The eponymous signature roll is a lovely blend of shrimp tempura, crab stick and lobster
Sofia
A taste of Greece: From the moussaka flatbread to the grilled octopus, this as authentic as it gets
Red Room Café
Nonna approved: The appetizers, homemade pastas and inspired entrées showcase the best in Italian cuisine
OCEAN CITY
Augie's Omelette and Waffle House
When it comes to omelets or waffles, Augie's menu abounds with almost too many varieties. Almost. In other words, Augie's aims to please every palate. The cheese lovers' omelet and the PB&J waffle sound like winners to us.
A La Mode Ice Cream Parlor
The show-stealer: "The Atomic Split"—32 ounces of black raspberry, strawberry and vanilla ice cream, heaped with banana, pineapple and other fruit
Sunrise Café
A homey hotspot: From the cinnamon roll pancakes to the crab avocado toast, you can taste both ingredients in every bite
Browns Restaurant
Hit the boards and make a beeline for this O.C. institution for an unforgettable breakfast, including its famous doughnuts. These pillow-like delights come in six no-frills varieties; don't expect jimmies or other gilding of the lily, but none is needed.
Dot's Pastry Shop
Guilty pleasures: Dot's does doughnuts, Danish pastries and more, but our vote goes to remarkable sticky buns.
Yianni's Café
Rise and shine: The breakfast offerings are particularly robust—and you won't find a better fruit smoothie
OC Surf Café
Paddle over to this cheery spot for all-day breakfast, including some of O.C.'s fluffiest omelets. The lunchtime crowd swears by the "surfer specials" (Philly-style cheesesteaks and other sandwiches) and the tacos, particularly those of the mahi mahi sort.
Sandwich Bar
Tiny but mighty—that about sums up Sandwich Bar. Fans rave about the lobster roll, the BBQ pulled-pork sandwich and the tacos, but if you can't find something to make you happy here, you're not looking closely enough.
The Chatterbox
What you'll find: American-style breakfast and lunch classics, including some surprises—such as made-to-order beignets
Shriver's Salt Water Taffy
Shriver's has been a Shore staple since the late 19th century, thanks to its amazing saltwater taffy, boardwalk fudge and macaroons, among other sweet treats. A personal admission: Shriver's chocolate peanut butter fudge makes us weak in the knees.
SEA ISLE CITY
Sunset Pier Restaurant
Sink your teeth into: The buttermilk fried chicken sandwich with a jalapeño and chipotle mayo
Braca Café / Henri's Bar
One-two punch: The mix of Italian specialties and heavy handed drinks make this one dynamic duo
The Ocean Drive
Famous for the "no shower happy hour," the OD's come as you are atmosphere attracts those who appreciate a good time—young and old alike.
Mrs. Brizzle's Buns
The sticky buns are a prerequisite and so are the mammoth breakfast sandwiches and hefty hoagies that you have to see to believe.
A Modo Mio Ristorante
Don't miss: The meatballs are made in-house and come with a rich tomato sauce with dollops of fresh ricotta
Hank Sauce
The juicy burgers, sophisticated sandwiches and tantalizing tacos are the perfect vessels for Hank's piquant sauces, but the pinchos—skewered chicken, shrimp, tuna or scallops with French bread—are the real showstopper.
Fratteli's Wood Fired Pizza
The Neapolitan pizzas here are blistered in a 650-degree oven to create the perfect mix of char and chew on the crust made out of dough that has been proofed for three days.
Basilico's Ristorante
A family affair: The sizable family style menu requires advance ordering, but it's the perfect way to indulge with loved ones
Giovanni's Deli
The specialty hoagies served up on crusty seeded loaves is reason enough to visit, but the personable service makes you feel less like a customer and more like family.
Marita's Homemade Ice Cream
Get in line: Flavors like sea salt caramel nut and banana peanut butter fudge keep the crowds coming back
STONE HARBOR
Marabella's Family Restaurant
Come hungry: The homemade lasagna with meat sauce and rich ricotta is overly satisfying
Sax at the Reeds Shelter Haven
The vibe: An elegant dining room where guests are served imaginative, yet approachable dishes
Bread and Cheese Cupboard
Good morning: The smell of freshly baked cream cheese frosted buns is the best way to start any day
Springer's Homemade Ice Cream
Nowhere is as synonymous with summer in Stone Harbor as this revered institution where the cones are piled high with beguiling flavors and there's plenty of variety for everyone in the group.
Green Cuisine
Food down the Shore isn't always diet friendly, but thankfully this place keeps us on track with an array of health conscious offerings from salads, wraps, fresh-squeezed juices and more.
Jay's on Third
Skillful technique and great attention to detail go into each one of the beautifully composed plates that arrive to the table looking like culinary works of art.
Ristorante Luciano
Room for dessert: The homemade ricotta cheesecake with hints of citrusy orange and lemon will make your heart sing
Seven Mile Pies
The more traditional pies here are great, but its options like the General Tso's Chicken or Mac and Cheese that help set it apart from the pack.
Yvette's Café
Comfort food: The delightful dishes and relaxing setting make for a pleasant dining experience
The Painted Pie
We love this place for its artisan breads, decadent cakes and savory quiches like the bacon, cheddar and pear or the highly addictive crab and watercress.
WILDWOOD
Sam's Pizza Palace
Whether riding our bikes to the boards to pick up a pie or grabbing a slice on the go, Sam's pizza is the perfect combination of intoxicating sauce, quality cheese and audibly crunchy crust.
North End American Grill
From 4 to 7 p.m., this is the place to be for discounted drinks and a nice lineup of bar bites like cheesesteak dumplings, fried calamari and oysters.
The Establishment at 100
Everything here is done with finesse, from the upscale food in the kitchen, to the modern mixology being served up at the bar.
Dogtooth Bar and Grill
Perfect for: Grabbing a seat on the patio while you munch on graduated pub grub and sip ice cold drinks
Britton's Gourmet Bakery
Sweet treats: While the croissants, scones and Danish are wonderful, the apple fritters are otherworldly
One Fish, Two Fish Restaurant
Setting the table: What this place lacks in size it more than makes up for with an extraordinary chef-driven menu that epitomizes fine dining
Douglass Fudge
Chocoholics unite: The fudge is undeniable and so are the other assorted chocolates like the coconut cups and peanut butter squares
Hooked Up Seafood
Run by a commercial fisherman, this waterfront shack prides itself on using only the freshest seafood to crank out killer sandwiches, tacos, peel-and-eat shrimp, littlenecks, steamed blue claws and more.
Alumni Grill
This scholastically themed eatery receives high marks for its burgers, steaks, salads and it gets extra credit for the creativity it adds to the classics.
Poppi's Brick Oven Pizza and Kitchen
Come hungry: In addition to the pizza—which is a must—the mix of small plates, pastas and dynamic desserts stand on their own.


Published (and copyrighted) in Suburban Life magazine, July 2020.