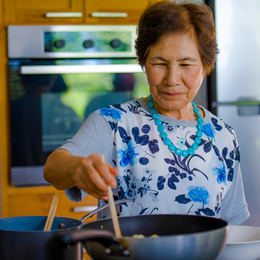 Well Done
Want to spice up your culinary prowess? Follow this recipe.
Do you dread working in the kitchen? It's never too late to attain the skills and knowledge needed to make cooking a more enjoyable—if not enlightening—experience, according to Christopher Thompson. He says even small changes in planning and preparation can have a dramatic difference on the end result.
"When you cook at home, how much time do you spend looking for something—the measuring cup or a simple ingredient?" adds Thompson, vice president of hospitality for Harbor Retirement Associates, which operates 35 retirement communities in eight states, including HarborChase of Wilmington, Del. "A lot of these things that end up taking so much time would have been short and simplistic had everything been in its proper place."
Thompson cites the phrase mise en place, a French term used in culinary circles that means "everything in its place." In other words, home chefs should organize the kitchen in a way that suits the meal at hand: having all ingredients measured and prepared in advance, with all necessary mixing bowls, pans, utensils, etc., at hand, long before the actual cooking begins. Benefits include being able to identify a missing ingredient that might necessitate a trip to the grocery store.
Likewise, a "clean as you go" mentality can make a big difference. He uses a mixing bowl as an example. After using the bowl, wash it and reuse it rather than breaking out a new one. This practice will help to limit the number of things that end up in the sink in need of cleaning at the meal's conclusion.
"Those two tactical practices—mise en place and cleaning as you go—will make cooking much less painful," he says. "You could have Thanksgiving dinner cooked from scratch in four hours, and by the time you're done, the kitchen is perfectly clean."
Thompson's hospitality career began at the tender age of 14, washing dishes and bussing tables at a restaurant in Stone Mountain, Ga. He went on to study the culinary arts at California Culinary Academy in San Francisco, and later became lead chef instructor and campus business operations manager at Le Cordon Bleu College of Culinary Arts in Atlanta. Experience has taught him that mastering a new skill requires self-discipline and self-education.
He advises starting slowly and learning proper techniques, not recipes. Cooking shows are fine for entertainment purposes, he says, though most fall short of providing an education. Those featuring Martha Stewart—"one of the last true celebrity educators"—may be an exception. He's also a fan of old-school culinarians such as Jacques Pépin. Cookbooks can be helpful, too. He recommends The Professional Chef, an instructional cookbook published by the Culinary Institute of America, though he's partial to any book that offers "more of an instructional approach" over those that offer little more than "fun summer recipes."
Finally, he suggests home chefs explore the local bounty. The Greater Philadelphia Area's many boutique grocery stores are good places to start.
"An Italian market is going to have some great olive oils and balsamic vinaigrettes, and really good roasted tomatoes that are done right and possibly imported," he says. "Some nice mozzarella, capicola, salami, some grilled bread, with some basil from the plants outback—that's not even cooking, but sometimes the best things we can prepare from a culinary standpoint are the most simplistic."
Published (and copyrighted) in Suburban Life magazine, July 2020.