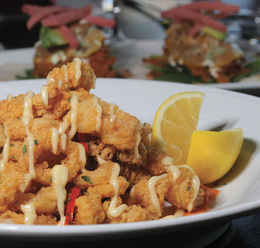 Small-plate Standout
A much-needed addition to Bryn Mawr's dining scene
The complaint lobbed at most small-plate restaurants is that it's dangerously easy to leave them not quite satisfied and unexpectedly light in the wallet. We all know the routine: The server provides a rundown of suggested strategies for attacking the menu's various sections (it's almost never appetizer, entrée, dessert), as well as the appropriate number of dishes to order, which, generally, is so frighteningly high that you end up getting less, noshing your way through a procession of tasty but not necessarily rib-sticking plates, and head on home having spent more than your quasi-empty stomach implies.
Not here. At Verdad, the servers' recommendations are pretty much where they need to be, you'll be told if your table's collective eyes are bigger than its communal stomach, and the prices are reasonable. A recent and rather satisfying dinner for four, for example, cost less than $40 per person, including tax and tip.
And while Verdad still has some issues with the execution of occasional dishes (perhaps unavoidable with a menu as extensive as this one), the overall impression here is of a restaurant that's a much-needed addition to the ever-growing Main Line dining scene. Chef Nick Farina is a serious talent with the vision and enthusiasm to become a very important fixture in the region's dining life.
The Hamachi ceviche swam past the trap that most fall victim to: over-citrusing (to make up a term). And while, yes, ceviche relies on the acid of some citrus component or other to essentially cook the outside of the fish, too many of them are dominated by the tart pucker of it. Here, however, coconut milk mitigated the acid's more aggressive notes, and pineapple (which had been blanched in simple, jalapeno-jolted syrup) lent added brightness as well as a sweet-spicy layer that married to the fish's flesh gorgeously.
The delicate, tempura-like lacing of the calamari's fried batter encased fresh, addictive ring-cut bodies and spidery legs that had been marinated in Indonesian sweet soy and chili sauce. Familiar and exotic rarely coalesce so seamlessly.
Huitlacoche fondida—as savory and hearty a vegetarian preparation as you'll find—made excellent use of the unfortunately named "corn fungus." (It's easier to approach if you think of it as "corn truffle" instead.) This was an excellent in situ demonstration of how a few great ingredients can outshine a more baroque preparation: Huitlacoche, oyster and cremini mushrooms, cheese and a tortilla. Perfect.
Pork carnitas practically floated above the plate with their hearty breath of smoke, which itself found a counter in the sweet, wet serrano-kicked barbecue sauce dripping from the tortilla. It's a two-day process to get the pork to where it needs to be, but it's time very well spent. Kobe beef taco also worked as a result of its excellent meat (here the perfume of cumin lifted it), though a bit more acid in the pickled jalapenos would have cut the richness and set it up more clearly.
There were, however, some disappointments. Maple leaf duck had an oddly pale complexion, and the appealing-on-paper Mescal butterscotch lacked the smokiness of the spirit. Grouper "empanada" was more pot pie than anything else, and once you broke through the dough on top, you were faced with a sad fillet of fish swimming its final lap in a riff on a bland puttanesca sauce when considered in the context of the rest of the flavorful menu. I'd also like to see a less-aggressive sweetness to the traditional margarita; luckily, the smartly conceived and educationally organized tequila flights made up for it.
Desserts mined a familiar vein, but did so successfully enough to charm. Churros were lighter and less filling than most—a good thing at this stage of a meal—though the accompanying chocolate sauce would have been better thicker and warmer. Choco taco was essentially a coconut gelato sundae with a chocolate-dipped shell: playful and tasty. (Note: In the time since I tasted the desserts, the pastry chef has been replaced, the chocolate sauce for the churros made denser and richer, and a number of the other items tweaked or changed.)
Overall, Verdad is one of the more appealing destinations in Bryn Mawr right now. The space is warm and welcoming, the service is helpful and well informed (more so in the dining room than at the bar), and the menu is stocked with enough appealing dishes to provide for any number of successful visits. That you can dine here and leave satisfied without hemorrhaging too much money is just an added bonus in a world of small-plate spots that too often come up … well, small.
Verdad Restaurant and Tequila Bar
818 W. Lancaster Avenue, Bryn Mawr
610-520-9100
VerdadRestaurant.com
Brian Freedman is a food and wine writer based in Philadelphia.