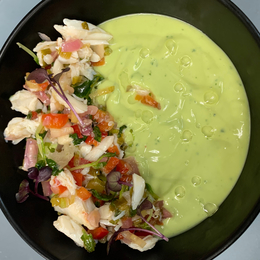 Time to Chill
Beat the heat with cool summertime recipes starring the freshness and flavor of homegrown herbs.
Summer's bounty of herbs and produce make this time of year a special one for culinarians. Tara Buzan-Hardy of At The Table BYOB in Wayne is no exception.
"The summer offers amazing fruits and vegetables and herbs that can be local or you can grow yourself," she says. "Jersey tomatoes and corn are favorites and be used in so many ways. Make grilled corn with corn mint and feta, or a summer corn salad with fresh dill and olive oil. Tomatoes are so versatile as well—sliced with Maldon salt and good olive oil and torn basil is the best way to taste the flavor, in my opinion."
Buzan-Hardy, who will celebrate four years of owning At The Table BYOB with husband Alex Hardy in November, started her career as a personal chef after earning her undergraduate degree, then went on to own A Taste of Britain in Devon. The duo finds culinary inspiration both near and far, but in particular the U.S. Northeast.
"This time of the summer, we turn to New England for inspiration," she shares. "It's where we got married a few years ago (Martha's Vineyard) and are inspired by the seafood of that region. We tend to go to a seafood-heavy menu with lots of vegetarian options as well this time of year."
Buzan-Hardy says homegrown herbs can brighten up almost any dish.
"I tend to stay away from dried herbs with the exception or something like chili flake or marjoram/oregano," she adds. "Basil, mint, dill, and cilantro are truly the best when fresh, and a little goes a long way, flavor-wise."
For those just beginning their home gardening journey, she recommends starting by sowing the herbs used most often.
"This will save you money as well," she says. "My favorites, and the ones we grow at the restaurant, are basil, Thai basil, mint, rosemary and thyme. These are our staple, go-to herbs for most dishes."
The recipe for one favorite dish, the chilled avocado soup with crab salad (featured below), definitely has a seasonal inspiration.
"I love avocados so much and thought this would be a great summer soup to beat the heat," Buzan-Hardy says. "By adding the citrus and fresh herbs, it really balances out, and is a great dish for the summer or even mini for an appetizer soup shooter."
Chilled Avocado Soup with Crab Salad
Chilled Avocado Soup
4 ripe (pitted) avocados
1 cup cilantro
1/4 cup mint
6 cloves garlic
4 limes, juiced
1 cup vegetable stock
1 cup whole milk
2 tablespoons salt
black pepper to taste
Let sit for 30 minutes or so.
Combine all ingredients and blend till smooth. (This may take two to three batches.) If soup is too thick, add more vegetable stock to create a smooth consistency. Once blended, taste and season with additional salt and pepper, if needed. Chill until ready for use.
Crab Salad
1 can jumbo lump crab
1 diced Fresno chili or jalapeño
1 lime, juiced
1/2 cup chopped chives
1/2 cup chopped parsley
olive oil
Combine the above ingredients and toss gently in bowl. Add a drizzle of good olive oil and set aside.
Ladle the soup into chilled bowls. Garnish with crab salad and enjoy.
Editor's note: This dish is on the current At The Table BYOB menu. Try the recipe at home or take a visit to Wayne as part of your efforts to support local restaurants
Photograph courtesy of At The Table BYOB

Published (and copyrighted) in Suburban Life magazine, July 2020.