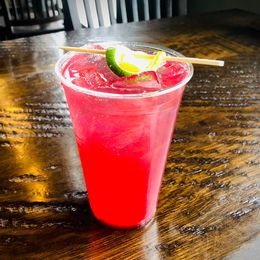 Exorcising the Spirits
Enjoy these regret-free beverages on the eve of the year's spookiest season.
Local mixologists have garnered well-deserved praise for their creative cocktails. Many have expanded their repertoires to include highly inventive alcohol-free mixed drinks, also known as "mocktails," that offer a much-needed upgrade to standbys of the club-and-cranberry sort.

Paladar Latin Kitchen & Rum Bar
in King of Prussia, for example, offers a number of seasonal agua fresca flavors—Spanish for "cool waters." These tasty and light nonalcoholic beverages are made from one or more fruits, cereals, flowers, or seeds, blended with sugar and water. One particularly popular variety features the flavors of pomegranate and ginger, according to Paul Foglia, general manager of Paladar.

"As with all of our flavors, we make everything in house using fresh ingredients," he says. "This drink is a combination of fresh pomegranate juice, ginger simple syrup, and club soda garnished with lime and candied ginger—refreshing on a warm summer day, but a perfect pair to a crisp fall night with friends around the fire."

Likewise, the Tiffin family of restaurants offers a full selection of beverages for customers of all ages. Favorites include mango, lychee, and guava juices, as well as the mango lassi, a cool blend of fruit and yogurt.

"Lassi is a traditional Indian drink that comes in many flavors and varieties, from salty to sweet to fruity," says Marianne S. Kelly, director of marketing and operations for Tiffin. "The origins of this drink reach back thousands of years, and it is believed to have Ayurvedic healing properties that soothe the stomach and the mind."

Nonalcoholic beverages offer festive options to guests who don't want to feel "left out of the party."
Although Casa Toro Mexican Grill is known primarily for its mojitos, the Doylestown-based restaurant has developed recipes for inventive mixed drinks to appeal to guests of all lifestyle choices. Casa Toro's Tami Stevens says the restaurant wanted to offer "a refreshing and fruity alternative without the added alcohol."

Alcohol-free offerings have become a permanent fixture on restaurant menus, according to Michael Parducci, senior management and marketing director for Vela in Doylestown. He suggests they're particularly popular among younger patrons, such as millennials.

"They're well-informed, they care about their health, and they tend to look for handcrafted and locally produced," he says. "Also, nonalcoholic cocktails can be wildly creative and fun. Who doesn't get sick of club soda with a splash of cranberry when at an event with friends but you're not partaking?

"Maybe you're pregnant," he continues. "Maybe you're trying to eliminate alcohol for weight loss or other health-related reasons. Maybe you have a long drive or have to return to work. Or maybe you simply have made a choice not to drink alcohol. Whatever the reason, there's a significant market share out there that non- or low-alcohol cocktails appeal to."

Lifestyle choices aside, the following recipes from some of our favorite restaurants prove that spirit-free mixed beverages can be things of beauty.

Pomegranate-Ginger Agua Fresca*
48 oz. Pomegranate Juice
8 oz. Ginger Simple Syrup (see below)
32 oz. Club Soda
Ice
Lime and Candied Ginger (optional for garnish)
Combine 6 ounces pomegranate juice, 1 ounce of ginger simple syrup, and 4 ounces of club soda. Add ice and stir to combine ingredients. Garnish with a fresh lime wheel and candied ginger.
Ginger Simple Syrup
1 Cup Sugar
1 Cup Water
2 oz. Sliced Ginger
Boil water, then add sugar and mix until dissolved. Add ginger, let cool, then remove ginger and store liquid.
* Recipe makes eight.
Recipe courtesy of Paladar Latin Kitchen & Rum Bar


Roman Holiday
3 oz. Homemade Sour Mix (see below)
1.5 oz. Monin Pistachio Syrup
Club Soda
Fresh Lemon Peel (optional for garnish)
Pour sour mix and pistachio syrup into a tall glass with ice and top with club soda.
Homemade Sour Mix
4 oz. Fresh Lemon Juice
4 oz. Fresh Lime Juice
4 oz. Simple Syrup (4 oz. Sugar Dissolved into 4 oz. of Water)
4 to 5 oz. Wildflower or Orange Blossom Honey
Make simple syrup and cool. Juice the fruits, add simple syrup to juices, then add honey to taste.
Recipe courtesy of Vela

Nonalcoholic Blueberry Mojito
10 Mint Leaves
6 Fresh Blueberries
2 Slices Fresh Lime
1 oz. Simple Syrup (equal parts sugar and water, dissolved)
1 oz. Fresh Lime Juice
Club Soda
Place mint leaves, blueberries, and fresh lime slices in a glass, then add simple syrup and lime juice, and muddle until aromatic. Add ice to glass and top with club soda.
Recipe courtesy of Casa Toro Mexican Grill

Mango Lassi
1 Cup Plain Whole Milk Dahi or Greek Yogurt
1 Cup Kesar Mango Pulp
1/2 Cup Whole Milk
Sprinkle of Cardamom, Dash of Sugar (optional)
Mix all the ingredients together and serve chilled. Increase the ingredients in equal amounts for larger quantities.
Recipe and photo courtesy of Tiffin
Photograph by Kim Shannon, courtesy of Paladar Latin Kitchen and Rum Bar
Published (and copyrighted) in Suburban Life magazine, September 2020.