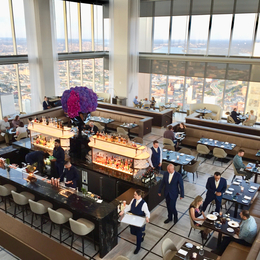 Ready to Explore
A local author scours city and suburbs alike for below-the-radar establishments worth remembering.
Anyone who lives in the Philadelphia area already knows that the city and its suburbs abound with certain riches. Even so, there's always something new to learn, always some new or lesser-known place worth exploring or experience worth having. Just ask Irene Levy Baker.
In addition to her work as a local PR expert, Baker is the author of 100 Things to Do in Philadelphia Before You Die, a compelling yet somewhat unfortunate title given the times we live in. Earlier this Baker's publisher issued a second edition of the book, featuring some of the many new attractions that have either sprung up or gained well-deserved attention since the publication of the first edition four years ago. The updates involve a number of memorable restaurants and bars, including a few that remain shrouded in secrecy.
"As part of my research, I got to explore some of these secret speakeasies," Baker says. "I talk about Hop Sing Laundromat [in Chinatown] and its owner, Lê, a mysterious one-named proprietor who has become a friend. Palizzi Social Club [in East Passyunk] has become one of my happy places. In my exploration of these places, I found one behind a barber shop [in Midtown Village] owned by Bryce Harper, called Blind Barber. I also found one speakeasy whose owner begged me not to put them in the book. It's in a tiny theater in Rittenhouse, and the only way to get in is after a show."
One of the most inimitable places she discovered in the course of researching the book has to be JG SkyHigh, a lounge headed by Michelin-starred chef Jean-Georges Vongerichten. JG SkyHigh is located on the 60th floor of the Comcast Center, in the Four Seasons Hotel Philadelphia, and serves as an able sister to Jean-Georges Philadelphia, the restaurant just one floor below. Fittingly named, JG SkyHigh offers unparalleled views of the city, especially in light of the recent closure of R2L atop Two Liberty Place.
"If you want to impress someone, that's the place to take them," Baker says. "It's a view you can't get anywhere else, with a great bar, and they often have live music. You take a 48-second elevator ride to get to the 60th floor, and it's amazing. The book is full of tips. My tip for JG SkyHigh and the Jean-Georges restaurant is to go before sunset so you can see the daytime view and the nighttime view."
The book's food-and-drink section covers everything from white-tablecloth restaurants to corner cheesesteak shops. As a local, Baker is smart enough to not mention a favorite cheesesteak, though she does offer some under-the-radar steak shops to explore, as well as this suggestion: Head to 9th and Passyunk with a friend, order two cheesesteaks—one from Pat's, one from Geno's—and trade sandwich halves to get the full side-by-side experience.
[Editor's note: In 2018, Reedy Press published Unique Eats and Eateries of Philadelphia, Baker's book devoted solely to restaurants, bars, bakeries, distilleries, and other food-and-drink establishments in the city and surrounding areas.]
Baker characterizes 100 Things to Do in Philadelphia as an "adventure starter," flush with would-be itineraries for people of all ages and interests. Besides food and drink, the book explores sports and recreation, music and entertainment, history and culture, and shopping and fashion. Some notable highlights: the American Helicopter Museum & Education Center in West Chester; the John James Audubon Center at Mill Grove in Audubon; the Simeone Foundation Automotive Museum in Southwest Philadelphia, north of the airport; and the LEGOLAND Discovery Center in Plymouth Meeting.
"I tried to keep everything within 45 minutes to an hour of Center City," says Baker, who spent years researching the book. "It was hard enough to limit it to 100 things in the Greater Philadelphia Area. If I expanded the circle any farther, I could have come up with 1,000."
Might a third edition of 100 Things to Do in Philadelphia be a possibility? Baker's publisher likes the idea, but she says it's too soon to start thinking about it. For now, she's busy promoting the book, in part through dozens of virtual book talks. (Her website, 100thingstodoinphiladelphia.com, has a running list of upcoming events.) She misses the interaction that comes from in-person events, but she says the remote sessions have their benefits, too.
While Baker has been heartened to see the world slowly returning to something more closely resembling "normal life," she also realizes we're not quite there yet. The pandemic has given her, much like everyone else, a deeper appreciation for things many of us took for granted.
"I miss restaurant bars," she says. "I miss going to a place like Friday Saturday Sunday [near Rittenhouse Square] and taking a seat at the bar. Talking to people, meeting new people, having dinner at the bar—there's nothing quite like it."
Of course, she can't help but offer this tip: "Having dinner at the bar is also a great way to walk into a high-end restaurant without a reservation and get a good taste of what they do."
Published (and copyrighted) in Suburban Life magazine, October 2020.