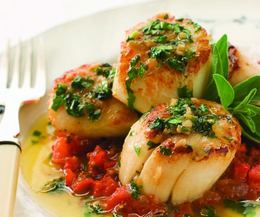 The 2011 Golden Fork Awards
Celebrating the "best of the best" among suburban Philadelphia's finest restaurants
For the longest time, Philadelphia and its surrounding suburbs suffered from "second-sibling syndrome": No matter how good our restaurants became, regardless of how interesting or accomplished or forward-thinking they were, too many non-locals looked at us as the adorable little brother or sister to New York. I've lost track of the number of times I visited Manhattan and, when waiters or sommeliers or chefs heard I was from Philly, received the raised eyebrow and pitying-smile look, as if to say, "Well, now that you're here you can eat like a grown-up."
This doesn't happen anymore. In fact, even when I travel internationally, locals often remark how they've heard great things about our dining. It's a sign of how far we've come but also woefully behind the times: Any devoted local restaurant lover has known for a long time that we have some seriously great dining destinations in our little chunk of the Northeast.
For this year's Golden Fork Awards, then, we're doing things a bit differently. Instead of simply listing the best dishes we've tasted or best places we've visited in the past year, we have planned out a dream meal of sorts, based on 2010's highlights. And while we know that it's impossible to cover all the great spots in the region, these represent the highlights—the breakfasts, appetizers, entrées and desserts we'd like to eat in one fantasy sitting.
And So It Begins …
Like many Main Line regulars, we would always choose to start off the day with a cup of coffee and a "berry blue" muffin at The Classic Diner (325 Lancaster Avenue, Malvern; 610-725-0515). This standout separates the crispy top from the more "cakey" bottom, spread each with butter, and grill them both to a miraculously sweet-nutty crunch. After chasing this with a slab of the diner's justifiably famous bacon, we would then head over to Bucks County's Washington Crossing Inn (1295 General Washington Memorial Blvd., Washington Crossing; 877-882-1776) for the rest of the brunch-time feast, which, at this particular establishment, includes everything from eggs Benedict and blintzes with fresh blueberry compote to fresh-carved prime rib and salmon filet kissed with a lemon caper wine sauce.
Food lovers should then head out for a wedge salad from Parx Grill (2999 Street Road, Bensalem; 888-588-PARX), which was one of the most surprising meals of the year. This simply isn't the kind of ambition you'd necessarily expect from a restaurant in a casino dropped in the middle of Bensalem, but here it is in all its paradigm-shifting glory. The wedge, deconstructed and somehow wholly new again, was, simply, a stunner. This would pair nicely with the Caesar salad at Tavolo (2519 Huntingdon Pike, Huntingdon Valley; 215-938-8401), a re-imagining in its own right. This might be a lot of greens, but the combination of blue cheese (Parx Grill) and parmesan panna cotta (Tavolo) mean that you won't have to worry about being too healthy.
The next course to this dream meal would begin with a bowl of mushroom soup from The Silverspoon (205 W. Lancaster Ave., Wayne; 610-688-7646)—enjoyed on the outside patio, of course—and a side of its house-made charcuterie, all alongside a glass of Rhône from the excellent and approachable wine list at Georges' (503 W. Lancaster Ave., Wayne; 610-964-2588) or an unusual California white from Dettera (129 E. Butler Ave., Ambler; 215-643-0111), or anything that Melissa Monosoff, master sommelier at Savona (100 Old Gulph Road, Gulph Mills; 610-520-1200), picked out. Of course, food lovers would be wise to stay for a while at any one of the above-mentioned fine-dining destinations and pair their wine selections with a number of delectable menu items—with guidance from the restaurants' educated staff.
Before having anything heavier, an order of Verdad Restaurant and Tequila Bar's (818 W. Lancaster Ave., Bryn Mawr; 610-520-9100) hamachi ceviche will be in order—the gentle whiff of coconut and pineapple serving to freshen up the palate rather nicely. This will be followed by more finely crafted treats from the sea: the fabulous calamari, as well as the simple yet supremely self-confident crab cake, from Erini Restaurant (1140 River Road, Ewing, N.J.; 609-882-0303), a restaurant of equal parts ambition and family charm. Avalon's (312 S. High Street, West Chester; 610-436-4100) cioppino—a seafood stew of sweet, plump mussels, shrimp and tender fish, among other ingredients—will arrive after that, along with Maize's (519 W. Walnut Street, Perkasie; 215-257-2264) fluke with shell fish sauce and local basmati—a no-brainer addition to this best-of-the-best menu.
Next Round
Then, heading back to shore for more tempting land-based fare, the polpeti from Tavolo (these lamb meatballs are probably better than your mother's; just don't tell her that), smoky pork carnitas from Verdad, and any of the stellar steaks from Firecreek Restaurant (20 E. Lancaster Ave., Downingtown; 610-269-6000) would provide a perfect meaty interlude. Throw in the caponata from Gemelli (232 Woodbine Ave., Narberth; 610-660-0160)—a startlingly savory combination of eggplant chunks and gently sweet golden raisins, with aromatic notes of cinnamon, as well as supporting roles played by pine nuts, thyme and other ingredients—for a nod in the direction of healthfulness, without any sacrifice to flavor and excitement.
Up next, it will be time for some of our region's finest pasta dishes; you'll need the energy with all this course-after-course eating. Some very notable suggestions: casoncelli from Tavolo; agnolotti with onions, Gruyere, and escargots from Avalon; and pappardelle with lamb bolognese from the same restaurant. Majolica's (258 Bridge Street, Phoenixville; 610-917-0962) Bartlett pear and Gorgonzola flat bread is an absolute necessity as this course's exclamation point; it may not be terribly Atkins friendly, but it's seriously wonderful eating.
For dessert, it would be tempting to gorge oneself on all of the "mini indulgences" at Seasons 52 (King of Prussia Mall at 160 N. Gulph Road, King of Prussia; 610-992-1152), but consider saving room for a handful of other sweet treats. The white chocolate-cherry bread pudding at Gemelli comes to mind, as does the carrot cake at Erini. Dettera's apple and berry cobbler is also a distinct winner, as is the chocolate mousse cake at Tavolo.
The problem—the word is used rather loosely in this context—is that there are simply too many excellent options to choose from in the greater Philadelphia area. In fact, even in New York one can enjoy spectacular food whose heritage is traced to the Philly suburbs; last year Joe and Amy McAtee of Honey (42 Shewell Ave., Doylestown; 215-489-4200) hosted a feast at the veritable center of America's culinary community: Manhattan's legendary James Beard House.
In the end, the embarrassment of food riches found in the Philly suburbs is the best kind of problem to have. Perceived as the cute little sibling of the Big Apple or not—and we firmly believe that our area's restaurants are every bit as exciting as the ones two hours north, and often at a fraction of the price—we're doing pretty well for ourselves.
Pretty well, indeed.
Brian Freedman is a food and wine writer based in Philadelphia.
Also, see our additional Golden Forks coverage: