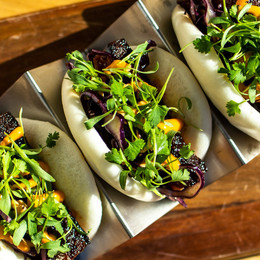 Growing Appetite
Inventive hybrid concepts and new restaurant openings signal restaurateurs' optimism
Many restaurateurs would describe the past year as having been "unkind" to business; others might use harsher terms, such as "crippling" or "catastrophic." The pandemic has caused a number of restaurants, including some of the area's most popular, to permanently close their doors: Paris Bistro and Jazz Café in Chestnut Hill, Boot & Saddle in South Philly, R2L in Center City, and City Tavern in Old City.
At the same time, some restaurateurs have seen opportunity. Chef Jose Garces, who in 2019 opened Stella on the doorstep of the Bucks County Playhouse in New Hope, has opened two new "ghost kitchens"—delivery-only restaurants—in Philadelphia: Livy's Plant Based Foods, a vegan concept featuring fresh, locally sourced plant-based ingredients; and Rustika, centered around pollo a la brasa, or Peruvian-style rotisserie chicken, that was inspired by Garces' culinary travels and South American roots.
In December, Garces reintroduced Garces Trading Company as a ghost kitchen. Garces Trading has since become a restaurant hub and online marketplace in which patrons can order dishes from Garces' iconic restaurants, such as Amada, The Olde Bar, and Village Whiskey, available for pickup, takeout, and delivery.
His restaurant Rustika draws on Garces' expertise as a master of Latin cuisine, merging vibrant flavors and unique ingredients with a "homestyle chicken experience." Garces prioritized the importance of sourcing the highest-quality poultry from local farms. Each natural, hormone-free bird is carefully prepared for 72 hours—brined, marinated, dried, and cooked in a rotisserie oven to ensure a juicy, flavorful end result.
The Rustika menu includes quarter, half, or full portions, with a choice of seven different sauces options: spicy cheese sauce, Peruvian black mint sauce, spicy chile aioli, spicy cilantro sauce, chimichurri, citrus garlic sauce, and purple olive chimichurri. Pollo a la brasa is traditionally served with a side of potatoes; Rustika offers rotisserie potatoes and papas a la huancaina, which are rotisserie potatoes prepared with spicy creamy cheese sauce. Additional sides include grilled Peruvian corn with Andean white cheese, cauliflower a la huancaina, asparagus a la plancha with parmesan emulsion and lemon, and more. In addition, Rustika offers empanadas, salads, and Latin-inspired street food.
The menu of Livy's Plant Based Foods includes affordable, sustainable, and high-quality vegan dishes inspired by classic comfort foods of the burger-and-fries variety. Garces developed a passion for plant-based cooking after his daughter Olivia—"Livy," for short—decided to follow a plant-based lifestyle. His goal with Livy's: to offer new and creative ways to deliver healthy, meatless dishes that do not compromise on taste.
"The exploration of cooking plant-based foods has led me to believe that we really don't need to have meat to have amazing flavors and culinary experiences," Garces said in a press release. "There are challenges, for sure, but meat isn't necessary to have something that is delicious and satisfying."
Menu items include meatless burgers with Impossible protein or black bean "chorizo," with sides such as crinkle cut fries, sweet potato fries, and vegan mac & cheese. Signature burgers include the Philly Steak Burger, the Big Kahuna, the Breakfast Burger, and the BBQ Burger.
Menu items for both Garces ghost kitchens range from $6 to $20, and both operate from noon to 10 p.m., Sunday through Monday. Delivery partners include Uber Eats, GrubHub, and Postmates.
Meanwhile, Stove & Tap has opened a third location in West Chester, joining restaurants in Lansdale and Malvern. The 6,000-square-foot restaurant and bar offers a warm, comfortable, and rustic Americana vibe, featuring Pennsylvania-inspired decor, a 46-foot-long bar, and socially distanced seating.
Led by Executive Chef Joseph Monnich, who formerly led the kitchens of Parc and The Dandelion, the culinary team has created a lineup of American classics, modern gastropub fare, and scratch-made cuisine, such as oven-baked pizzas, shepherd's pie, and Nashville hot chicken. Partner Justin Weathers said each Stove & Tap has a slightly different menu based on the building, equipment, and community needs, though all three feature some of the same staples and signature dishes.
Main Line residents await the opening of Lola's Garden in Ardmore's Suburban Square. Slated to open this spring, Lola's Garden comes from the Philadelphia-based restaurant and bar collective known as FCM Hospitality. Lola's Garden will be an indoor and outdoor restaurant, with a patio and beer and wine garden inspired by a previous FCM restaurant, Harper's Garden. Patrons can expect "modern American cuisine, handcrafted cocktails, and impeccable service."
Photograph by Eddie Marenco (Stove & Tap)
Published (and copyrighted) in Suburban Life magazine, February 2021.