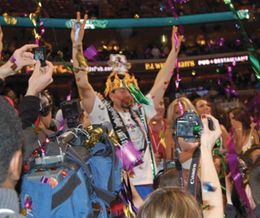 No Gluttony, No Glory
Suburbanites flock to Wing Bowl, Philly's surreal competitive-eating spectacle
Outside of "The Twilight Zone," there's only one time and place to watch a monster of a man named El Wingador square off against equally strapping challengers such as The Polish Assassin and Hank the Tank: the Friday before the Super Bowl, inside South Philadelphia's cavernous Wells Fargo Center. The combined fragrance of hot sauce, spilled beer and human sweat wafting throughout the arena tells spectators they have wandered into the crushing arms of the absurd—and absurdly successful—homegrown event known simply as Wing Bowl.
To some it's the world's largest, most celebrated gorging contest, where professional eating's elite devour as many chicken wings as their superhuman stomachs can handle. To others it's a long-running joke reminiscent of mid-1980s wrestling matches staged by Vince McMahon's World Wrestling Federation, and little more than a good reason to skip work and drink beer before 10 a.m. But no matter how you look at it, Wing Bowl—now in its 19th year—has earned its right as a legitimate entertainment event, luring spectators from the suburbs and beyond to snarl traffic around the South Philadelphia Sports Complex in the pre-dawn hours.
"My take on Wing Bowl is that it is the city's foremost blue-collar pageant," says Jason Fagone, a local journalist and author whose 2006 book, "Horsemen of the Esophagus," details the curious culture of competitive eating. "It's a uniquely Philly thing, and it's hard to imagine Wing Bowl happening anywhere else but here. It's also hard to believe anywhere else where the mayor would show up and give it his blessing, and [former Philadelphia Mayor] Ed Rendell did that early on.
"Philly is a sports town and also gleefully self-hating," he continues. "Those two factors combine in a weird way to make Wing Bowl as big as it is."
Vegetarians and those with a weak stomach should steer clear. In addition to the rapid-fire consumption of enough chicken wings to choke an alligator, the event also features an elaborate Mardi Gras-style procession of competitors, often escorted by provocatively dressed women known as "Wingettes." The event came into existence in the early 1990s, when the morning-show personalities at sports-talk station SportsRadio 610 WIP wanted to give the city's sports fans a reason to celebrate at a time when its professional sports teams could not, according to WIP's Al Morganti.
"Frankly, it was hugely important [to WIP] as a programming vehicle when we first started," says Morganti, one of the early architects of Wing Bowl. "The Phillies were no good for a long time, the Eagles were struggling, and the Flyers were also in a dark period. We needed [Wing Bowl] to get through. … In addition to that one day, it still does give us a good run of programming, but it was much more important when the teams were horrible."
Few people could have anticipated Wing Bowl would one day grow into such a larger-than-life beast. No more than 100 people attended the first Wing Bowl—"We expected, like, maybe two people," Morganti says—and the top eater took home a hibachi as his prize. In comparison, the winner of Wing Bowl 19, held on February 4 as Suburban Life went to press, was to receive $20,000 in cash. In all, more than $90,000 in prizes went up for grabs this year, including a Harley-Davidson motorcycle for the top Wingette.
Wing Bowl, which used to be a free event for spectators but now carries an entry fee as a way to cap attendance, has evolved into a mashed-up spectacle where cultures collide: On one side are the competitors and their supporters who take Wing Bowl as seriously as one can take such an event; and on the other are many of the estimated 20,000 revelers who fill the Wells Fargo Center simply as an excuse to have fun and get rowdy.
"From a spectator perspective—and I think this is what a lot of people would say—I really don't go for the actual event," says "Dean," a recruitment manager from Conshohocken and veteran Wing Bowl spectator who commented on condition of anonymity. "I couldn't care less who wins. I couldn't care less for the women who flash the crowd. In fact, I find some of it fairly repulsive, like when one of the contestants vomits and they put it on the big screen; it's not for the faint of heart. … It's not Disney.
"We're generally out the door before people even know who won," he says. "The great thing is you're already done with this event and off to do something else when some people are just driving into work. Part of the appeal is that you get to hang out with friends and act like college kids again, even if it's just for a little bit."
The Man, the Myth
Bill Simmons holds a special place in Wing Bowl history. Lovingly known by his alter ego, El Wingador, the Philadelphia-born Simmons is a five-time champion hoping—and training mercilessly—for a sixth crown at Wing Bowl 19.
At 49 years old, the imposing 6' 5", 335-pound Simmons represents something of an anachronism compared with the younger, leaner crop of professional eaters. Although he was gearing up for one last shot at the title, he characterizes Wing Bowl 19 as "all about friends and family," because his wife and three kids would be watching him compete. (He suggests this year's Wing Bowl will be his last, though he has "retired" before.) At his age, he says, it takes longer for his body to recover from the grueling training regimen, which includes consuming 15 pounds of food a day, flushed down with three gallons of water.
"It's no longer carnival games and pie-eating contests [for competitive eaters]," he says. "I've done celebrity boxing, and I'd rather train for a fight than an eating contest. … With Wing Bowl, you eat anywhere from eight to 10 pounds of food, so the training is harder than the actual event. When I'm done I usually eat a big cheeseburger just to get the taste of chicken wings out of my mouth."
His Wing Bowl notoriety has led him to the doorstep of a new life after competitive eating. Simmons, who drove a truck for 19 years, hopes to parlay his fame into a second career in the food business—selling, appropriately, pre-cooked chicken wings and ancillary food items under the El Wingador brand through Swedesboro, N.J.-based foodservice distributor Rastelli Foods Group.
"It's amazing to me that this eating disorder has taken me this far," he says.
Regardless of whether you consider Wing Bowl an indoor version of Mardi Gras, a horror show of gluttony or something in between, the event has secured a unique place in Philadelphia's sports-entertainment heritage. In fact, even though other cities have tried to recreate its success, Wing Bowl would most likely never fly in any other part of the country.
"Only Philadelphia could take this and turn it into this spectacle that's part tailgate, part Eagles game and part wrestling match," says Dean, the anonymous attendee of four past Wing Bowls who expected to miss Wing Bowl 19. "The guys eating the wings are a small part of it. It's almost like the Mummers; [the contestants] come in with this routine, and there are scantily clad women everywhere. … Who the heck else [but Philadelphia] would have connected an eating contest with scantily clad women?"
Fagone, the locally based author and journalist whose curiosity with competitive eating led him on a yearlong reporting jag for his book, calls Wing Bowl "an authentic expression of Philadelphia culture." Furthermore, it's "our indigenous blue-collar pageant, and there's nothing else like it anywhere."