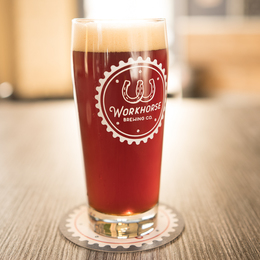 Stout Hearted
Workhorse Brewing Company brings a blue-collar attitude to the area's thriving craft-beer scene.
Dan Hershberg fell in love with craft beer culture. The rest is history in the making.
Hershberg, chief brand officer and cofounder of King of Prussia-based Workhorse Brewing Company, entered the entrepreneurial world in 2008 with a foray into fashion. While he continues to serve as president of that brand, PhillyPhaithful.com, a 2015 trip to Cincinnati's Rhinegeist Brewery opened his eyes to a new passion. He started Workhorse Brewery in 2018.
"Our goals from Day One with Workhorse—a name we chose because we're looking to represent the core ethos of this region—have been accountability and consistency," Hershberg says. "We wanted to be blue collar, and no BS. Plenty of breweries are niche, and that's all well and good, but we want Workhorse to have a broader appeal for people who aren't necessarily craft beer aficionados."
Hershberg partnered with brewmaster Nate Olewine (a career alum of Victory Brewing Company in Downingtown) to bring a distinct flavor to the Workhorse line. After copious research into the industry and available spaces in the area, Hershberg chose a 70,000-square-foot facility in King of Prussia to house the original production brewery. Sparing no expense, the company built its business around a multimillion-dollar German brewing system.
"At its core, we have our year-round portfolio—New England IPA, West Coast IPA, Golden Lager—that appeals to a broader demographic," he explains. "We also have diverse seasonal offerings, and that R&D comes from a combination of facts."
It begins with paying attention.
"Our bar staff relays detailed notes on what people are drinking—wheat beer, stout—and we pay attention to that," he adds. "We also look at retail. Because we self-distribute, our reps work one on one with buyers, and it begins with listening to what people are asking for. We only want to make styles we can achieve consistently at a high level."
For Hershberg, a personal favorite is the West Coast IPA, which he describes as a "versatile, year-round beer with nice character."
For summer, expect a new twist on the margarita beer—"one of the single best releases we've ever had," Hershberg says—in the form of a strawberry margarita. The months of May, July, and September will all see new releases inspired by famous beer regions from around the globe. With an ever-expanding repertoire, and a 60,000-barrel annual capacity for output, the brewer is well positioned to fulfill orders from big-name grocers—Giant, Wegmans, etc.—that now carry Workhorse.
To note, the choice of location for the Workhorse physical space was no accident. Hershberg found keen partners in the local business communities and, as self-distribution was central to the business model, that meant the brewery would need to operate its own fleet of trucks.
"King of Prussia is central to all five major highways, and we needed a business-friendly community with warehouse space," he explains. "We also wanted to create a place to hang out. From Day One, we wanted to create a space with walls that were large in scale. Because we have so much well-ventilated space and a large outdoor seating area, we've created a safe, clean, and comfortable environment at the brewery."
Of course, like many businesses throughout the region, Workhorse felt the impact of the pandemic.
"The pandemic shifted our operational focus," he says. "In the last year, we've pivoted to at-home delivery and contactless delivery, and I think we'll continue to do that.
"We never wanted to force a square peg into a round hole," he continues. "We chose to pivot and learn how to keep delivering on customer experience. We distributed more aggressively to our retail partners and asked our staff, 'If you can't run the bar, but there's still a demand for beer, would you be a delivery driver?'"
To note, for orders placed before 3 p.m., Workhorse guarantees same-day, at-home delivery to patrons within a 12-mile radius of the King of Prussia taproom.
Born to Brew
Beer and the Keystone State have made good bedfellows for nearly 200 years. The folks at Yuengling can claim bragging rights to America's oldest brewery—circa 1829—located upstate in Pottsville. Plenty of other brewers have since followed in Yuengling's footsteps. In addition to Workhorse Brewing Company (workhorsebrewing.com) in King of Prussia, several other local brewers in the Philadelphia area have become known for exceptional IPAs, stouts, and other brews worth checking out.
Artifact Brewing
Hatboro
artifactales.com
Conshohocken Brewing Company
Multiple area locations
conshohockenbrewing.com
Crooked Eye Brewery
Hatboro
crookedeyebrewery.com
Free Will Brewing Company
Lahaska and Perkasie
freewillbrewing.com
Locust Lane Craft Brewery
Malvern
locustlanecraftbrewery.com
Neshaminy Creek Brewing Company
Croydon and New Hope
neshaminycreekbrewing.com
The Proper Brewing Company
Quakertown
theproperbrewing.com
Tired Hands Brewing Company
Ardmore and Philadelphia
tiredhands.com
Tower Hill Brewery
Chalfont
towerhillbrewery.com
Vault Brewing Company
Yardley
vaultbrewing.com
Victory Brewing Company
Multiple area locations
victorybeer.com
Warwick Farm Brewing Company
Jamison
warwickfarmbrewing.com
Photography courtesy of Workhorse Brewing Company
Published (and copyrighted) in Suburban Life magazine, April 2021.