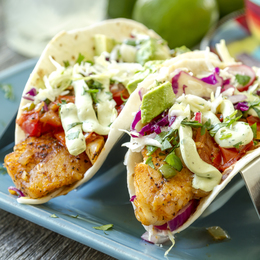 Sugar and Spice
Savor the vibrant flavors of Mexico and Latin America close to home.
Cinco de Mayo has come and gone, but it's never a bad time to partake in tacos, enchiladas, and other dishes with roots in Mexican culture (and maybe a margarita or two as accompaniment). Lucky for us, the Philadelphia area boasts some muy buenos restaurantes of the Mexican and Latin American persuasion. We're happy to share some of our favorites, known for serving up glorious guacamole, phenomenal flan, and everything in between.
Besito Mexican Restaurant
Besito offers all the fare you might expect of a refined Mexican restaurant, but it also turns out a few surprises. Besito, or "small kiss," has locations across the country, including one close to home in Ardmore's Suburban Square. What to expect: a "rockin' hacienda" vibe, tableside guacamole, and an extensive tequila list, as well as a spectacular lineup of iron-skillet tacos. besitoardmore.com
Cantina Feliz
This Fort Washington hotspot does everything right. The festive décor speaks to Day of the Dead celebrations. Patrons can choose from nearly a dozen different margaritas. (Margaritas are available for takeout, incidentally). And the food … well, that's where Cantina Feliz's star shines brightest. If you like, you can even order up a whole roasted suckling pig, assuming you've given them at least four days' notice. cantinafeliz.com
Casa Toro Mexican Grill
Casa Toro started in Coopersburg, north of Quakertown, and has since migrated to a second location in Doylestown. We couldn't be happier. Casa Toro specializes in Latin American cuisine—the tastes of Mexico, Cuba, and countries in South America and Central America—and offers an equally compelling lineup of margaritas, mojitos, and cervezas. It's no surprise this place has won "Best of Bucks Mont" honors for three years running. casatoromexican.com
El Poquito
This Chestnut Hill gem was a favorite destination of ours throughout the pandemic, thanks in part to its lovely outdoor setup—including private dining "igloos." The igloos certainly add to the dining experience, but it's the food that keeps customers (and certain Suburban Life editors) coming back. Our favorite: the curry cauliflower tacos. We'll be back for more soon enough. elpoquito.com
Empanada Mama
Kendall Bajek has a tiger by the tail with this walk-up Doylestown establishment, serving handheld empanadas to the masses. Technically, empanadas are of Spanish and Argentinan descent, but now is not the time to split hairs. The menu changes daily, but you can expect several delicious options—beef and pork, chicken, vegetable, and maybe one or two dessert varieties—regardless of the day of the week. Be sure to check out Bajek's other D-town dining establishment, Nourish by Mama, serving vegetarian and vegan dishes. yoemama.com
Las Margaritas
The name says it all—or at least a lot. Las Margaritas' locations in Southampton and Northeast Philadelphia dole out too many margarita styles to list here, among other adult libations. The dinner menu is equally exhaustive, with at least one option for virtually every staple of Mexican-American cuisine. lasmargaritasphilly.com
Los Sarapes
Los Sarapes, which has locations in Chalfont and Horsham, has long been known for its exceptional guacamole, ridiculously good flan, and some excellent entrées in between. As of last year, it also became known as one of the area's premier destinations for outdoor dining. The Horsham restaurant changed addresses, moving from its diminutive location in a strip center and across the street into a freestanding location with two patios where diners can stretch their legs out of doors. lossarapes.com | lossarapeshorsham.com
Paladar Latin Kitchen & Rum Bar
Head to Paladar in King of Prussia for a menu featuring the flavors and cuisines of Central America, South America, Cuba, and the Latin Caribbean—everything from feijoada (Brazilian black bean stew) to tostones (Puerto Rican fried plantains) to rum-glazed Cuban pork. Speaking of rum, Paladar offers more than 100 kinds of rum from around the world. FYI, Paladar's sister concept, the more casual BOMBA Taco + Bar, has a location in Malvern with more on the horizon. paladarlatinkitchen.com
Quinoa Peruvian & Mexican Restaurant
Quinoa, which is located a few doors down from the refurbished County Theater in Doylestown, serves up all the familiar flavors of Mexico, along with quinoa, yucca, and other staples of Peruvian cuisine. (It's also known for its seafood, including ceviche.) The menu reflects many of the same items as its sister location, El Tule, across the river in Lambertville. quinoarestaurantbyo.com
Taco Mar Taqueria & Mexican Grill
If you're within a stone's throw of West Chester, head to this no-frills spot for some inspired tacos, burritos, and more. Everything on the menu is bright, clean, and fresh, offering an authentic take in a casual environment that has changed with the times; if you're vegetarian or vegan, for example, dishes can be done "your way" with mushrooms, tofu, or Beyond Meat substitutes. tacomar.com
Shake It Up
Cool down with these margaritas this summer.
Hornitos Reposado Margarita
1.5 parts Hornitos Reposado Tequila
1.5 parts agave syrup
3 parts lime juice
Combine all ingredients in a shaker. Shake. Strain into a margarita glass. Garnish your cocktail with a lime wedge and serve. Salt rim optional.
Hornitos Spicy Cucumber Margarita
3 parts Hornitos Plata Tequila
1/2 part DeKuyper Triple Sec Liqueur
1 part lemon juice
1 part lime juice
1 part agave nectar (optional)
Mini-cucumber
Jalapeño
Muddle one to two thin slices of jalapeño pepper in the bottom of a cocktail shaker with the lime, lemon, and optional agave nectar juices. Add the tequila, triple sec, and a handful of ice. Shake and strain into a margarita glass over ice. Garnish with thinly sliced cucumbers and, if desired for heat, jalapeño slices.
Recipes and photograph courtesy of Hornitos Tequila
Published (and copyrighted) in Suburban Life, May 2021.