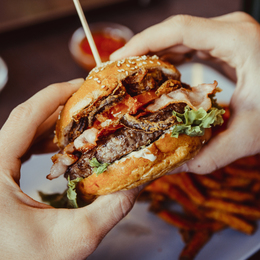 Burger Kings
Kick off the summer season by tucking into the perfect burger.
Nothing screams summer quite like the sights, sounds, and smells of burgers and dogs sizzling on the grill. Restaurants realize this, too, which is so many in our neck of the woods have enlightened their menus with some truly inspired burgers. Some are perfectly simple, while others are notably complex, proving that there's no such thing as a bad burger. Each of the following places has become known for turning out a well-crafted patty. If they're not on your "favorites" list already, they likely soon will be.
Bowman's Tavern
"All natural." "Hormone free." "Grass fed." We like all those descriptors, all of which apply to the gourmet burgers at Bowman's Tavern in New Hope. Served on a toasted brioche roll with a heaping handful of awesome fries, the BT's burgers—the Bowman burger, with bacon, white cheddar, and "secret sauce," and the guacamole burger, with guac, pepper jack, and chipotle aioli—don't mess around. bowmanstavernrestaurant.com
Bullseye Burger House
Pure, fresh, and piled high, Bullseye's burgers aim to please. This Glenside location offers 20 or more burger varieties, from the simple to the complex. The aptly named "Philadelphia Burger" comes with cream cheese, bacon, lettuce, and tomato, while the quarter-pound "Buffalo Burger" is stacked with chicken tenders dipped in Buffalo sauce, and drizzled with blue cheese. bullseyeburgerhouse.com
The Burgerly
This New Hope spot puts a sleek and stylish spin on the so-called burger joint. The number of offerings is purposely modest, with each hand-crafted item made fresh, bold, and interesting. Consider "The Wonderful," which includes Havarti, Canadian bacon, mushrooms, and spicy barbecue sauce. Two words of advice: extra fries. theburgerly.com
The Burger Shop
This cool little storefront is part of Main Street Souderton's ongoing renaissance. The Burger Shop does have some set menu items, but we're partial to its build-your-own option. The Beyond Burger with smoked Gouda, "bam-bam sauce," jalapenos, pickles, tomatoes, and bibb lettuce is our "go to." eatmyburgers.com
The Burger that Ate Philadelphia
This Stephen Starr restaurant gets points for its name and theme alone. Inspired by old-school horror films, The Burger that Ate Philadelphia serves up colorfully named (and simply terrific) burgers made with double-smashed patties, cheese, and an array of toppings, tucked between an Orwashers' bun. The Jaws-inspired "Gonna Need a Bigger Boat," for example, includes a triple patty with American cheese, pickles, and dollops of ketchup and mustard. It's no frills, but that's the way we like it. theburgerthatatephiladelphia.com
Epicurean Garage
This Chester Springs spot promises "honest eats and cold beer," including some awesome burgers. The fittingly named "Garage Burger" includes bacon, American cheese, and an egg served sunny side up. If you're of the no-meat persuasion, the black bean burger checks all the boxes. epicureangarage.com
The Butcher and Barkeep
With the recent addition of Bella Fiona Ristorante, Harleysville's dining scene continues to make gains. The Butcher and Barkeep has been turning heads since 2013, largely for its upmarket take on tavern fare. The burger—or, formally, "The Burger"—is a fine example. House-blended beer, beer-glazed onions, smoked bacon, a three-cheese blend … we could go on, but you've likely heard enough already. We've written about the B&B before, and we'll share the same good advice again: Get the "Sexy Fries." thebutcherandbarkeep.com
Ron's Original Bar & Grille
This Exton favorite has a broad menu of so-called "bar food," but it's unlike any bar food most have ever had. Menu items start with just-picked produce, house-made sauces, and other high-quality ingredients that keep a guest's health in mind, but never compromise on taste. The burger menu has its share of stunners, including the "Boss Burger": a Black Angus patty heaped with nitrate-free bacon, gorgonzola, coleslaw, caramelized peppers and onions, and Carolina barbecue. Wow. ronsoriginal.com
Stove and Tap
S&T has grown to three locations—Lansdale, Malvern, and, most recently, West Chester—featuring eclectic American fare and a wonderful tap list to go with it. The "All-American Burger" includes a house-made beef bleed, American cheese, pickled onions, "special sauce," and bibb lettuce. Vegetarians will appreciate the fact that the burger can be made with a plant-based Impossible patty. stoveandtap.com
Wimpy's "Original"
If you're going to call yourself Wimpy's, the name of Popeye's burger-loving pal, you'd better live up to the name—and this Media spot surely does. Wimpy's menu promises "the best burgers period," each made with Angus chuck on a potato bun. Expect plenty of flavorful and uniquely named options, such as the "Cyclops Burger," the "Volcano Burger," and, our favorite, the "Ring of Fire." wimpysoriginal.com
Published (and copyrighted) in Suburban Life magazine, June 2021.