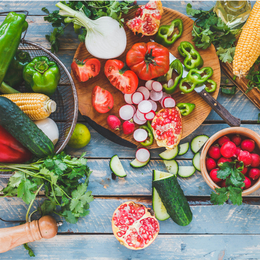 Sunny Side
Bask in the joy that comes from the one-of-a-kind tastes, textures, and preparations of summer.
Every season has its distinct advantages, culinarily speaking. In the Philadelphia area, anyone with a home garden will likely associate summer with juicy tomatoes, freshly husked corn, and flavorful herbs. (A cold beer or a mug of iced-down sangria may come to mind, too.) No disrespect to the standards, but summer's bounty offers plenty of surprises, too.
As the executive chef of Bella Fiona Ristorante in Harleysville, Scott Wilder enjoys making the most of every season. He's particularly fond of the hot summer months. We spoke with him about the ingredients home cooks tend to underutilize this time of year, his favorite at-home preparations, and his best advice for wringing every drop of joy out of summer.
Q&A
Based on the availability of key ingredients, what do you like most about the summer season?
What I enjoy most about the summertime is the vast array of fresh products—from local produce to farmers markets to farms where the beef, pork, and chicken have been grazing on fresh grass.
Name one summer-y ingredient you like to use in your dishes that some people might overlook.
A summertime ingredient I enjoy using the most is fresh herbs. I am always finding new ones I've never used before. A local farmer (and regular customer) brought me some herbs the other day and with it was a broad leaf thyme. It is not like regular thyme, with small leaves, stems, etc.; this had large leaves and a citrus-sage aroma. It's great for marinades and garnish.
If you're cooking at home on a sunny Sunday afternoon in August, what are you serving?
If I am ever home on an August afternoon—which, let's be honest, I am not—I'd be grilling a marinated rack of lamb. Grab a gallon Ziploc bag, throw in some garlic, EVOO, salt, pepper, fresh rosemary, and a touch of lemon juice. Set aside for a few hours and then grill on your preheated grill to a nice medium rare. One thing about grilling is you want to be sure you are constantly moving the ingredient, whatever it may be, so you don't burn it. Flareups do happen, but moving it will prevent a scorched product. While cooking the lamb, I'd be grilling some fresh corn on the cob. Some chefs peel the corn silk and husk before grilling. I do not. I find leaving it in its husk creates more steam and adds more fresh flavor. I then slice the lamb into individual chops and top with a briny feta cheese. That, paired with the corn and a tangy tomato salsa; add a cold glass of sangria, and I'm in heaven.
What would be one dish available at Bella Fiona that utilizes the good things summer has to offer?
Summer to me means "fresh." I know it sounds cliché, but if it's fresh, it's easier to prepare in so many ways. My "go to" dish at Bella Fiona's would have to be the daily specials I create. I have some awesome vendors searching for items that I require. From dayboat halibut to mahi-mahi to kampachi from Hawaii, my vendors don't disappoint. I like to have my core Italian recipes as well as treating my guests to something they've never had. I like to call it "Itasian," a fusion of Italian and Asian cuisines. I may feature a sugar-spiced seabass with wasabi risotto and namasu salad with basil oil. It sounds weird, but it works. And my regular customers live for it.
Besides visiting their favorite restaurants, can you provide a food-specific suggestion that might help readers wring the most joy out of the rest of summer?
Whether you are at home or out to restaurants, marinating is the biggest key to summer cooking. I think having fresh vegetables, chicken, and pork marinated truly brings out all the summertime notes. Unless you are doing kabobs, I don't usually marinate beef; a little salt and pepper is what it needs. Marinating truly adds that summer pop!
Published (and copyrighted) in Suburban Life magazine, July 2021.