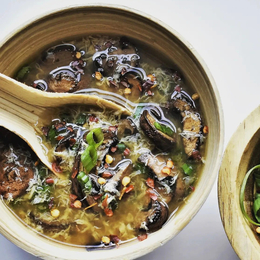 The Spore You Know
The winner of Kennett Square's 36th Annual Mushroom Festival Amateur Mushroom Cook-Off celebrates everyone's favorite fungus.
For starting life as a fungal spore, a mushroom grows up to be pretty darn cool.
Mushrooms are among the most sustainable food sources on the planet. A single acre yields up to 1 million pounds of mushrooms per year, and they also save on energy by growing in the dark. Fungi are a particular point of local pride, with 63 percent of all white mushrooms grown right here in Pennsylvania, according to The Mushroom Council.
It only makes sense then that Kennett Square—the so-called Mushroom Capital of the World—is the host town for a yearly fest honoring this fascinating food source. It is particularly fitting that the theme of the 36th Annual Mushroom Festival, held in September, was "Rooted in the Community." After all, it is the local farmers and supportive neighbors and community partners that are the backbone of mushroom culture in Kennett Square.
The festival itself features a lineup of events that includes a street fair, mushroom grower exhibits, and music for kids and adults alike. An Amateur Cook-Off Contest draws contestants from far and wide. This year's winner, a multi-award-winning amateur chef named Chera Little, traveled all the way from Texas to nab the crown.
"I love competing in contests," says Little, who entered her first culinary competition in 2010. "I've met some wonderful people and been able to give back to community charities close to my heart."
Little says nurturing her culinary creativity has also been a healing therapy. Twice widowed, Little's first husband encouraged her to share her talents in the kitchen and she has found joy in doing so ever since.
This year's Kennett Square festival cook-off theme was "Cooking with Mushrooms – 5 ingredients or less in 30 minutes," might have intimidated some, but Little took the initiative to ask questions and get creative with her ingredient selections.
"Since salt and pepper were allowed and not included in the official five ingredient list, I asked, 'Can I use red pepper versus black pepper?' and 'Can I use a special salt?'" she shares. "When they said, 'Sure, it can be any salt or any pepper,' I thought black garlic salt right away to bring umami."
Little, who keeps a store of an estimated 350 seasonings in her own kitchen, says that as the ingredient roster was limited, she wanted to craft a soup, and that the addition of savory ponzu sauce could add depth and complexity without a roster of other supporting ingredients.
"I love Asian flavors—Korean, Thai, Vietnamese," she says. "What I really love is that you don't have to use many ingredients to develop great flavor."
As for the contest itself, Little says she had a great time cooking beside talented amateur chefs from the Philadelphia area and beyond. But, she adds with a laugh, "Definitely look out—I'll be entering next year."
Chera Little's Umami Baby Bella Mushroom & Ponzu Egg Drop Soup
Serves 4
12 oz. sliced baby Portobello mushrooms
2 tbsp. ponzu sauce, divided, plus more for serving if desired
36 oz. water, for boiling
2 tbsp. roasted garlic bouillon base
1/3 tsp. crushed red pepper flakes; add more if you like more heat
1/4 to 1/2 tsp. black garlic salt
2 large eggs, whisked
4 green onions, sliced
Dry cook the mushrooms in a skillet over medium high heat until juices release and they turn dark golden brown. Remove 1/3 of the mushrooms to a food processor along with 1 tbsp. ponzu sauce. Pulse until mushrooms are broken down.
Meanwhile, bring water and bouillon to a boil. Add the mushroom blend from the food processor and bring back to low simmer for about 5 minutes. Strain, placing the broth back into the pot. Stir in 1 tbsp. ponzu sauce, 1/2 tsp. red pepper flakes (or more to taste), and 1/8 tsp. black garlic salt. Bring back to a low boil and slowly stir in the whisked eggs. Add the remaining cooked mushrooms, then taste and add more salt and red pepper flakes to your liking.
Serve in soup bowls and top with the sliced green onions. If desired, sprinkle on additional pepper flakes and black garlic salt.
Photograph courtesy of Chera Little
Published (and copyrighted) in Suburban Life magazine, September 2021.