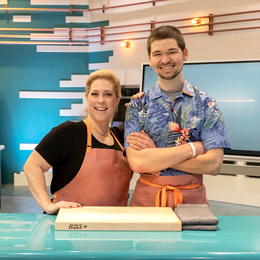 Sweet Dream
Southampton's Randi Leese takes the cake on the Netflix series Baking Impossible.
When it comes to talking about too much heat in the kitchen, just ask Southampton baker Randi Leese about her life-altering experience on Baking Impossible.
Leese's path to fame began at age 15, when she ignited her passion for baking. Her first job was working at Hesh's Bakery in Northeast Philadelphia. She learned from her fellow bakers and made her first cakes for family birthdays, gaining inspiration and recipe advice from her paternal grandmother.
Although she continued to sharpen her skills and deepen her love for the culinary arts, baking was always a side hobby. She spent eight years as a teacher—still baking part-time—and 10 years as a financial planner, while raising her two daughters with her husband, Kenny. Still, she believed baking was her destiny.
Ten years ago, Leese opened R.L. Cake Designs in Southampton. The business thrived, due to her knack for creating artful cakes best described as "one of a kind." Some other remarkable opportunities came her way, too.
Baking Impossible comes to mind. On each episode of the new Netflix reality competition, a seasoned baker partners with a bright engineer—"Bakineers," as the teams are called—to face a series of outrageous challenges that push them to elevate their baked goods way beyond the ordinary: edible floats, dessert miniature golf courses, baked skyscrapers capable of withstanding an earthquake, etc. The stakes: $100,000 and bragging rights.
We spoke with Leese about her passion for baking, the challenges of producing a TV show during a pandemic, and the rewards that come from following one's heart.
Q&A
What was it like opening your bakery 10 years ago?
I loved being the artistic person everyone saw me as and having this creative outlet. Instead of opening a brick-and-mortar bakery, I decided to make custom cakes out of my home. I got licensed to run a home business and made sure I followed all the zoning, insurance, and health regulations. Then I reached out to my suppliers and vendors and my new business quickly took off.
What do you enjoy most about baking?
When I am baking, I am truly in my happy place. Being creative in a familiar environment and working with the edible ingredients to create art has always been an integral part of who I am.
How did Baking Impossible come into your life?
My friend, a party planner, told me in March 2020 that the Netflix casting agents were looking for contestants for a new baking show. I filled out the application and I sent them photos of my bigger cakes, and the next day a casting person called me. I was interviewed over Zoom. It involved an in-depth vetting process. I made several producers a toilet-paper cake that they liked, and finally I was invited to compete on the show.
This was a big deal for you in many ways.
Yes. Not only was this a Netflix TV show, but I had never been away from my family; my husband was always with me when I traveled. So, it was very scary to me when I flew out from Philadelphia to L.A. on September 13, 2020.
What was the experience of being on the show like?
First, we had to be quarantined for five days, get negative COVID-19 tests, pick our wardrobe and color schemes, and begin working. We started with nine teams, each with a baker and an engineer, as well as a host and three judges. When I am in a crazy or overwhelming situation, I calm myself down by telling myself, "You can do this!" Sometimes my knees give me problems and become stiff, but adrenaline is a great fix for this.
My engineering partner, Jacob Swiezy from Seattle, was amazing. Everything that he did was spot on; everything worked. The members of the teams quickly bonded. The show required 14 hours a day, six days a week. Being in the studio with all these cameras around you and feeling the pressure of the competition is a great deal to handle. The clock says "Go" and you are just on your game. It was tough, but it happened with a really cool bunch of people. We keep in touch through WhatsApp.
Why should we watch Baking Impossible?
It's a crazy and wild show. In addition to the baking/engineering component, everything had to be edible. … It was the most incredible experience because it was about a lot more than baking and competing with the best. I learned about my own limitations, being pushed and pushed.
What advice do you have for someone who may be reluctant to pursue their dreams?
Never give up. I feel like you have to be happy. I went to college to have a skill, but teaching and working in the financial field were not my passion. I knew I had to earn money and find a way to be productive, and that drove me. In the end, I believe it is all about following your heart.
Photograph courtesy of Netflix
Published (and copyrighted) in Suburban Life magazine, October 2021.