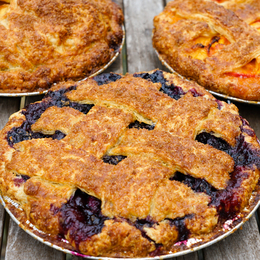 Slice of Heaven
The proprietors of Pie Bird Farm in Bucks County look to share their love of the land—and their love of pie—with their friends and neighbors
Jennifer Brodsky's journey to a 58-acre plot of land in Bucks County began on a rocky island off the Irish mainland, at the mouth of Galway Bay.
"I went on a backpacking trip to Europe and ended up on the Aran Islands," says Brodsky, who grew up in Philadelphia's East Falls neighborhood. "I was on this 11-mile-long limestone island with this beautiful soil that's only eight inches deep; otherwise, it's all rock. I got a job at a hostel, the Man of Aran Cottage, and they supplied all their vegetables from the garden. … I was amazed to see how much food brings people together. I loved it.
"I came back with a very focused passion," she continues. "That experience made me want to build a career around the intersection between community and farming."
Once stateside, she honed her skills in agriculture and business, and gained leadership experience in the nonprofit and for-profit sectors. She also met Eric Theesfeld, a Boyertown native and onetime mechanic who "is pretty much good at anything."
Today, Brodsky and Theesfeld run Pie Bird Farm in Ottsville, a swath of farmland dating back to the 1700s. As the name suggests, Pie Bird Farm serves as a base of operations for making scratch pies using organic, locally sourced ingredients.
Examples of the handmade pies coming from the bakehouse at Pie Bird Farm include apple and cranberry lattice, purple sweet potato, and heirloom squash and pumpkin. This time of year, Brodsky is particularly excited about a so-called stuffing pie, featuring peas, carrots, local turkey, and homemade gravy, baked in a crust made of stuffing prepared from organic bread. The pies are available for preorder through the Pie Bird website, piebirdfarm.com, as well as at nearby farmers markets and popup locations throughout the area.
"People ask me all the time, 'What's your favorite pie?'" Brodsky says. "My answer is, 'What's in season?' I love fresh fruit, and our pies are very rustic and focused on what's inside. I love peach pie and classic apple pie. … I never liked pumpkin pie, and neither did Eric, until we got these huge heirloom squash and heirloom pumpkins. We use that as our riff on pumpkin pie, complete with a zing of ginger beer."
Pies aside, Brodsky says she and Theesfeld—12 years together, including six as spouses—are working to "build the soil" for growing fruit, produce, and heritage grains. They envision Pie Bird Farm as a community hub where people can come to pick their own flowers, participate in workshops, and otherwise deepen a connection to the land.
"Through the pandemic, people were reminded that we can't take our food systems for granted," she says. "Out of so much pain and fear, I now see people celebrating every little happiness. You see it at the farmers market all the time. All these simple pleasures come out of so much work and devotion; you can tell that we're trying to remember what's most important at a painful time.
"There's a lot of value in supporting the farm down the road from you," she continues. "It's growing from a movement or a trend into something that has been reintegrated into our lives. … Farms are so much work and toil, but they also bring a lot of joy. People want to be here, and we want to build a community through the farm. In the meantime, we're trying to make the best pie we can."
After a "long and winding road," Brodsky feels as though she is doing "what I'm meant to do." She feels as though every prior work experience—from her first farming job, to her time as a marketing manager with Willow Creek Orchards in Collegeville, to the growth of a national consulting business—led her to this moment. She has even come to appreciate the "wakeup call" that came from opening a natural food market in New Hope that closed its doors within six months.
In the early stages of the pandemic, after the New Hope market's closure, Brodsky felt a desire to help others. She wanted to "bring joy to other people" by delivering groceries to neighbors. She had an abundance of summer fruit and needed somewhere to house the operation. In the process, she and Theesfeld "stumbled onto the farm" that would become Pie Bird.
While the enterprise remains in its infancy, Brodsky is excited about what the future holds. She looks forward to seeing the business flourish, and to help others realize the benefits of being so closely connected to the land.
"What's mission without profit, and what's profit without mission?" she says. "I think of my commitment to supporting local farmers and being super transparent, because there's no purpose doing it if you can't stand behind it. To us, there is no versus, only and. It's important for people to understand that our pies are an expression of taking care of our people and our land, and we won't compromise on that."
Photograph courtesy of Bondfire Media
Published (and copyrighted) in Suburban Life magazine, October 2021.