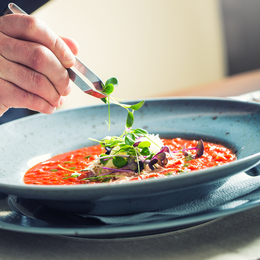 Fare Up
Amid persistent challenges, local chefs uplift their communities by raising the bar with elevated fare.
Early into the pandemic, as people commiserated with loved ones, most people talked about the aspects of American life they missed most. Chief among them: taking a seat at a favorite local bar or restaurant. Nothing quite compares to the thrill of breaking bread or sharing a drink with friends or family. Thankfully, most of the region's restaurants have since re-opened their doors to in-person dining. Despite persistent challenges, the following five individuals lead the kitchens of establishments that have helped communities weather the storm of the pandemic. They also continually raise the bar with exceptional fare well worth the price of admission.
Rich Christiansen
The kitchen at Bowman's Tavern in New Hope has become known throughout Bucks County and beyond for turning out sophisticated yet approachable American dishes heavy on "the comfort factor." As the newly minted executive chef of Bowman's Tavern, Rich Christiansen is eager to make his own mark while building on the restaurant's sterling reputation.
Christiansen began his culinary career out west—first with his family's restaurant, L.A.-based Fabrocini's Beverly Glen, and then with a notable restaurateur in Seattle. After his family came east to be closer to his wife's parents, he found a new culinary home after meeting James Seward, owner of Bowman's Tavern.

Christiansen considers himself blessed to lead the kitchen at Bowman's Tavern. While he certainly brings his own talents to the table, he says the characteristics for which the restaurant has long been known will go unchanged: a menu that blends familiarity with creativity, and dishes made from locally sourced ingredients through partnerships with key purveyors nearby, all served in an atmosphere of comfort and casual elegance.
Moon Krapugthong
Moon Krapugthong is, among other things, a survivor. Through the ups and downs of the pandemic, she has kept her two Manayunk restaurants—Chabaa Thai Bistro and Yanako Hot Kitchen & Sushi Bar BYOB—running at full steam. While other restaurateurs chose to close their doors permanently, she has fought tooth and nail to continue shining a light in the darkness.

Although many know her simply as "Chef Moon," Bangkok-born Krapugthong came to the culinary world almost by accident; she started her career as an artist. As a restaurateur, she is driven by a simple desire: to connect with others through the universal language of food. Chabaa Thai serves a distinctive brand of authentic and market-fresh Thai cuisine, while Yanako offers a menu of beautifully rendered Japanese cuisine.
At each restaurant, Krapugthong strives to deliver the three C's for every customer who walks through the door: consistency, community, and comfort, which she sees as vital in times of profound instability.
Despite all the challenges the past 20 months have wrought, Krapugthong retains a sense of hope and optimism. She has found sustenance, through uncertain days and sleepless nights, by supporting families and communities as a business owner, and by spreading joy to others one plate at a time.
Scott Morozin
Scott Morozin has always been an independent spirit. After his time at the Culinary Institute of America, Morozin went on to cut his teeth, so to speak, in the kitchens of Philadelphia restaurants such as Gayle, MidAtlantic, and R2L. He enjoyed the experience, but he dreamt of running his own restaurant, where he could prepare food that would inspire him and others. He got his wish in February 2018, when he opened the doors to Verbena BYOB, an intimate 36-seat dining room in Kennett Square.
Verbena's menu of refined American cuisine reflects Morozin's passion for fresh, seasonal, locally sourced ingredients. The menu evolves constantly, even daily, utilizing ingredients at their in-season peak—asparagus, morel mushrooms, and softshell crabs in summer, for example, or root vegetables in autumn and winter.

Morozin considers it his responsibility to provide his guests with a culinary adventure, of sorts, from the artfulness of each dish's presentation to its exceptional taste. Dreaming up new ways to delight his adventurous customers is why he spends so much time in the kitchen; he's likely to be found in the kitchen, working his magic, even on his so-called "days off."

Lee Wallach
Originally from Delaware, Lee Wallach followed his interest in the culinary arts on a global walkabout of sorts. He honed his craft in kitchens across the country and around the world, with his wandering ultimately leading him to Philadelphia. He parlayed a personal-chef gig in Gladwyne into a flourishing business that serves customers in an ever-expanding footprint, built around changes in the way Americans eat.

His business, Home Appétit, combines the high quality of a personal chef with the convenience of door-to-door delivery. Home Appétit, whose bustling headquarters is right on the line separating city from suburbs, employs a team of chefs who prepare dishes from a diverse menu inspired largely by Wallach's travels to the Middle East, the Mediterranean, and across the country. It also has a fleet of drivers who deliver orders to the doorsteps of customers in Philadelphia and surrounding suburbs, plus parts of South Jersey and Wallach's home state of Delaware.
Unsurprisingly, business has boomed since March 2020. Given his globetrotting past, it should come as no surprise to hear Wallach say he would like to replicate Home Appétit's success outside of the Philadelphia area.
Scott Wilder
Scott Wilder and his wife, Sabrina, had been living in Maine when the text came in from his sister, Cheryl Wilder: "Pack your bags, we bought a restaurant." Both seasoned chefs, Scott and Sabrina, would be tasked with heading south, to the southeast corner of Pennsylvania, to lead the kitchen of the forthcoming restaurant, Bella Fiona Ristorante in Harleysville.
All this happened amid the pandemic-ridden tumult of 2020. Since then, the community has embraced Bella Fiona, a popular BYOB known for its menu of Italian-inspired dishes—with a few unique twists. For example, the restaurant has earned a lot of fans with its daily specials and soups, such as lobster bisque and sweet corn and crawfish chowder.

Wilder, who has more than 30 years of kitchen experience, stresses the importance of using fresh ingredients, including locally sourced meats and produce. He strives to satisfy diners' cravings for time-tested, familiar dishes of Mediterranean origin. At the same time, he takes great pride in pushing boundaries by introducing guests to tastes and dishes they may not have experienced before. His term "Italasian" comes to mind, referring to a fusion of Italian and Asian cuisines. Sugar-spiced seabass with wasabi risotto and namasu salad with basil oil may sound strange to anyone who has never before tasted it, but Wilder says his regulars "live for it."
Published (and copyrighted) in Suburban Life magazine, November 2021