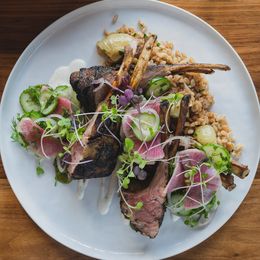 Change It Up
A trio of local restaurants charges into 2022 after a year of transformation.
When in need of an impactful quote pertaining the most pressing issues of our time, it's best to turn to humankind's greatest thinkers. Take Heraclitus, for example, perhaps best known for uttering the phrase, "The only constant in life is change."

The Greek philosopher's words certainly apply to the U.S. restaurant industry at the tail end of 2021, a year beset by largely unwanted change. The challenges most restaurateurs currently face have resulted in less desirable outcomes for patrons—i.e., uneven service stemming from an ongoing labor shortage, pricier meals caused by inflation, and discontinued menu items due to supply disruptions.

Not all of the changes have been bad, however. Such is the case with three area restaurants: The Oldestone in New Hope, Clean Roots Vegan in Telford, and The Refectory in Villanova.
Returning to Life
Last year, when the pandemic hit, restaurateur Marsha Brown closed her eponymous Bucks County restaurant and never reopened. Brown has since passed the baton to new owners for a new restaurant called The Oldestone. The new venture essentially preserves many of the aspects beloved by patrons of the restaurant Brown had run for nearly 20 years, including the floor-to-ceiling mural, stained-glass windows, and remnants of the stone building's rich history; people worshipped there in the 1800s, when it was a church.
The Oldestone's menu pays homage to the cuisine that made Brown's kitchen so popular. Executive Chef Seth Wheeler leads a culinary team devoted to turning out "new American flavors and traditional creole-inspired dishes." The menu also includes popular items from the Marsha Brown recipe book, which the new owners purchased.
Conscious Choice
Clean Roots Vegan built a loyal following in Bucks and Montgomery counties, offering inventive takes on plant-based cuisine out of a small but memorable location in Quakertown. In late November, the restaurant changed addresses to a larger, more elegant location just off Telford's Main Street. Clean Roots Vegan, whose menu of "healthy and delicious" dishes feature organic and local ingredients, strives to deliver on its mission: providing guests with options to "eat consciously clean."
The menu includes a range of plant-based comfort bowls, salads, and "handhelds" (i.e., sandwiches), plus vegan and gluten-free desserts from the likes of Bethlehem's Vegan Treats and Pennsburg's Sweet Melissa's L.O.V.E. (Little Organic Vegan Eats). Clean Roots Vegan also offers a lineup of daily specials. One recent example: the crab-cakes Benedict, made with jackfruit and hearts of palm "crab" on a toasted everything bagel with Just Egg, hollandaise, chives, and grilled asparagus.
Meet, Eat, and Drink
The Refectory, a 150-seat restaurant, bar, and events venue in Villanova, recently reopened under new leadership, and with a bold new menu. The Refectory aims to provide a "casual yet refined" dining experience to the Main Line. The new operating group includes local hospitality veterans Ken Kearns, Chris Perella, and Biff Gottehrer; Gottehrer leads the culinary team in creating a varied menu of American cuisine that is both comforting and upscale in a welcoming environment where people can meet, eat, and drink together.
The menu includes a wide variety of dishes from land and sea. Notable menu items include Duroc pork loin, whole rack of lamb, and grilled yellowfin tuna. Even the sides are worthy of a spotlight; the sumac-dusted carrots, charred broccolini, and multiple potato preparations—the "Nova fries," for example, include brisket, pickled onion, and "house wiz"—are among the most deserving of a mention.
Editor's note: Visit each restaurant's website for more information, including menus and hours of operation. If you do not yet feel comfortable dining in, consider buying a gift card for future use or purchase a take-home meal. Doing so may help the restaurant's owner—and everyone on the payroll—continue to weather this challenging time.
Photograph by Max Grudzinski (Refectory

Published (and copyrighted) in Suburban Life magazine, December 2021.