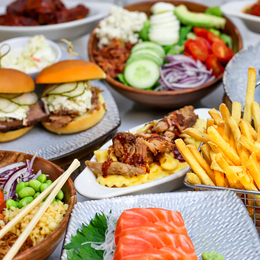 Order Up
A hybrid food hall in King of Prussia joins the growing field of restaurateurs catering to patrons' demands for quality, variety, and convenience.
The Philadelphia suburbs have gotten used to seeing new and inventive restaurant concepts. One might even say suburbanites have come to expect innovation from local restaurateurs, if not demand it.

In the Bucks County village of New Hope, for example, the Ferry Market offers a collective of food concepts where locals can satisfy their tastes for everything from pulled pork and craft beer to vegan fast food and artisanal confections. In Quakertown, The Farmer and The Chickpea dishes up super-high-quality entrées, sandwiches, and desserts to be taken away in large quantities and consumed in the comfort of one's home or office, or to be enjoyed immediately for a solo sit-down meal in the rustic dining room.
Add King of Prussia's Pure Roots Provisions to the mix of innovative concepts that cater to the changing ways in which Americans eat. Best described as a hybrid food hall, Pure Roots owes its start to Andrew Masciangelo and Yohann Zinier, the partners behind one of the Main Line's most beloved upscale restaurants, Savona. The Pure Roots concept comprises seven different restaurants under one roof, with offerings for breakfast, lunch, and dinner, enabling customers to enjoy whatever they crave without having to leave the comfort of their home or office.
"We believe that the greatest meals of the world are made in a language that we can all understand," Masciangelo said in a news release. "That's why we've made it our specialty to provide classic dishes from a whole world of cuisines, because we believe that food is the greatest unifier we have."

Pure Roots' principals started the concept to solve the issues that often result from trying to order high-quality food for multiple people. Zinier, a father of two, and Masciangelo, a father of five, have had trouble finding reliable takeout options that blend healthfulness and variety. They found that many companies experience the same frustrations when catering corporate affairs.

Pure Roots has partnered with vendors such as Tlush Family Farm in Plymouth Meeting, R.L. Irwin Mushroom Co. in Kennett Square, and Rothrock Hives in the Central Pennsylvania town of Huntingdon. It also sources meat and seafood from Philadelphia-based Samuels & Sons and Metropolitan Meat. Such partnerships enable Pure Roots to offer patrons meals made with the freshest ingredients possible.

Chefs make every dish to order, and they strive to accommodate all dietary restrictions and allergies by customizing dishes, when possible. Each item on the menu denotes what is safe for many common allergens.

A team of professional drivers delivers orders to patrons within a radius of five miles from its headquarters, to include parts of Conshohocken, King of Prussia, Bryn Mawr, Villanova, and Wayne, and the radius is expected to grow over time. Pure Roots' drivers are equipped to provide temperature-regulated deliveries, so that orders arrive hot and fresh. Having in-house drivers allows customers to track their orders and communicate with the driver should any issues arise. Also, patrons can enjoy a range of items while paying only one delivery fee ($3.99) and one tip, as the collective order comes from one place, with everything delivered at the same time.

Pure Roots is open for curbside pickup and contact-free delivery, Monday through Saturday from 11 a.m. to 8 p.m., though it will soon be open seven days a week from 8 a.m. to 8 p.m. The partners expect a Pure Roots dine-in concept to open in late summer or early autumn 2022.
Mix and Mingle
For many people, a new year begins with new habits, especially those geared around health and wellness. Hence the growing popularity of "dry January," when people decide to abstain from imbibing alcohol for the entire month, and sometimes longer.

January is likely a pretty good month for Laura Taylor, a self-proclaimed "mom-preneur" and the founder of Philadelphia-based Mingle Mocktails. Taylor created Mingle for folks who choose to do without alcohol in social settings and still "feel like part of the occasion." No matter why someone chooses to abstain, Taylor sees Mingle's sparkling mocktails—flavors include Blackberry Hibiscus Bellini, Blood Orange Elderflower Mimosa, Cranberry Cosmo, and Cucumber Melon Mojito—as low-calorie alternatives to seltzers and sodas, made with natural and organic ingredients.
Taylor dreamed up Mingle in preparation for a girlfriend getaway in which she knew there would be no shortage of cocktails. She brought along her own booze-less concoction, poured it into a festive glass, and enjoyed the get-together without missing a beat.

Taylor launched the brand in November 2017, and spent many weekends sampling the product at local grocery stores such as Carlino's in Ardmore. Consumers can now find Mingle locally at Pennsylvania Fine Wine & Good Spirits, Giant Food Stores, Wegmans, Pennsylvania General Store in Reading Terminal Market, Penn Herb Company, Whole Foods, and 3Js Market, as well as through Amazon and other online sellers.

Photograph by Kali Masciangelo
Published (and copyrighted) in Suburban Life magazine, January 2022.