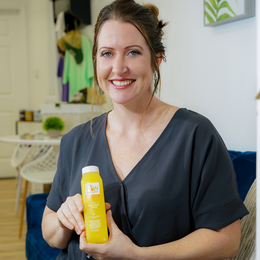 A New Leaf
Cafés such as Raw Replenish give plant-based foods their time in the sun. 
Eat your vegetables. This edict, espoused by parents around the world since time immemorial, has taken on new life in the 21st century. Credit evolving nutritional science, a growing number of savvy diners, and the creativity of restaurateurs such as Kate Coleman.
Coleman, herself a mother of two, has long been a health and fitness enthusiast. A former personal trainer and group fitness instructor, she has since become the proprietor of two Raw Replenish juice bars and cafés peddling plant-based foods.
"I've always been really into nutrition and the medicinal benefits of foods," shares Coleman. "I wanted to have a home-based business that afforded me the flexibility to be creative and be a stay-at-home mom. I have an entrepreneurial spirit and a creative mindset. My husband travels for work, and I wanted an activity I could do with my kids, so I started juicing."
The early days of Raw Replenish began in 2016, with Coleman working primarily out of her garage.
"I'd bring juices in for people who took my Pilates classes," she says. "I didn't think it would grow into what it's become."
In six short months, encouraged by glowing feedback and support from the community, Coleman moved her operation to a 600-square-foot commercial space in Red Hill. By 2017, she had secured her flagship Raw Replenish location in Pennsburg. The Raw Replenish menu expanded to include plant-based wraps and sandwiches, salads, "Superfood Smoothie Bowls," and more, all focused around leaving diners nourished with a bounty of healthful foods.
Coleman, who became certified as a medicinal juice therapist, based her establishment's menu on a foundation of nutrient-dense ingredients such as bananas, almond milk, spinach, pineapple, and strawberries. Unique additions such as hemp seeds, E3Live Blue Majik spirulina powder, fiber-rich pitahaya (also called dragon fruit), and acai berries, touted by many for benefits ranging from detoxification to weight loss, helped Coleman fine-tune her recipe for success. She opened her second Raw Replenish location—on Souderton's Main Street—last fall.
While she certainly acknowledges the connection between wholesome foods and good health, Coleman adds, "It's all about balance."
"I'm a huge candy person," says Coleman, who follows a flexitarian diet. "During both of my pregnancies, I ate more candy than I like to admit. It's still a big part of my family's life. I understand both sides. I am about balance, and that is something I think it's important for my staff to know, too.
"Whether a person is just stopping by to try something healthy, or always visits after a trip to the gym, I am open-minded," she continues. "I understand the desire to raise a healthy family and stay in the best health possible to prevent illness and disease, but we also won't judge you if you always keep a pack of Twizzlers on the passenger seat of your car."
When asked how she got her own kids into nutrient-dense juices, she says, "It started with fruits." She takes the same approach to attracting new customers.
"We start with higher-fructose blends—more apple and orange," she says. "Juicing can be that steppingstone and an easy way to get a lot of greens into your diet. The juices with higher fruit content get the tastebuds on board."
She also acknowledges society's mixed messages regarding sugar. One very popular diet, for example, vilifies sugar in general as "bad."
"Natural sugars are not all bad," she says. "Fruits are loaded with phytonutrients, so people shouldn't feel bad for getting a smoothie with pineapple and orange that provides an antioxidant-rich meal. If people cut out refined, processed sugar and replace that with fruit-based options, they're going to feel better. Two apples and a banana are more nutritious than a candy bar."
Raw Replenish's juices have a shelf life of about five days, compared with store-bought juices that have been processed to extend shelf life. As Coleman says, "We offer real, living food—not 'Frankenfood.'"
As with her own personal penchant for less healthy sweets, Coleman admits that "sometimes self-care feels heavy."
"Mind, body, and spirit health require effort, practice, and discipline," she says. "Honestly, that doesn't come easy to me. It takes work, but it's worth it in how you feel and how you interact with others. You can be of greater service to others when you care for yourself."
In Raw Replenish's world, emotional wellness is just as important as physical health. Coleman's philosophy is rooted in connection.
"Sometimes one interaction can make someone's day," she says. "When someone visits us, we want them to feel genuinely accepted and appreciated. It's more than a meal—it's a real experience, a connection, and a quality product. That's who we are."
Hungry for More
Raw Replenish has tapped into a growing appetite for plant-based foods that can be consumed on the go. In addition to several notable large-scale operators—Clean Juice, Jamba Juice, Nékter Juice Bar, Planet Smoothie, Smoothie King, etc.—locally rooted entrepreneurs in the Philadelphia suburbs are sating customers' hunger for juices, smoothies, and specialty items designed to a contribute to healthy lifestyle.
Aloha Smoothie Company
Ambler
alohasmoothiecompany.com
Arnold's Raw Food Café
Lansdale
arnoldsway.com
Gangster Vegan
Norristown
gangstervegan.com
GI Juice & Java
Buckingham
gijuiceco.com
Greenstraw
Newtown
gogreenstraw.com
Juice Pod
Multiple locations
thejuicepod.com
Nelli Bird Café
Revere
nellibirdcafe.com
Playa Bowls
Multiple locations
playabowls.com
Photograph by Jody Robinson
Published (and copyrighted) in Suburban Life magazine, February 2022.