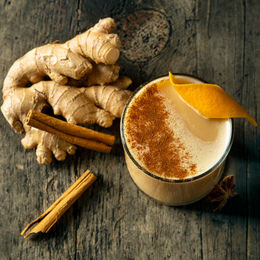 Brewed Awakening
Ardmore's newly opened Char & Stave Coffee Roasters uses the art of distilling to amplify America's favorite morning beverage. 
Everyone can appreciate the inventiveness behind a carefully calibrated mashup: Reese's Peanut Butter Cups, wine and cheese, the YouTube video combining George Michael's "Careless Whisper" with Slayer's "Seasons in the Abyss." Something equally remarkable has unfolded in Ardmore, where an innovative entrepreneur has used his fondness for fine spirits to produce barrel-aged roasted coffees.

Jared Adkins, the founder and master distiller behind Phoenixville's Bluebird Distilling, has exported his creativity to the newly opened Char & Stave Coffee Roasters. At his new roastery, café, and cocktail bar, he takes the methodology he has been using at Bluebird for the past eight years and applies it coffee. Char & Stave's slogan: "coffee made by whiskey people."

According to Adkins, the enterprise's name comes from the barrels used to age bourbon—and now coffee. The stave refers to one of the pieces of oak that make up a barrel, while the char refers to the inside layer of the barrel that imparts the residual notes of vanilla, bourbon, and spice left in the wood.

Along with his head distiller, Scott Gilbert, Adkins utilizes a process similar to the aging process of Bluebird's catalog of brown spirits. The results: barrel-aged roasts such as Char & Stave's flagship Four Grain Bourbon Aged Blend, which is aged in the same brown-spirit barrels used to make the distillery's whiskeys and bourbons. The beans will be aged, barreled, roasted, and packaged at the Phoenixville distillery and then transported to Ardmore.

To make the barrel-aged roasts, Adkins and his team start with "green"—meaning unaged and unroasted—coffee beans, all sourced from small collective farms from around the world, including Colombia, Costa Rica, Ethiopia, and Peru. The beans age in the barrels for up to six months. Much like whiskey, the coffee beans in the barrels get better with age.

Char & Stave's coffee menu features five signature roasts in addition to the flagship Four Grain Bourbon Aged Blend: Bluebird Morning, a light roast with hints of citrus and honey; Everyday, a medium roast with notes of chocolate and candied fruit; Workout Fuel, a high-caffeine medium roast; Dark Voodoo, a dark roast redolent of deep chocolate, dark fruit, and molasses; and Adventure Espresso, featuring notes of sweet chocolate and citrus. Beyond the signature roasts, Char & Stave also offers a rotating lineup of specialty roasts from farms around the world.

Beginning at 7 a.m. on weekdays and 8 a.m. on weekends, coffee enthusiasts can enjoy their beverages, as well as baked goods from local purveyors, in the comfort of Char & Stave's 1,400-square-foot coffee lounge. The menu evolves throughout the day to include a selection of signature cocktails and mocktails, as Char & Stave's lounge-style seating transitions into a whiskey lounge.

Coffee-themed cocktails include the Ardmore Old Fashioned, the Char & Stave Martini, and the Rittenhouse Manhattan, among many others. Non-coffee-themed selections direct from the cocktail bar at Bluebird Distilling include the Bluebird (Bluebird vodka, blueberries, mint, lime, and club soda), the Cool Cool Cool (rye whiskey, strawberry, mint, lemon, and ginger beer), and the Permanent Holiday (dark rum, cinnamon, vanilla, lime, and bitters), among others.

Char & Stave's retail offerings include bags of whole/ground coffee beans, Bluebird Distilling spirits, such as the Four Grain Bourbon, Juniperus Gin, and Straight Rye Whiskey, and select branded merchandise. Later this spring, Char & Stave beans and coffee will also be available for purchase at cafés in the surrounding area, as well as direct-to-consumer sales through the company's website, charandstave.com.
Photograph by Ben Wentzel
Published (and copyrighted) in Suburban Life magazine, March 2022.