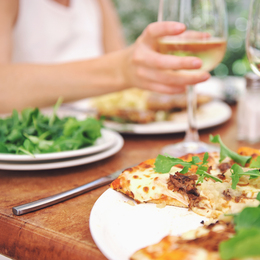 Taste of Freedom
As the kinder weather returns, so does the region's appetite for outdoor dining.
With spring's arrival and summer right around the corner, it's finally time to get back outside. Given the abundance of fine restaurants offering patios, sidewalk dining, and other outdoor dining options, there's no reason you have to venture inside to enjoy a great meal. Any and all of the following 10 alfresco dining destinations are worth a visit in the weeks and months ahead.
Arielle's Country Inn
This Sellersville destination offers hearty dishes such as lobster bisque, bacon-wrapped sea scallops with lemon butter sauce, and braised boneless short ribs. These dishes may be best enjoyed on the whimsical garden terrace that comes alive with flowers and greenery in the warmer months. ariellescountryinn.com
Avlós Greek Cuisine
This Phoenixville BYOB offers indoor and sidewalk dining on bustling Bridge Street, along with a menu rife with dishes both familiar (including pork souvlaki skewers and spanakopita, a savory phyllo pastry stuffed with spinach and feta) and lesser known (such as dakos, a small-plate dish featuring Cretan barley rusk, grated tomato, feta, and capers; and Arni Giouvetsi, a dish of braised lamb and orzo). avlosgr.com
Black Bass Hotel & Restaurant
Dine beside the Delaware River at this Lumberville hotel restaurant. One recommendation: Try the Charleston Meeting Street Crab, a creamy au gratin with sharp cheddar and sherry. It's a Black Bass signature. blackbasshotel.com
Byrsa Bistro Glen Mills
Abundant greenery surrounds the peaceful patio of Byrsa Bistro's location in Glen Mills. (Byrsa has additional area locations.) For a taste of the Mediterranean, sample a main course option such as the organic chicken tagine with roasted potatoes and raisins, or the appetizer sampler that includes stuffed grape leaves, mixed olives, and hummus. glenmills.byrsabistro.com
Dettera Restaurant & Wine Bar
New American cuisine and a carefully curated wine selection reign supreme at this Ambler eatery. Dettera also boasts a secluded patio where guests can enjoy oysters, flatbreads, and other starters, as well as entrées such as magret duck breast and oven-roasted rainbow trout with asparagus, watercress, and white beans. dettera.com
d'floret
Helmed by renowned chef Dennis Foy and his wife Estella Quinones, d'floret in Lambertville, New Jersey, offers an intimate, 28-seat space along with chic dinner and brunch menus that showcase ingredients from Garden State farms and creameries such as Terhune Orchards in Princeton, and Valley Shepherd Creamery in Long Valley. dfloretrestaurant.com
La Porta Ristorante
The menu at this Media establishment is packed with Italian-inspired dishes, including abundant pasta choices such as house-cut Tagliolini carbonara, house-made ricotta gnocchi, and lasagna Bolognese, as well a selection of specials like rack of lamb and desserts such as panna cotta, sorbet, and gelati. Diners who appreciate fresh air will enjoy the lovely landscaping and, on certain days, live music. laportarestaurant.com
Nektar
A stone's throw from the Delaware River in New Hope, Nektar offers open air and patio dining. Dishes include sandwiches, small plates, flatbreads, and desserts to accompany extensive cheese and charcuterie options. Nektar also offers an enviable array of libations, including wine and whiskey flights. nektarnewhope.com
Poseidon Asian Cuisine
A spacious stone patio offers diners at Paoli's Poseidon Asian Cuisine BYOB ample room to enjoy a number of preparations of sushi rolls, sashimi, fried rice, Peking duck, poke bowls, and more. Creative rolls include the spicy Poseidon roll, which features shrimp tempura and crunchy tuna wrapped in soybean paper, topped with sliced avocado, special sauce, and tobiko (flying fish roe). poseidonpa.com
Ripplewood Whiskey & Craft
Located on East Lancaster Avenue in Ardmore, Ripplewood offers a number of inventive small plates and entrées. Plant-focused diners can enjoy the saag tofu with spinach, coconut cream, and garam masala; Brussels-sprout hummus with feta, walnuts and adjika (a tomato-based Eastern European condiment); and grilled za'atar cabbage, served with whipped tahini and fingerling potatoes. ripplewoodbar.com
Published (and copyrighted) in Suburban Life magazine, April 2022.