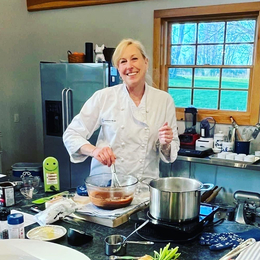 Feast of Eden
Chef Kelly Unger's wisdom may very well help others become better cooks, have more fun in the kitchen, and eat their way to better health.
Kelly Unger came from a family "where everybody cooks." Although she wanted to be a nurse, she chose culinary school and, later, business school. Naturally, she built an enterprise that enables her to combine her talent for cooking with her innate desire to take care of others.
"There's overlap between food and nursing," says Unger, a Bethlehem native who went to Johnson & Wales University in Providence, Rhode Island. "I want to help people and heal people. I was not able to do that through nursing, so I'm channeling that inner nurse in the kitchen. Food is where it all starts."
Through her Bucks County-based culinary business, The Rooster and The Carrot, Unger offers farm-to-table cooking classes designed to support local farms, help attendees connect with the ingredients they use, and live more healthfully. She teaches her classes out of a beautifully restored barn in the village of Carversville.
"A friend of mine who had a year-round indoor farmers market [in Doylestown] asked me, 'Why don't you come teach cooking classes?'" she recalls. "It intrigued me because I loved farmers markets, but I had never taught cooking classes before. … I tried it and fell in love with it."
The market wound up closing, but Unger felt the urge to keep teaching. She convinced her family to move to a new home with more space so she could have her own cooking studio. Thus, The Rooster and The Carrot was born.
Unger offers a range of public and private cooking classes, with each class building off two of her core beliefs: one, that food is medicine; and two, that the best results come from using fresh, locally grown, and chemical-free ingredients, lovingly prepared.
Like many chefs, Unger's interest in other cultures and other parts of the world—Israel, Spain, Thailand—shines through in the dishes she prepares. For example, she currently offers a class series called "Let's Eat France," through which she explores each of the different regions of France through its distinctive cuisine. She has also explored the so-called "blue zones," meaning parts of the world thought to have a higher-than-usual number of people who live significantly longer than average—among them, Ikaria, Greece; Nicoya, Costa Rica; Okinawa, Japan; and Sardinia, Italy—due to the combination of food, lifestyle, and other factors.
"You can learn a lot about people by what they eat and how they eat it," she says. "I like to travel through cookbooks"—she has "probably 200" cookbooks in her personal library—"but I also like to experience it in person. It's one thing to know how to make croque monsieur, but imagine sitting in a café in Paris and eating one while staring at the Eiffel Tower or the Arc de Triomphe, hearing conversations among French people. By teaching the cuisines of other cultures, hopefully I can inspire people to visit those places."
Unger enjoys connecting with people apart from her cooking classes. She is also the director of the Doylestown Farmers Market, run by the Bucks County Foodshed Alliance, of which she is a board member. She has been heartened by the renewed interest in the "back to the land" movement, which she believes has been driven in part by the pandemic.
"People were already slowly, increasingly coming to farmers markets [before the pandemic]," she says. "The pandemic spotlighted how important and crucial local farms are. … Our local farmers are harvesting on Friday what they bring to the market on Saturday. They let it ripen in the fields and pick it at the perfect time—maximum nutrition."
She uses asparagus as an example.
"Once you cut asparagus, it almost immediately starts to degrade from a nutrition standpoint," she says. "That's why you should use it the day you buy it or the next day. How much nutrition is left when it takes two weeks to get from the field to the grocery store? The less it has to travel, the healthier it is for you."
She shares such bits of wisdom during weekly segments on WDVR-FM for her show, "The Farm to Table Report." The show has evolved a bit over the course of a year, and Unger appreciates the platform to help listeners deepen their relationship with the food they put in their bodies in terms of taste, nutrition, and preparation.
"My goal is to provide everyone with some knowledge that is going to either make them a better cook, have more fun in the kitchen, or come to better health," she says. "Hopefully I can do all three."
Homegrown Goodness
"Now is the season for farmers markets, so get out there," says Kelly Unger, director of the Doylestown Farmers Market, which is held every Saturday from April through November. "Our farmers market is producers only. … All the vendors at our market grow or make what they sell, or it has to be made from local ingredients," excepting olive oil and coffee.
Local farmers markets do much more than promote a more healthful approach to eating; Unger says farmers markets help build community. The Philadelphia area has produced an abundance of excellent farmers markets, including the 10 listed here.
Ambler Farmers' Market
amblermainstreet.org
Chestnut Hill Farmers Market
farmtocitymarkets.com
Doylestown Farmers Market
doylestownfarmersmarket.bucksfoodshed.org
Media Farmers Market
mediafarmersmarket.com
Newtown Farmer's Market
newtownfarmersmarket.com
Perkasie Farmers Market
perkasieborough.org
Phoenixville Farmers' Market
phoenixvillefarmersmarket.org
Quakertown Farmers Market
quakertownfarmersmkt.com
Swarthmore Farmers Market
swarthmorefarmersmarket.org
Upper Merion Farmers Market
uppermerionfarmersmarket.org
Photo courtesy of The Rooster and The Carrot
Published (and copyrighted) in Suburban Life magazine, June 2022.